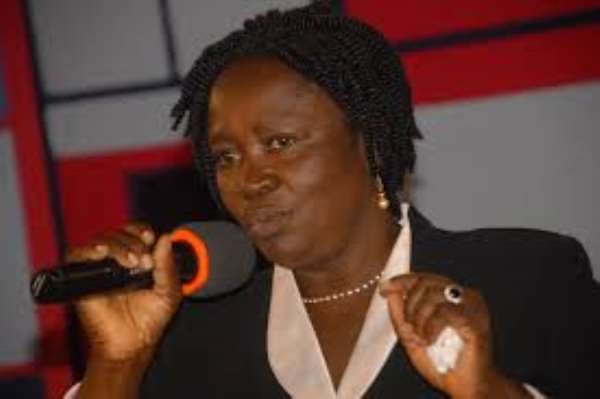 Prof. Naana Jane Opoku-Agyemang, Education Minister
Madam Minister,
In my solitude, I write with a saddened and a heavy heart. I very well hope your family and the Ministry you are presiding over are doing well? Although you may be fine, am afraid Ghana Education and the teachers are in a mess and I want to draw your attention to it.
Madam, please permit me to use these paragraphs to paint to you a short tale of myself.
When I was in Basic three (3) and imitating the conduct of my favourite teachers, there was a teacher in Basic four (4) who wears torn trousers and weary shoes everyday to school. He wears a thin and rubber-made belt on his jutelike trousers. He was committed and disciplined. He never sees wrong and looks on. He was what we call a 'Teacher'. Although, he was fearful, we all aspired to be like him when we grow up ….Reason? 'Children will fear us at least'. Progressing to his class was the worst thing to happen to me. I wished I stayed in Basic three (3) till I grow up completely. Fortunately for me, I was asked to repeat the class and I gladly obliged. My prayer was never to sit in teacher Tawiah's class where he will have a close link to me. I feared his sternness. I was a quite boy and free from wrong at that growing up age so why will I fear a disciplined teacher? He was just fearful yet we esteemed and revered him.
I changed school when I got to Basic four (4). I met a mistress who was tender but never corrupt on indiscipline. She asked us what we would want to be when we grow up. Many mentioned what was their dream. When it got to me, I shouted "Teacher". My mistress looked at me and smiled. Section of the class mocked me. My mistress asked, 'why do you want to be a Teacher?' I clearly said because, 'my father is a teacher'. My father even though didn't wear good clothes, lived in a single room with his wife and us, was respected across the villages and far. He was next to the Chief and 'Assembly man' of the community. Everyone saw wisdom in everything he says, even if it makes no sense. So far as it is coming from 'Teacher', there is Wisdom in it; therefore I enjoyed the wisdom of our Teachers at that growing up age.
When I got to JHS two (2), my Social Studies teacher at the time will ask me to copy notes on the chalkboard for him. I enjoyed the note copying voluntarily. I write on the board as if I was professionally trained to write on materials with no margins and rows. My teachers and the class admired my beautiful handwritings in chalk. I said to myself, 'I want to be a teacher.' Many as well as my teachers supported my idea. Others including my father made me know the plain truth. …….. 'If you want to forever be poor and treated lowly, you can be a teacher. Can't you see I find it difficult to pay your fees? Was I to pay fees for my own son that I teach? Go on…. Be what you want to be'. My father advised. Sadness engulfed me deducing from the way he spoke and the emotion he conveyed.
I trained myself in the University of Education, Winneba as a teacher in 2012. The aspiring boy has finally got the certificate to teach in any school in the country and beyond. I obtained a certificate that is NOT used to work in the bank but in the classroom. A certificate, that is NOT used to treat patients in this part of our country.
Madam, sorry I bored you with such a long tale. I want to link it to the reason behind my epistle.
My graduation coincided with the 2012 general election and I was happy. I was happy because I was going be employed to teach. I knew the late President 'Obenfo' John Evans Atta Mills was a teacher and he winning the 2008 elections in Ghana was going to spur teaching and learning in the country but my hope was short lived when the government at the time was indicting teachers and the profession instead. Teachers were treated and valued less. Little or no interest was given to their cry. My hope was rekindled when His Excellency John Dramani Mahama won the elections in 2012 and made you the Minister of Education. I was more happy and enthused. I suggested many opinions on social media about your capability of making the teacher feel as a 'TEACHER' and not that mockery object in society. I engaged in many verbal and written arguments about your capability as a teacher and being the vice Chancellor of a great University- the University of Cape Coast (UCC), the classroom was going to be an educational and reformation center and that you were going to prioritize the work of the 'TEACHER'. I was wrong, Madam……. I was. Many branded me a hidden supporter of the National Democratic Congress (NDC). They were wrong. I love President Mahama's charisma and orations. I loved your talk and your leadership in University of Cape Coast. I don't support based on ethnicity or colours or religious background. I do on issues and the sort of individual we deal with. And I must confess I disagreed with the New Patriotic Party's (NPP's) free SHS. I knew it was going to collapse the already falling Senior High Schools we had so I disliked Nana Addo Dankwa Akufo-Ado's view on that. I saw the possibility that, It was never going to be possible making High Schools in Ghana free -Not today. It was rather going to collapse our already falling schools. BUT, progressively, the campaign for High Schools to be free is championed by you. I have not seen you lay concrete things on education as a teacher yourself. Everything is imposed on you by the party and its cartels. I must confess it is not helping.
Madam, I was wrong to have endorsed you in my heart and publicly. The whole education sector was slapped with lots of political interventions shortly after your appointment. Public sector embargo which should under NO circumstance affect the education sector was introduced under your watch and you have enjoyed it till now. Faulty text books have been endorsed and printed under your tenure, Teachers are derisively remunerated and their conditions of service keep dwindling. Many unfulfilled promises have catapulted teachers to strike actions. Indiscipline has been in ascendency and when I complained, a Headmaster of a school said to me 'it's everywhere'. PTA has lost their urge to helping the schools due to the intervention of government's ever failing promises. Feeding in the Senior High Schools is pegged at three ₵edis (₵ 3.00) per child a day. Please compare that to what your dogs and cats feed on. I deemed it very unfair.
When I graduated from the Teacher University with the Bachelors Degree in Education, my hope is to walk out there and pump that glowing Wisdom in me into the children. My National service was in the classroom and I was grateful to the scheme. Many of our youth who left the University as teachers have been battling with which school to teach in and when freeze on public sector recruitment will partially be lifted for them to be engaged in the service. Meanwhile, there is shortfall of teachers in every educational unit across the country. Teachers leave the classroom on study leave and the space is vacant. Yet these graduate teachers are begging to be engaged to teach. This is ridiculous. And you still preside over the ministry? You and your government come out always to justify the unjustifiable. Students massively fail in WASSCE and BECE and your Public Relation Officers and your Deputies justify and compare the era to a previous government. It is a shame and I tell you, we all need not keep toying with the future of the classroom child and the teacher who puts all of us here.
Now, the boy who wanted to be a teacher is now a teacher and waiting to secure a loan to establish his own school or go back to the teachers training College. It is easier to be engaged in the classroom as a full time teacher when you pass through the college of education. I understand I will get teachers registered number to belong to the Ghana Education Service as a teacher with ease. Otherwise, I must be connected; know a politician, have a strong bond with the Controller and Accountant General and the Ministry of Finance. Must we beg to teacher? ..................Madam, Must we?
Am using this medium to appeal to you and the whole government to see what talents you are wasting. Many are wasting……. Those teachers who graduated from the Universities are wasting home. They could have been useful in the classrooms…………. Those youthful graduate boys and girls are home, and need to be engaged in the service. I also appeal to you that, a serious country places emphasis and prioritize education and treats teachers as the most pivotal instrument in nation building. And need not be subjected to all these exasperating treatments.
Remember, you were thought by a TEACHER, grew to be a TEACHER, lived as a TEACHER, presiding over a TEACHER oriented ministry and reading this from a TEACHER.
Yours in the service……..
Wisdom Bonuedi
The writer is a Teacher who writes issues on Education, Politics, Social life and Humanity
Email; [email protected]
www.facebook.wisebonuedi.com
Twitter; @WBonuedi