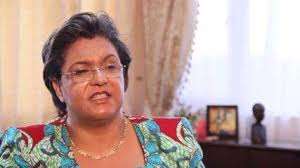 Hannah Tetteh, Minister for Foreign Affairs of Ghana
One document among others meant for identifying citizens of any nation is passport. However the acquisition of passport in Ghana by a large number of people at home and abroad, needed to facilitate easy travel in and out of Ghana and among other things for bank transactions and registration of voters at home and abroad in the coming days is becoming a nightmare.
Although the passport office in Accra work with passport application processing offices in regional capitals and some districts, things are becoming difficult for passport applicants. We are told that there are only three passport directors who approve and order the issue of passports for the teeming number of passport applicants in Ghana an abroad. Apart from Accra there are no passport offices in any part of Ghana capable of printing passports for applicants. All passport applicants are therefore forced to travel to Accra to have their pictures and other features captured for biometric passports to be issued to them.
The painful development is that now that the number of passport applicants is growing throughout Ghana the machines used in printing passports have been experiencing mechanical faults. Some people are expressing fear that the delay in processing and issuing of passports might deny Ghanaians the opportunity to acquire passports to be able to register to vote during the coming elections in November 2016. According to Richard Owusu-Akyaw of the Ghanaian Chronicle, It is now an open secret that the acquisition of a passport in Ghana is a nightmare, owing to congestion at the various passport application centres, following the intermittent breakdown of the machines.
The result is that acquisition of passports by the citizenry is unduly delayed, compelling Ghanaians to accept the ensuing frustration as a norm as the Ministry of Foreign Affairs is not ready to listen to advice and recommendations to remove bottlenecks which have characterized passport acquisition in Ghana.
Consequently, applicants are compelled to use various ways to obtain their passports. As of last year, the Foreign Affairs Ministry had set up six application centres in Ghana - Kumasi, Accra, Ho, Takoradi, Tamale and Sunyani. Indications are that the sector Ministry will be extending its tentacles to other regions, thereby establishing application centres to facilitate passport acquisition in the country.
The centralization of issuing of passports in Accra has undoubtedly made the application process cumbersome and time-consuming. Above all, it has created room for the emergence of so-called goro boys (passport contractors) and their cronies at the various application centres to feed fat on applicants. Poor applicants sometimes have to queue hours on end to obtain their passports, only to be told to go home and come the following day.
The population of Ghana has moved from 25 million to 30 million plus, and so it will be wrong for the Ministry to concentrate the issuing of passports in Accra alone. The state-owned Daily Graphic recently published a front page story about goro boys besieging the Accra passport office and this is disheartening . According to the story, the premises of the passport office has been inundated by applicants, who, in their desperation for passports, contract people who seemingly work with some officials in the office to facilitate the acquisition of the passport.
The paper stated that in the last few weeks, the Passport Office has been faced with the challenge of having to print a substantial number of passport booklets to meet demand due to the breakdown of its machines. The story continued that some passport applicants had to part with money before their applications were expeditiously processed. "One of the applicants, who gave his name only as Kofi, said he had to part with GH¢1,500 before he had his passport," the state-run Daily Graphic disclosed.
In the said story, the Director of Passports, Mr. Alexander Grant Ntrakwa, is quoted to have said that before the Easter break, a professional was contracted from Germany to configure the machines, as well as input data into it. In the face of all these bottlenecks of machines conking out and the likes, which have delayed the issuing of passports in the country, the Ministry of Foreign Affairs cannot run away from it shadow.
They are part of the problem, since centralizing of passport in Accra alone does not make sense in modern administration practices. At 58 years as a Republic state, and the first country to liberate herself from colonial rule in sub-Sahara Africa, we have to cross the Atlantic Ocean and fly down an expert to configure machines at the passport office before the Republic can issue passports.
Jesus Christ! Are we serious as a country at all? What is Ministry of Foreign Affairs doing? In as much as the Ministry of Foreign Affairs is trying to open up application centres in other regional capitals, it should also not lose sight of delegating some of its mandate to some of the populated regions to issue passports.
At a time where online application is the order of the day, we are still filing papers to apply for a passport in Ghana. What is holding the Ministry of Foreign Affairs from decentralising its powers to some of its branches? What is the Ministry of Foreign Affairs doing about the league between goro boys and officials of application centres as reported by the Daily Graphic?
Although applicants are to be vetted well to ascertain their original citizenry background in order not give Ghanaian passports to none Ghanaians, it has been in the news lately that Ghanaian passports (diplomatic) are increasingly being doled out to foreigners.
In recent weeks, the New Crusading Guide newspaper reported that a Russian national named Ramazan Kafarov, who is on the wanted list of the Russian security services for criminal charges, does not only hold an ordinary Ghanaian passport, but is also a proud owner of a Ghanaian diplomatic passport.
He was arrested by the Bureau of National Investigations (BNI) and arraigned before an Accra High Court, which granted him bail on a surety of GH¢7 million. The question is how did the Russian national obtain both a Ghanaian and diplomatic passports?
It is obvious that the Ministry of Foreign Affairs is doing very little to redeem its image over the issue of diplomatic passports, amid naked bribery and corruption! Is our passport office in the hands of the wrong people? In a holistic approach, the Ministry of Foreign Affairs must accept recommendations and switch from paper applications to online applications for applicants to go about the processes in the comfort of their homes, after which they could be vetted at a given date at the various application centres.
The online application is the ultimate means to ward off these goro boys who are more or less friends to the passport officers. Ideally, decentralization must also be done to ease growing pressure at the Accra passport office. The Ministry of Foreign Affairs must train Ghanaians to man the said machines, which are currently being configured only by expatriates.
National Security must take these issues up and launch a serious investigation in to the running of the Ministry of Foreign Affairs and application centers in order to arrest and prosecute those who are giving Ghanaian passports to foreign nationals, to serve as a deterrent to others.
The Ministry of Foreign Affairs must sit up, since they and application centers are all high offices of integrity, and should be manned by people of high integrity to stop soiling the image of Ghana internally and internationally. The Ministry of Foreign Affairs must redeem its image now.
Martin Kwaku Fanusah , Manager at Horizon Marine and Automotive System Consultancy who commented on this issue said "The government of Ghana has to look beyond its borders when it comes to issuing of passport. The fact that citizens abroad have to fly home to acquire or renew their passports is aggravating the whole process. Countries like Nigeria and others have processing offices outside their boarders to serve their citizens and that has reduced pressure on the local offices.
I believed that the Ministry of Foreign Affairs is lacking ideas and that is also affecting development of the economy. I thing the leaders of Ghana are still sleeping and it's time for them to wake up to meet technological advancement of the world. This is really crazy come to think about it".
More…
EANFOWORLD FOR SUSTAINABLE DEVELOPMENT
P.O.BOX 17070AN 233244370345/23327483710/ 233208844791