Demonization Of Christmas By Christians; And My Delayed Message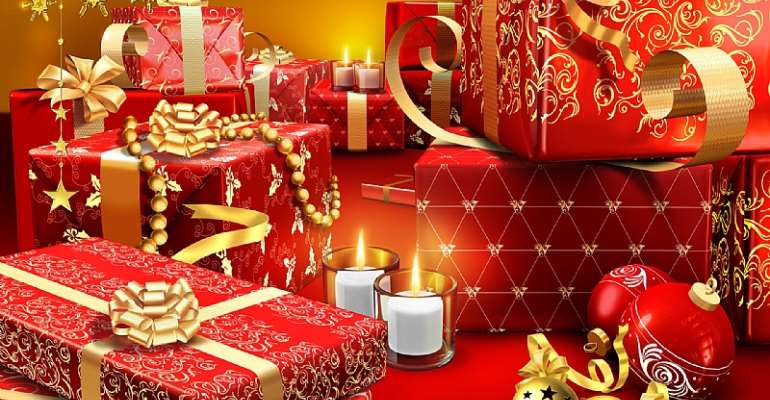 Permit me folks, to begin my delayed CHRIST-MAS message to you with a quote from the legendary Indian and Hindu statesman Mohandas Gandhi about Christ-mas seasons. And this is what he said: "I have never been able to reconcile myself to the debaucheries of the Christ-mas season. They have appeared to me to be so inconsistent with the life and teaching of Jesus Christ".
Evidently and obviously, the great man was saddened with the attitude of Christians during this season. I did not want to settle with him, though, he has been my greatest source of inspiration over time now and to have doubts of such a person is of course, rare. So I took some time off this season to observe it myself and relate my findings to what my mentor, Mohandas Gandhi was cynical about many years back.
I decided to challenge his cynicism using the steps of the scientific method of research. For the benefit of those without the science background, the strange methods include the following: Asking a Question, Doing a Background Research, Constructing a Hypothesis, Testing Your Hypothesis by Doing an Experiment, Analyze Your Data, Drawing a Conclusion and finally Communicating Your Results. Humdrum. You may exclaim! Yes. It is. And that is why back at the secondary school days, we the science students were always respected and considered superior.
Without hassle, I successfully completed my myself assigned mission using the above-mentioned methods which I started on the 20th December 2015. And lol and behold folks, I have to contritely endorse the cynicism held by my mentor and say CHRIST-MAS has lose its value in entirety. If it was a Ghana issue, I would have requested a formation of a Medical and Moral Committee to examine the heads of every Christian of possible insanity. The attitude, behavior and character of most Christians during Christ-mas season sent me slapping my forehead with the back of my dried palm repeatedly and exclaiming loudly 'Oh sanity, where has thy gone'! Why have the sons of men turned this holy season to a festival of immorality, corruption and demonizing the Son of God?
The reason for the celebration of Christ-mas has been brutally murdered by the followers of Christ and buried with ignoramus smiles. What we celebrate now is unthinkable decadence, exuberance, moral depravity, and hideous consumerism. The vehicular traffic that hostage the central parts of Accra in the name of shopping for the Christ-mas celebrations glaringly showed that, there is a complete demonisation of Christ-mas and Christ. You can call my observations as mere lamentations of a frustrated poor man who could not afford a bag of rice for the season.
Jesus Christ is the reason for the season; from the deceptive and wicked lips of sons of men, they claim. The purpose of it, is justly, to remind ourselves of the birth of Jesus Christ, the authentic Messiah. Although, the exact date of his birth remain scripturally obscure, but reminding ourselves as Christians of such a great day should be critically crucial. Many of us have forgotten that Jesus, the Son of the Infinite Intelligence (God) lived a humble and self-effacing life.
He was sent by His father, the Infinite Intelligence (God) to give His life as a sacrificial ransom for mankind thus opening the way to eternal life for Adam's offspring that will exercise faith in God. Does he therefore not deserve true honour? You dare asked me? Yes. He deserves even more but some of us (Christians) proclaim the heavenly kingdom and still embody all the rat race of demonic sortilege, pride, envy, greed, oppression, and covetousness even during the remembrance of the day the King, the first born of all creation was born.
And make no mistake that I am one of the shameless pastors, the supposed spokespersons of God in Ghana who are now charming money using the name of God. I am not also part of those political pastors in Ghana who are prophets of doom. They are sacrilegious, blasphemous and ungodly men and women parading themselves as preachers. Who I am then? I am only a Jew praying in the Mosque. Tongue-in-cheek. Seen?
Though, I am that mysterious Christian who rather offer his prayers in a Mosque, I know that Jesus is worthy of our honour and commemoration. He is truly really deserving of praises and adoration. He is indeed, the height of all glory and the finest thing that ever happened to mankind. He deserves all the glory.
It is important to understand why I am going scriptural in this treatise. I have been a political animal for many years now and going scriptural is one of its kind. But this trend is nothing new with me. I have been unpredictable and I shall remain so. It went on in my village called Kusanaba-Peri when I was just a child. Worried about the location of my village? It is located in the Upper East Region of Ghana. Yes. It went on. I am a living witness to it. Though, I never understood clearly the full meaning of the tribute of such an all-important day in the life of all Christians.
People were judged based on the kinds of food cooked, the clothes of their children and wives during the occasion. The rich and corrupt men in society were always over respected because those were the days they will over spend not on the poor and needy but to enhance their egos.
The entertainments for such a day were often seen at the rich men homes and attending such were not just tedious but discriminately. Your family statues, historical backgrounds and the likes were the measures for people. The low your family in wealth, the more likely people were to look down on.
We as Christians have not been in with the reason of celebrating Christmas and we are therefore also not in tune with the Holy Spirit. I, without the gift of prophecy know that Jesus and His Father in Heaven are disappointed in the way and manner we have turned the day to. Celebrations of the season is disgusting, shameful and endorsement of immorality to say the least.
Christians have nothing to offer God except total submission to his will. We can abundantly reflect this through service to man. We should realize that Christians are weak and empty without God except total submission to his will. In Thomas Gray's Elegy written in a country church yard, he noted the ephemerality and transient nature of man's life in the face of his arrogance and moribund pursuit of carnal things. He said, "The boast of heraldry, the pomp of power and all that beauty, all that wealth ever gave, awaits alike, the inevitable hour, the paths of glory lead but to the grave." Man is emptiness festooned with lucent glamour – a Barmecial – dish. Merry belated Christmas and happy New Year folks.