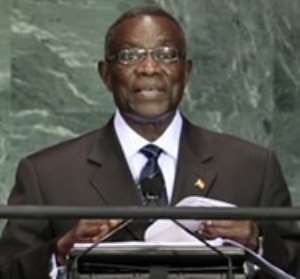 Sir, it's been a very long time since your departure from the physical surface of mother Ghana. And do not be surprised that I am writing you an open letter at this time of the year.
The elections bells in the country have started ringing so so loud and very disturbing to the ordinary listening ear. You remember how it used to be? Very crooked, dirty, rough and tough.
Sir, because of the fracture in our communication due to my strike action against my media house over breakfast and pens allowances, I wonder if you are still interested in some of these nauseating political issues in Ghana judging from your approach of issues during your lifetime with us but I will still test your patience.
But Prof., as I used to address you, first things first, we here in the physical world are not exactly fine but we can't complain. Naadu, your wife is not doing differently but she is getting life tough without you. The once-in-a-while visit by the umbrella family cannot compensate her for your absence.
The rest of the ordinary Ghanaians are doing same, although some of them just like my class are still in shock, jolt, surprise and traumatized. Yes sir! We are still having it tough coming to terms with your death. But our faith in God as you advised we do, still remains intact. Nothing can separate us from the love of God, absolutely nothing.
Sir, since the last time I wrote to you on the state of the country, so much has happened on the political scene that you need to abreast yourself with. You need to frequently abreast yourself with these issues because if God had not said otherwise, you would have been in the thick of it. So sir, spare me with 'the mind your own business cliché'.
General elections is drawing closer and the political tempo as usual is dangerously at its highest peak. Some usually dormant volcanoes have become unusually active. Please sir, before I scare you, join me in congratulating the leadership of your party for opening the flood gates for every NDC member to have a say in its upcoming parliamentary primaries come November 7.
It's a wise move to safe the party from being hijacked by those greedy and selfish individuals who think money is the best way out in politics. They are panting for breath, though, there is abundance of air. Many so-called big-boys who started the Ghana's Parliament and want to remain there till their dying day will see their true size. You See?
Sir, strangely enough, the usual political focus on your party electing its parliamentary candidates have shifted so dramatically to another interesting desert; your former opponents are helpless, clueless, stranded and confused. The continued alignment and realignment of their internal madness is not helping them a bit.
However, before I go on, permit me to sadly report first that your son and brother, President John Mahama nearly joined you in eternity. Yes sir! He was nearly sent to his early grave by a supposed madman who also wanted to be president of the land. His mission was simple, to salvage the country from the temporary power outages.
The madman who had the uncommon ambition even during your administration to be president managed his way with a fully loaded double-barrel pistol into the Ring Way Assembly of God Church.
He located where the president sits, comfortably sat behind the president's seat and was ready with his index finger to empty the content of the pistol into the president's head before a sweaty preaching pastor. Just imagine that sir.
Very few people are able to escape this but you trained your brother very well. He was absent on that Sunday. Who can accurately predict nature? Nature definitely has a mind of its own. Sometimes even the most powerful man on earth can be so limited and vulnerable that he looks the least powerful but he was spared by the grace. The heart of the king is really in God's hands.
Sir, lets regress to the main issue. Your people have started painting Ghana red; your usual lousy opposition party with its misplaced politicking, ineptitude and political strategy gone awry are at it again.
They are now attacking the voters' register sir. They say the register on which they galloped to the Supreme Court to overturn the elections results to rule Ghana is incredibly bogus, absurd, dishonest and a criminal document deserving no least attention. So it must be scraped at all cost to pave way for a new and credible one.
Yes sir! Their voters register and elections Doctor, Dr Bawumia has successfully carried out a political medical test to prove that the Ghana's voters register on which you also rode to the presidency all along was an African register and not the Ghanaian one.
Sorry, an ECOWAS one rather, I nearly missed that. Blame me not, Doctors' terms are so annoying and can easily be forgotten. He has diagnosed the register thoroughly in his credible laboratory and discovered that it was full of Togo nationals making it so so weird to be used in Ghana's elections.
Don't stand in that astonished mode with your mouth opened at me sir. That is not part of you or has the spiritual world changed you? There is nothing impossible by these people. They even set an unbreakable record in the political annals of the world. You didn't hear that? My strike has really affected you but I own you no apology sir.
A dreadfully looking madman was suddenly tamed by whatever spirit best known to them. He was made to participate fully in one of their biggest demonstrations against dumsor. He never caused any stir and wonderfully concluded it nicely by stopping hungry journalists and granting interviews at will on how the dumsor was affecting him terribly. Hmm! What else is impossible in Ghana's politics as long as these magicians exist?
So sir, essentially your brothers and sisters in the Volta region who unfortunately have their families in Togo should be left out of the new register and completely be disenfranchised. This, the doctor said, will make the register very credible and acceptable for him and his party.
His nurses even say without such treatment being administered to the Ewelese infested register by the Electoral Commission as prescribed by their beloved Doctor Bawumia, the general elections won't see the light of the day come 2016. Oh, sorry sir. Did I really say Ewelese? Oh! I meant Togolese instead. I don't what they are planning to do to stop the elections sir. So I am getting very scare now.
Sir, for the legality, illegalities and implications of the Doctor's strange discovery, I can't venture into it. Not at all sir. My legal brain is not matured yet as you know. I haven't even attempted the examination that can break opened the doors of the Makola law school for me yet. Seen? So how dare me render his expert efforts illegal, empty, embarrassing and pathetic when I am not qualified yet?
And sir, I don't want cheap popularity by dragging this matter before those furious men and women who denied your once rival and his Doctor, the easy entry to the Flagstaff house. If not, I could have consulted the latter day legal luminary, Lawyer Alex Afenyo-Markins. That guy loves going to court you know. Don't ask me of how many cases he has won so far.
But don't worry much. Just calm your angry veins sir. Because your people are not leaving the good Expert Doctor's strange discovery to survive that easily. They say he is as bad as a fake doctor and that he's on a mission that will create division and unnecessary tension in the country. Hmm! Your general Mosquito said the Doctor's strange discovery is so vexatious to his intelligence and is even questioning the Doctor's intellectual status. Seen?
Anyway, the EC has called for all those who have similar strange issues with the register to present same to the EC with details for further action. A Conference to chart a future for of the alleged Togolese infested register will soon be held. Hopefully, it will address the major contentious issues in it.
A lot more has happened, but let us leave them for God. Continue to rest in the bosom of the Lord. We will always love you.
Yours beloved brother
Son of a watchman and cattle rearer,
Cletus Abaare.