Mamfe Methodist Girls SHS Headmistress Cleared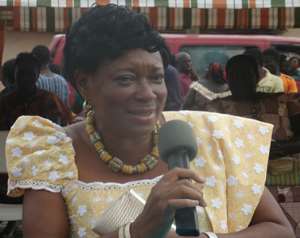 Sylvia Isabella Laryea
Authorities of the Mamfe Methodist Girls' Senior High School in the Akuapem North Municipality of the Eastern Region have denied a publication alleging the dismissal of 16 teachers from the school.
According to Isaac Asiedu-Odei, the Municipal Education Public Relations Officer (PRO),
the directorate finds the said publication highly scandalous and offensive.
He said the content of the letter signed by Sylvia Isabella Laryea, the headmistress, was in line with the GES/Ministry of Education staff rationalisation policy meant to redistribute human resource to ensure the efficient utilisation of GES staff across the country.
Mr Asiedu-Odei was emphatic that the letter releasing the said teachers to the Municipal Director of Education for the necessary action was only a routine and that it did not breach any GES regulation.
The rejoinder, dated 18th August, 2015, among other things, stated that the headmistress, prior to the writing of the letters to the affected teachers in the school, had received several written and verbal instructions from her superiors to undertake the exercise of releasing excess staff of the school for onward transfer to schools where their services would be most needed.
It added: 'Indeed, nineteen (19) teachers were released to the Municipal Director. Out of these nineteen teachers, eight (8) had voluntarily sought and have been given assurances by other schools.'
These eight teachers, Mr Asiedu-Odei maintained, were leaving on their own volition, adding that 'following the reception of these assurance letters, the processes are underway to release them through the appropriate channels to their new found schools.'
The Municipal Education Public Relations Officer (PRO) said it was also incorrect that the headmistress was cooling off in the United States of America (USA).
He said 'It would interest [all] to know that she has never travelled to the said country in her lifetime.'
On the claims of corruption against Ms Laryea, Mr Asiedu-Odei stated that 'there is always a routine auditing of the books of the school by the internal and external auditors,' adding, 'Hence, if there are any bases in these allegations, the auditors will certainly flag it in their reports for the GES management and the Public Accounts Committee (PAC) to take the necessary actions against the school head.'