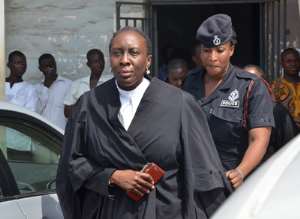 This morning I chanced upon an article on Ghanaweb in which Mr. Pianim was appealing to the Chief Justice to cause judgment to be given in an appeal NIB had filed against a judgment given in favour of Dominion Corporate Trustees Limited of Channel Islands, UK.
NIB a few years ago was synonymous with one man- Daniel Gyimah. In August 2009, the State charged Daniel Gyimah for ATTEMPTING to cause financial loss to the tune of $60 Million. These charges were based on allegations that he had –without the approval of the Bank's Board of Directors- used the bank to guarantee and issue 30 promissory notes valued at $60 Million.
Daniel Gyimah's trial generated a lot of interest when it began in 2009. For the NDC, Gyimah represented the scapegoat whose sacrifice was going to expose the endemic corruption in the previous administration. For the NPP, Gyimah was going to be acquitted and discharged by the Court confirming once again that the Party did put in measures to check corruption while in Government.
I was taken completely aback when the last paragraph of the article mentioned of Daniel Gyimah's conviction in Febuary 2015. I found myself wondering whether I was so out of touch with happenings in the country or whether the attention deficit disorder of Ghana's mediamen had fallen to an all time low.
My checks show a rather interesting twist in the whole affair. On April 20, 2015, the Attorney-General wrote to the High Court inquiring about the status of the case. The reply they got was shocking. The High Court had determined the matter two months ago and handed a conviction.
Much more shocking was the fact that the accused was neither aware of the conviction nor had he been allowed to open his defence. Both the AG and counsel for Gyimah filed separate applications before the Supreme Court on the conviction.
While the AG wanted a re-trial before a different judge (after 6 years), Gyimah's lawyers want the conviction quashed.
The Supreme Court in June dismissed the AG's application accusing the AG's Department of doing a shoddy work.
The Court, however, granted Gyimah's Counsel more time to file their appeal against the conviction.
An application seeking to quash the decision of the High Court currently sits awaiting the Justices of the Supreme Court when they return from their legal vacation. The State is not expected to oppose the application looking at how fundamentally flawed the entire process leading to the conviction of.
Until then, Daniel Gyimah's case remains one of the classic dog's breakfast the AG's Department and the Judiciary continues to serve Ghanaians.