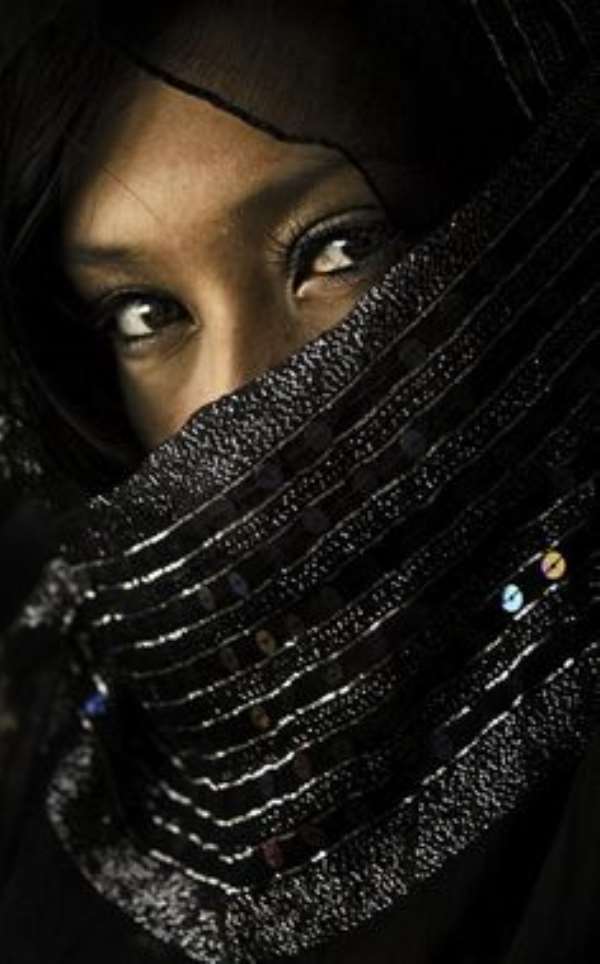 Marriage between two people is a gracious venture, for two people brought up differently with varied hopes and interest to undertake to live and share joys and pain together is one of the noblest things anyone can have when all goes well.
As a photographer I have had the chance to visit homes either to deliver photographs or take them and I can say that sometimes the sweet marriage image portrayed outside does not always reflect happenings in the home.
This tale involves three people I know quite well who reside in Agape-Ablekuma off the Awoshie-Anyaa-Pokuase road as do I. Awal is a friend as is Naa and Nafisa.
Nafisa had opened up about Awal's womanizing ways just when I was to take up post at Kantinka FM in Swedru sadly we never got to interrogate the matter till recently when I happened to visit her at her noodle shop.
Although years had passed when I asked if things had been sorted between her and Awal she responded that she had decided to keep quiet and watch things like a cat but that it was only a matter of time.
Probing further it emerged that Awal and Nafisa had been married for 6 years and have a boy and a girl as fruits from the union and it turns out Awal while schooling at a university in the Eastern Regional capital of Ghana had met Nafisa who was then a resident of the town and after 4 months of cajoling had managed to sway the damsel to share her love with him.
Eventually Nefisa had gotten pregnant and so the cultural duty was performed to make her the wife of Awal with the blessing of both parents. "2 years into the marriage I started noticing changes, the once caring and dutiful husband started coming home late" Nafisa observed.
"He had started dating a girl in the vicinity and although I had my family in the Eastern Region and was staying with him in his parents' house, concerned neighbours started urging me to be guarded, eventually the rumour was true" she added.
Naa was then about completing her Senior Secondary School education and was then the girlfriend of a land guard simply known as Lion. Lion is currently behind bars and since Naa is not particularly from a rich home it appears it was that opportune time when Lion was nabbed years ago that her path crossed Awal's romantically.
She is about wrapping up her university education (Weekend Programme) and from her WhatsApp and other social media 'Thank-You', it's clear Awal foots the bill at least a greater part despite her parents being alive.
The weird part is how Awal brought Naa under the nose of Nafisa and his relations and yet escaped scrutiny at first. Awal has a computer shop nears his mother's convenience shop and since his specialty is IT related; he repairs computers and offers software services. Since he had to undertake jobs outside he introduced Naa as his receptionist or better still secretary and while by day they acted professionally by night they were lovers. Since Naa's residence needed some walking to Awal often escorted her home around 9pm especially when Awal had gotten a job at a microfinance company. Naa had to wait for his arrival and render account before she could retire but it was here that many including myself noticed the queer nature of this boss-secretary union.
Nafisa is an industrious lady who makes and sells 'sobolo' (Sorrel) drink as well as noodles at night and pretty by all standards. She communicates fluently in Twi and Ga even in English despite not furthering her academic education beyond the Junior Secondary School level. When she summoned her husband before his parents to ascertain the relationship status between himself and Naa, Nafisa informs me Awal declared "I love you both, you are my wife but I love her as well".
Islam as I understand it permits men to marry up to 4 wives but must cater for them equally and have the consent of the presiding wife or wives but Awal, Nafisa tells me cannot hinge his shameful acts on Islam as he has not activated the terms of engagement.
Upon my return from Swedru I noticed that Awal had in his position a car from the microfinance company and had managed to secure a job for his girlfriend Naa and together cruised in town. At one time I met them at the Accra International Conference Centre whiles interviewing Minister Fifi Kwetey after an exhibition; apparently they were in attendance as well.
So I asked what are your in-laws saying, Nafisa replied "I look only to Allah, his parents initially seemed to care now they don't bother. "I remain here because of my two kids and an aging mum who sobs every day and my appearance alone shall cause her too much grief".
Regarding sexual relations with the husband, Nafisa indicated that she performs her duty as the Quran instructs.
According to Nafisa although she could initiate divorce proceedings, everything indicates that Awal wants her to be the one to leave so that he could say he didn't sack her but she has faith that Allah will show the way.
Nafisa is a Nigerien, her mum having migrated to Ghana years ago and married another Nigerien. Awal's dad is a Dagomba from Ghana and his mum a Togolese. Awal's dad is a wealthy man in the meat business supplying restaurants and shops while his mum is a house wife who owns a shop.
Awal has a history, he had in the past loved and birthed a child with a Christian krobo lady but his parents had kicked against the union and having found Nafisa, a Muslim lady one would have thought life could go on but to openly court Naa, a Ga Christian lady defies the script.
For Nafisa if even he hid this affair it would have meant that he at least respected her but to see the two of them roam the area especially when they both have lost their microfinance job and have time on their hands and with Awal sleeping over at Naa's place 2 to 3 days occasionally, the situation looks grim indeed.
Awal, having a Muslim father and a Christian mother posed many challenges to the siblings albeit the parents allowed it. For as long as I could remember Awal together with his sisters Mamatu and Sadatu never really practiced any of the faiths keenly. The sisters visited the Assemblies and Presbyterian Church when they pleased and although the visited the mosque sometimes that commitment was not there. Observing the Muslim fast was done as and when the urge was strong and while Awal as the man could be said to be more engaged to the Muslim faith compared to his sisters, some work needs doing.
Recently though Awal's mum has converted to Islam at the husband's insistence, it remains to be seen what path the kids in their 30's and 20's would take.
"I did not sign up for second wife-ship business" was the reply I got when I inquired what if her husband intends to marry Naa. 29 year old Nafisa continued "I had a wealthy Baba who intended to marry me before Awal showed up, I chose him over the Baba because the Baba was not western educated and hoped by marrying Awal, a man I loved madly, he would stick to me but rather I moved from the frying pan straight to the fire."
The tale involving Awal, Nafisa and Naa can truly amaze, daze and faze. Nafisa in narrating her experience shows one who had cried, beseeched to no avail and resigned herself to hope for a miracle but any other woman could have gone mad, committed suicide or poisoned herself and the husband.
The future looks bleak indeed for Nafisa. Recently I saw on Naa's DP a photo of Awal's mum with the status "Pray we build a house and buy a car for our mums" and on Awal's DP was a picture of Naa.
That a partner cheats on a partner is no news but that a husband cheats on his wife with a girlfriend he carries about as a trophy is disturbing especially when that wife becomes a laughing stock.
Should this story shed light on the trials of certain marriages and serve as guide to others, it would have served its purpose.
michael eli dokosi
www.elidokosi.wordpress.com
twitter:mystiqmike