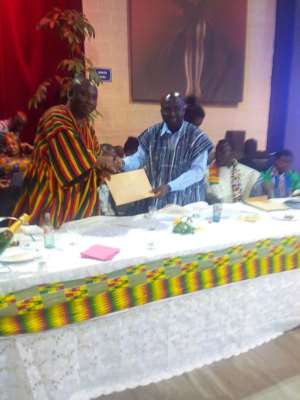 There have been successful introduction of FEGHADE during the 58th Independence celebration of Ghana organised by Ghana Council in Belgium in collaboration with Ghana Embassy in Belgium on Saturday 14 March 2014.

The event was warmly received by Mr. Kwaku Acheampong Boamah, President of Ghana Council, and his staff. The team were given the opportunity to greet Ghanaian Chiefs, religious leaders and other participants of the celebration. Thereafter, Mr. Boamah introduced us to the participants.
Among the dignitaries of the event were five prominent Ghanaian diplomats who work with the ACP Secretariat and the Ghana mission in Belgium and the European Union:
a) Dr. Emmanuel Opoku Awuku: Acting Chief Legal Counsel of ACP Secretariat in Brussels
b) Mr. Yaw Bimpong: Minister
c) Mr. Mawutpr N.K. Alifor: Ministercounsellor
d) Mr. Adams Abdul-Rahman: Head of Chancery / Diaspora Desk Officer
e) Mr. Ashie Neequaye: Accounts Officer
The Ambassador of Ghana to the Kingdom of Belgium and the European Union, H.E. Morgan A. Brown, was represented by his Minister / Counsellor, Mr. Yaw Bimpong, who delivered a brilliant speech after which Hon. Osei Mensah Michael was given the floor to deliver his speech.
After a very eloquent introduction of FEGHADE to the gathering, he presented a copy of the full text of his written speech to Mr. Yaw Bimpong to submit to Ambassador Brown. Please find below a copy of the full text of FEGHADE President's speech.
Prof. Dr. Emmanuel Boon
University of Brussels
Introduction of Federation of Ghanaian Diaspora in Europe (FEGHADE) at Ghana's 58th Independence Day Celebration, Blancefloerlan 181B, 2050 Antwerpen, 14 March 2014
Speech by Hon. Osei Mensah Michael (FEGHADE President)
H.E. Ghana Ambassador to Belgium and the EU,
President of the Ghana Council in Belgium,
Ghanaian Diplomats,
Nananom,
Religious Leaders,
Leaders of Ghanaian Associations.
Fellow Ghanaians,
Friends of Ghana,
All Protocol Observed,
Distinguished Ladies and Gentlemen,
Ghana is 58 and I salute you all. I bring you warm greetings from the Ghanaian Community in France Council (GHACIF) and the Federation of Ghanaian Diaspora in Europe (FEGHADE).
I congratulate you all for your patriotism and the importance you attach to Ghana's Independence Day celebration here in Antwerp, Belgium.
His Excellency, to me, Ghana is all we have. It lives in our souls and we cannot do without it. All our umbilical cords are
attached to the country. Small or big, challenged or not challenged, after God, we all serve Ghana. It is our heartbeat.
The world has become a global village and it has brought Ghana to our doorsteps, wherever we are. In fact, thanks to the Internet, most of us in the diaspora are probably more updated on the situation in Ghana than our compatriots back home.
Ladies and Gentlemen, with our double backgrounds, we Diasporans have become key strategic agents of development – development of Ghana and our host countries. Our people back home keep bringing us closer. That is our desire. Since ages, across our remittances, our knowhow and our investments back home, we are contributing immensely to Ghana's growth and sustainable development. Across these contributions we continue to manifest our attachment and commitment to our motherland.
Fellow Diasporans, Ghana's Ministry of Foreign Affairs and Regional Integration, has upgraded its Diaspora Support Unit to Diaspora Affairs Bureau. Diaspora Desks have been created in all Ghana Missions abroad. This is a good beginning for the Ghanaian diaspora. It is now the turn of we diasporans to make good use of this window of opportunity to bridge the gap between the Diasporan Island and mother Ghana.
Let us exploit the goodness of the great pool of Talented, Skilled and Patriotic Ghanaian generations in Europe and the other continents of the world to actively support the sustainable development of Ghana. We constitute Ghana's greatest offshore development asset. We need to harness our full participation in nation building now.
GHACIF says Gyina Pintiin Na Boa Ghana
FEGHADE says Let's Help Build Ghana
It will never be said enough, the ultimate button needs to be pressed. Diasporan belongingness to Ghana needs to be complete.
Ladies and Gentlemen, I have good news for you today. Good news that some of you already know. The FEDERATION OF GHANAIAN DIASPORA IN EUROPE (FEGHADE) has been created. It has been created for us all!!
It was created in Belgium. Please clap for Ghanaians in Belgium. Once more, history has been made in your land of residence.
FEGHADE is the major outcome of the Diaspora Engagement Policy meeting organised by Ghana's Ministry of Foreign Affairs, ICMPD and MiEUx of the European Union in Brussels last October 2014. The leaders of the major Ghanaian Diaspora Associations in Europe attended the Brussels meeting.
FEGHADE's vocation is to be the mouthpiece and a development support mechanism for Ghana and our welfare booster of Ghanaian diaspora in Europe. Founded on the best human rights and democratic principles, it is open to all registered national associations of Ghanaians in Europe.
"Let's Help Build Ghana" is our motto
I will not take too much of your time. "Asempa eetia".
FEGHADE is an international organization. We have chosen Brussels in Belgium as its headquarters. But as I said earlier, FEGHADE is for all Ghanaians in Europe. Dear compatriots, we
seek your assistance and support to realize its vision, mission and objectives.
I am sure you will do all you can to promote FEGHADE in all quarters you find yourselves in. The excellence of Ghana is for us today and posterity.
Long Live Ghana!
Long Live the good image of Ghanaians!!
God Bless you all!!!