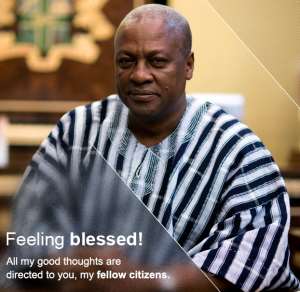 Dear Mr. President,
I bring you greetings from Saltpond, the historical land that gave birth to our political renaissance towards self-rule. Permit me to reach your esteemed office through the thoughts of humble Ghanaians. I believe you may agree with me that, with power comes responsibility, and the power that democracy bestows is one that grants humble citizens like myself the opportunity to speak and write on issues that affects us all.
Learning from the past is awkward at best for any man who believes history began with his own arrival, and doing the hard work of filling vague promises with concrete specifics is a tedious work. Ghanaians have come to realize this as we check several pages of long manifesto promises which may never happen.
Mr. President, you came into office on the soaring wings of ''a better Ghana agenda coupled with edey be keke". The 2012 election earned you one of the strongest hands of any incoming president in modern times, from a grieving nation who had lost its sitting President for the first time, and a forgiving nation who were willing to forge ahead with you despite disagreement with your election.
Today, we as a country stand among the weakest in modern times, suffering one of the worst reversals of economic fortunes in a century. Even among Ghanaians who did not vote for you in 2012, so many yearned for you to succeed because your youthfulness brought with it a sense of hope, change and newness that we believed was lacking in our political system, post 2008. Students, graduates, workers, mothers, fathers, children, Men of God, religious and none religious persons alike have given prayers and counsel of good faith and yet the country continues to deteriorate.
Today, Ghanaians have turned on you. The youth especially bemoans the lack of confidence your failure has bestowed on us as our political future lays at the mercy of the yardstick you have created. They are, at best, indifferent to you now. Many more, in the silent majority have turned toxically against you.
I believe if you were inclined toward introspection, you might ask yourself, "How did things get this way?" Mr. President, the answer may be simple: Ghana feels betrayed under your leadership. We may have been lured into believing your long manifesto with vague and empty promises of a "better Ghana Agenda" which died upon arrival. Those promises failed to live up to your grand assurances. Yet, as our neighbors may indicate their displeasure in violent ways, we keep to gently reminding you each day with peaceful demonstrations as we OCCUPY and hope as good nurtured people, that this too, shall pass; and so we bid our time tortoising along the hardship of each passing day till 2016.
The chronicles of the failures of your government are unprecedented, yet, astonishingly, you remain utterly uncowed by your own failures. Your government continues to plague Ghanaians each day with a new obstacle, I can't help but to liken todays Ghana to my favorite Game "Candy Crush", it has become an unrewarding obstacle course. However, it has thought Ghanaians to live the hard way; we are left with no other option than to join the "Kpakpakpa Movement'' in order to survive.
A Country that has seen its glory as the "Gateway to Africa" is now barely trudging along as a "Gateway for narcotics". The curse of every dying government is one characterized by a weakened national security system which perpetuates the corruption of its own people. According to the reports from the 66th session of the United Nations General Assembly on Drugs and Crime as a Threat to Development, 26 June 2012, transnational organized crime and drug trafficking is of growing concern to the world over, and particularly illicit trade's broad impact on development. Drug trafficking has particularly severe implications because of the vast illegal profits it generates: an estimated 322 billion dollars a year. In several drug production and transit regions, criminal groups undermine state authority and the rule of law by fuelling corruption, compromising elections, and hurting the legitimate economy.
The pun is not lost on us, on the importance of individual action and responsibility in upholding our dear country, but, whilst we keep our end of the bargain in paying taxes to resource government and the security agencies to keep Country and its people safe and to protect our borders from illegal activities, we as a people demand executive action from the government to combat this phenomenon which has taking rumored roots in government. In the wake of an international bust of Ghanaian born Ruby Adu Gyamfi, who was reportedly carrying cocaine weighing 12.5kg, estimated at about 3.5 million pounds or $5 million in street value at the Heathrow Airport in the United Kingdom, it has become apparent the staggering lack of concerted efforts in guarding our gateways against transnational crime.
Mr. President, it is unfortunate to see the pride of our dear country suffer and as we continue to export our inefficiencies and mismanagement across international borders through drug trafficking and other vices, we cannot help but to ask how far can we fall from grace as a nation? For as popular Ghanaian proverb says, "Opanyin bone aa otina fie ma nkora we nanka no, yeka nanka we fo aa, oka hu be" which translates (the head of the house who watches on as his children commits crime is equally guilty of the crime).
As the year draws to a close, Ghanaians await some good news in the subsequent years. However, our hope for a merry Christmas and a prosperous new year which is meant to bring good tidings has been dashed, upon the reading of the 2015 budget. The supposed 'IMF endorse 'austere' 2015 budget' boast of austerity at the expense of Ghanaians. However the 'strict' positioning of the budget is one that is insensitive and indifferent to the current predicament of Ghanaians. The measures spelt in the 2015 budget are castigatory to say least to the people of this country who are still reeling from a recent increase in taxes and whilst the majority of us continue to survive below acceptable levels of poverty - we are hit with "reforms that are geared towards boosting tax revenues with the introduction of 17.5 percent petroleum tax; implementation of the VAT on fee-based financial services among other new tax strategies". Petroleum tax, I believe, is a summary indicting to the Ghanaians, that every aspect of our lives as we know it, has been successfully taxed.
Mr. President, 2015 will be one of the most important years of your government, as you are tasked to appoint an Electoral Commissioner as a replacement for Dr. Afari Djan who retires from active duty. As Mr. Asiedu Nketia, NDC Party General-Secretary has indicated, you need "no encouragement". I have however made it a personal civic duty to gently remind you, that in a country that has experienced a disputed national election, it places an additional responsibility on you to be judicious as you follow due diligence both in consultation and appointment of the new Electoral Commissioner. It is perhaps the singular act that has the power to restore some semblance of faith in a government that stands at the verge of losing touch and confidence with its own people. As a humble Ghanaian, I say let your appointment restore our faith in the electoral process once again.
Mr. President, amidst calls for pragmatic solution to the country's energy crisis and the never ending "dumsor" that has characterized your government, we woke up to a new Power Ministry charged to restructure the power sector to ensure more stability and security. I am however doubtful if the creation of such a ministry is what is required to solve the country's energy problems capable of bringing 'light' to the homes of Ghanaians. The result of creating a new ministry such as this will not only duplicate efforts, but require the employment of an entire army of Directors and administrators, increase red tape, and bureaucracy all of which will only increase government expenditure and may eventually be counterproductive to the very reason for its setup. This is I believe inconsistent with a government advocating frugality with an austere budget.
As our economic development is threatened by transnational organized crime and illicit drugs, corruption and socio economic crisis, I implore your government to consider measures to step up efforts to address issues such as corruption, money laundering, trafficking of drugs and people. Organized crime and drugs impact every economy, in every country, but they are particularly devastating in weak and vulnerable country such as ours.
With the consistent increment of taxes, the Ghanaian public demands that government be efficient, responsive, transparent and accountable. These we believe are necessary elements of effort to improve official accountability. Whilst your government demands cedi-pinching living from Ghanaians, we will call from same from your esteemed office.
At the close of a difficult year, I wish you well, and as Ghanaians awaits 2016, I will do my utmost best to fight against every one of your proposals that limits the social, economic and personal freedom and well-being of Ghanaians, and fight for every one of your proposals that promote freedom and well-being, although, I am pessimistic about your plans to do the latter.
I remain yours faithful in opposition,
Chief Obosu Mohammed
NPP, Member Mfantseman
[email protected]