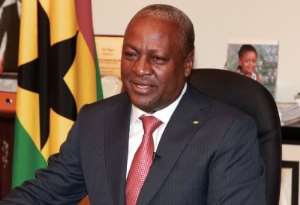 Ms. Lauretta Vivian Lamptey, CHRAJ Commissioner. Government has welcomed the Auditor-General's decision to con-duct an immediate audit into the use of public funds by the Commission for Human Rights and Administrative Justice (CHRAJ).
While conceding that the Com-mission is an independent constitutional body, the Auditor-General stat-ed, 'We must also be mindful of the fact that the Commission and other such bodies are funded by tax revenue, and allegations of misuse of such funds must be looked into'.
The government, in a statement issued and signed by Dr. Edward Omane Boamah, Minister for Communications, indicated that the audit had been prompted by recent reports of inappropriate use of public funds by the Commissioner.
The CHRAJ Commissioner, Lauretta Lamptey, has come under heavy public criticism for allegedly spend-ing about $180,000 on rent while the official residence which had been under renovation since 2011, was being done at a cost of GH¢ 182,000.
Lauretta is currently said to be lodging at a hotel with her two chil-dren since her tenancy expired in 2013 and has confirmed paying $456.25 daily.
However, the statement dis-agreed, insisting that as an institution mandated by the 1992 Constitution to uphold the highest standards of accountability and morality, the reported claims of inappropriate use of funds and possible breach of the conditions of service of the Commissioner could affect the credibility of
the Commission's work and that of the Commissioner.
According to Dr. Omane Boamah, government expects the Auditor-General to complete its audit within
the shortest possible time. Caution The statement further cautioned heads of the various Ministries, Departments, Agencies (MDAs) and heads of institutions that rely on pub-lic funds, that they would be held accountable for any misapplication and inappropriate use of public funds, as well as any infringements of the Financial Administration Rules.
'All public officials, both political and non-political, are also reminded of the Code of Conduct for Public Office Holders issued by President John Mahama, and are cautioned to note that should they be found to have contravened any of the coun-try's laws, they will be made to face the consequences', the statement cautioned.
The minister indicated that under the public service regulations, all state officials who are entitled to official accommodation but are not allocated same may only collect 20% of their salary in lieu of rent, unless otherwise expressly stated in their conditions of service.
Jump Or Be Pushed Meanwhile, the Progressive Nationalists Forum (PNF) has given Ms Lauretta Lamptey, four-day ultimatum to resign or face force eviction.
A statement jointly signed by Richard Nyamah and Fred Amankwah Sarfo, conveners of the group, said, 'We have instructed our lawyers to initiate the constitutional processes for the removal from office of the Commissioner of CHRAJ, Ms. Lauretta Vivian Lamptey.
'We shall put before the President of the Republic of Ghana a petition for the purpose by Monday, September 29, if she neglects, fails or refuses to do the honorable thing.'
The group noted that Ms. Lamptey's actions bothered on violations of law and serious misconduct that make her no longer fit for the high office of Commissioner of CHRAJ, stating that 'her credibility has been dented by her actions and this could negatively affect the image of the commission.'
BY Jeffrey De-Graft Johnson Email:[email protected]