When Will TOR's 'Catalytic Crack'?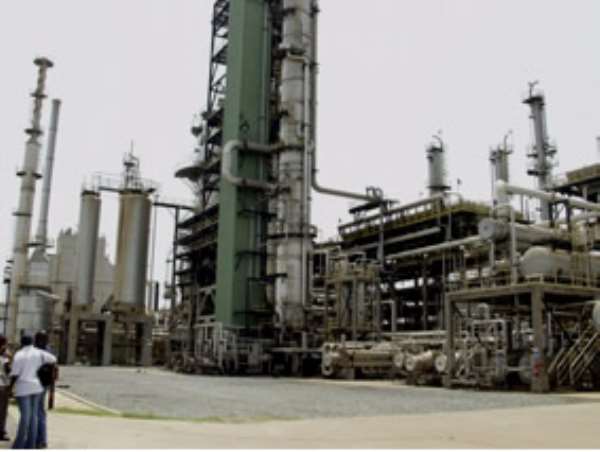 Do not be confused about the jargon in the headline since all I intend to do with this letter is to find out from Tema Oil Refinery, Energy Ministry and, Ghana Government when TOR will be in operations without excuses.
I referred to the catalytic cracker because that machine's relevance to the existence of TOR and its efficiency in the oil refinery business cannot be downplayed.
It's therefore worrying to hear that that companies woes has moved from management and finances to other issues like politics and technical with catalytic cracker being the current bone of contention.
For me it's sad yet ridiculous the way we toyed with the only oil refinery bequeathed unto us by Ghana first president by the virtue of his insight to what that company has in Ghana's economy.
I think to see such a strategic company established by the only visionary leader of Ghana Osagyefo Dr. Kwane Nkrumah gradually halting its operation as a result of inferiority complex and lack of quality management of appointees must be treated as a crises and not just a political massaging of issue by Ghanaians.
Tema Oil Refinery even before Ghana exported its first oil in commercial quantity was capable to refine imported oil affordably for Ghanaians.
What then went wrong that in the midst of Ghana's status as oil economy we still have problems locally with our fuel?
This is because we are told that the famous catalytic cracker the most important machine that makes TOR a refinery is inefficient as it needs over 600 million dollars to make it operational.
I am believe that the cracker is no doubt an import part of the machine that needs serious attention hence immediate call on all stakeholders in that company to put all hands on deck to ensure its brought back to life.
I have also been joyfully informed reliably that all the over five hundred workers who have left TOR voluntarily or compulsorily in search of greener pastures have chocked success in their various destinations that they will be make their added value gained abroad available if we begin to manage that entity with the seriousness it deserves.
It's also refreshingly revealing to note that all the excuses, complaints and, mismanagements at TOR is not from the technical men who handle the refinery machines Rather it has to do with politician and their cronies as well as individual technocrats with corruptible minds sent there by political parties in power to manage and control the finances of the place that collapses the corporate entity daily.
I t will therefore be my joy to hear Ghanaian voters asking NPP and NDC what they will do in reviving TOR, GTP, Publishing, The erstwhile state farms instead of demanding one Ghana for their pockets as a well managed TOR means affordable fuel for average Ghanaian.
Some say TOR'S operations are at loss to Ghana's economy with opposing views blaming it on government's inability to secure enough funds to make the company fully operational to Ghana's advantage.
This also increases my problem leaving me with no option than to ask whether a Ghanaian leader takes power to manage the resources or just for employment sake.
I do not think any developing nation such as Bourkinafaso, Togo or Chad would allow politics and pettiness to make them loss their valuable asset like an oil refinery.
What are we doing in Ghana we are debating on issues of such economic assets along political ideologies leaving that available entity to tacitly collapse and put it on divestiture?
In fact it saddened me also to see the legacies of Ghana to be in foreign hands yet we seek support abroad for even printing an inscribing on ourpannefenellia for our political campaigns which Ghanaians companies well managed could have done with Ghanaians expertise.
Ghana publishing office in Tema is now virtually a container terminal just like the black star line which supposed to hold offices of the Ghana vessels is in the hands of clearing and forwarding agencies.
But for Alhaji Collins Daudau Tema PSC yard; dry dock would have still been managed poorly by some citizens of our independence age mate Malaysians because of some interest somewhere.
Meridian hotel has collapsed to the extent that even squatters has refuse to
Lodge there though that edifice on the main harbor road is in the full glare of the authorities. The only plot in front has been fenced by an individual purposely for private development.
Come to think of it should neither cry nor laugh as none of these emotions will help me see the rejuvenating of all abandoned projects of government of Ghana to be in operation rather
I will call on authorities to immediately work on those abandoned projects like tor with the alacrity it deserves.
lets Ghana have a feel of TOR ones again by making use of the facilities there to benefits us .with our oil fined at least let's get gas a byproduct after refining the crude for petrol, kerosene, and other stuff .
Mining it here and exported abroad before it come back here is costly than to transport it from Takoradi,Nzulezu or Evelua Jura to Tema , Kpone, OR Ningo all in Ghana by Ghanaians.
After all we have not seen the use of gold as no refinery was built since guggisburg time for it to be refined here but we are willing to criminalize our own men who mined it without t hesitation yet quick to give concession to foreigners.
So is cocoa In its raw states is not palatable to eat until valued is added to make it powders or liquid to form at least chocolate yet little or no effort has been made to establish an indigenous company to refine it here .yet we adopt the products name chocolate instead of valentine day though a world accepted festival.
Opayin Okyere-Fianko
Marine Railways and Ports
Tema