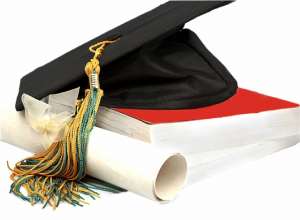 Upon waking from bed on Thursday, February 13th 2014, I suddenly realized how porous our education system has been for decades. Yes! Porous is the word I would use to describe the system.
Why? A tertiary student in the University of Winneba has committed suicide for some supposed 'poor academic performance. See Ghanaweb.com (14/02/2014, university student commits suicide). A suicide note is found in his pocket which says "I have ever been to the Ghana Armed Forces". Clearly such a student is trying to prove to the world even with his last breath that he is not a failure. Now what baffles me is the nature of some policies being put in place by some of this our tertiary institutions to regulate the academic performance of students. This policies are rather retributive as it seeks to punish students who cannot cope with the academic tussles. In the said university where the deceased student is said to come from, only three fails in your end of semester exams and you are bound to go home. Wooow! Is this not horrific? Some of these rusticated students end up in psychiatric centers and some on the streets causing mayhem. No wonder we now have the armed robbers Association of Ghana! This leaves much to be desired from our stakeholders.
Come to think of it, after a lot of strives to get admission, you pay about Gh₵ 1200, spend time and energy trying to grasp all that is being taught and before a twinkle of an eye you are out of the academic race!!! Then you begin to think of your whole life which has been shattered with something called tertiary education. You turn right and you see that friend back home who would spread the information to all. You look ahead and see that father and mother who would be so disappointed in you. I call it failed dreams. You realize that you have to start all over again and the devil suggests 'what about suicide?' With no experienced counselor around, tell me in this situation, would you not go for it?
This is where I have some issues with the authorities of these institutions. A student fails in three papers, you don't inquire about the cause of this, you don't counsel the student on his failure, you don't do any pre-counseling before telling him to go home and all you do is to paste his name on a noticeboard announcing his failure to his enemies and friends. I doubt even if there is a guidance and counseling in these institutions. Yet we claim to have the best psychologists, philosophers and sociologists in our institutions. I do not intend to undermine the integrity of these intellectuals but this is where they have to prove their usefulness. At least the student might have reached his breaking point. Do we ever think about say, if the student excelled in other courses or maybe he was going through some psychological trauma as at the time he was writing those papers? Per the suicide note of the deceased, we can see that no human ever desires to be a failure. This tells us that something could have still been done to avert the ill-fate of this student.
Let it be known that in this world a lot of failures have turned out to be the best in the world. The originator of Microsoft, Bill gates was also sacked from the university in his youthful days but he went on to be the best thing to ever happen to our IT system in this world. More can be said about the likes of Isaac Newton and many uncountable personalities. So a failed student is not a failure in the entirety of life itself.
My suggestions… The world has moved for this universities to still hold on to this bizarre policies. There is nothing wrong if those universities having this policies reverse to the University of Ghana's policy (a student gets a GPA below 1.0 and he goes home). This provides a student who is good in other courses to cover up these failed courses with those he is good in.
Again, what about conducting a counseling session for those students who are deemed to have failed before sending them out of the institution. Or maybe say, let these students join the next academic year without re-applying to the university. This would look like demotion as was done in our primary school days.
Furthermore, in this age of technology, the noticeboard should not always be a place for disseminating information to students. There are other avenues like text messages, students' portal and many others where the authorities could reveal the failure of these students to them and them alone
Last but not least, the stakeholders of our tertiary institutions hold it in their palms to reshape our educational structure by instituting policies that seek to reform the society and not those that seek the path of retribution. I rest my case…
Inusah Zanjina [email protected] 0245613606.