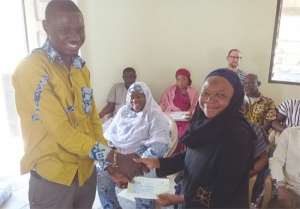 The Tamale Sister Cities, in collaboration with the Trull Foundation,  a United States-based non-governmental organisation ( NGO), has presented cheques totalling $37,900 to eight local NGOs operating in the Tamale metropolis.
The grants from the Trull Foundation were to support the beneficiary organisations that worked in five thematic areas namely, health, education, sanitation, cultural and peace building  to undertake their activities for the year.
Beneficiaries
The beneficiary organisations are Metropolitan Parent-Teacher Association Network, Center for Social Advocacy and Development in Northern Ghana (CENSAD), Pagbi Min Bipola Legbimsim Association (PAGABILLA), association for the empowerment of women and youth and Lively Minds Ghana.
The rest are : Tahama Youth Development Association- Lingbinga, Suglo N-Nya Behigu Women's Association, Trust Narrow Organisation and Net Organisation for Youth Empowerment and Development.
The beneficiary organisations were selected out of the 22 CBOs and local NGOs in Tamale that presented their proposals for funding to the foundation.
Foundation support
The foundation has so far supported 45 CBOs and local NGOs in Tamale with  $351,900 since the inception of the programme nine years ago.
Speaking at the presentation ceremony, Mr Kojo Kaleem, the immediate past president of the Tamale Sister Cities said each year, the Trull Foundation received proposals from local NGOs in Tamale and after assessment, the foundation provided those that were successful with funding to undertake their activities.
Tamale Sister Cities
He said the Tamale Sister Cities usually received the funding on behalf of the beneficiaries and subsequently presented them with the cheques on behalf of the foundation.
Mr Kaleem said the Tamale Sister Cities , the local representatives of the Trull Foundation, had put in place a comprehensive monitoring mechanism to ensure that the funding received by the beneficiary organisations were used for the purposes for which they were given.
The Chief Executive Officer ( CEO) of PAGABILA, Hajia Adishetu Salifu, on behalf of the beneficiary organisations, thanked the Trull Foundation for the support and pledged that they would use the money for its intended purposes.