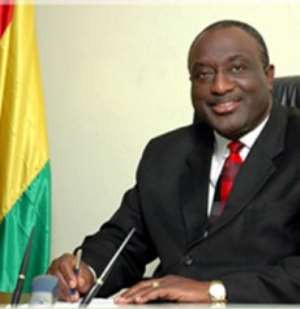 Folks, never mind if this rejoinder is belated after all didn't Mr. Alan Keremanteng himself wait for long time before coming out with his reason that cost him the WTO job?
To suggest that disunity cost him WTO job certainly is not a sage way for him to let go his frustrations and to refocus on his next political move. I am surprised that Mr. Alan Kyeremanteng would come out handy this way with this type of reason to explain his loss for the WTO job.
For Alan to have blazed the political trail, the path must have been punctuated with evidences of selflessness, devotion to duty, care for the electorate, innovative thinker, initiation of good policies to help community and country, for others to emulate and render judgment. Some of these qualities go a long way to propel and define a candidate for a global position, at least per my take; the assumption being that if you carve a niche for yourself, thanks to your stewardship as of the time, when you were at the helm of affairs, be that as it may, as a Former Minister, a political figure, or an international diplomat, speaks volume of your professional pedigree. Professor Frimpong Boateng has left a legacy at the Korle Bu Teaching hospital by virtue of his professional exploits as one of the best heart surgeons who transformed the hospital. Granted an opening existed at the international level around his field of expertise, his trail is full of evidences of outstanding competencies.
Honorable Dan Botwe, will go down in history as one of the best Secretary Generals of the National Patriotic Party (NPP) who crafted strategies to regain power for the NPP. No wonder, Hon. Dan Botwe might have campaigned and won as a first timer in his constituency to represent his constituents in parliament.
Strong credentials, competencies and experiences in addition to being a strategic communicator will always carry a candidate through. And so, candidates will not depend too much on the magnanimity of a bloc of any kind to front for them to win elections, but will rather seek that as a complimentary role.
That is why it is surprising for Mr. Alan Kyeremanteng to lose the WTO job. My understanding is that being a former Trade Minister in Ghana, having served as a diplomat for Ghana cum several other different positions held internationally would have availed him to network on the international platform. One would have therefore expected Alan to make his presence felt and be a force to reckon with in the trade organizational circles internationally. Yet that did not create an impact for him.
This brings to mind the central issue of this piece that disunity cost him the WTO job. What did he do to make himself a compelling candidate? At that level, one does not sit there and expect goodwill, charity or sympathy to carry you through. For goodness sake, it is an international position and much as lobbying is pivotal, the pedigree, competency, skills, experiences and academic qualifications of the candidate are paramount to match the competition from other candidates. This kind of support from a regional bloc, from a government plays a role but not as significant as to the bigger role the professional pedigree of the candidate himself would play. Make no mistake for its neither African nor Ghanaian politics as usual, where square pegs are put in round holes!
Take the case of former Secretary General Kofi Annan for instance… there was no way he was going to be bypassed to become Secretary General owing to his strong credentials and contributions to the UN which would have been very palpable for all to see at the time of nominations and voting. And indeed, former Secretary General Kofi Annan would agree that if Mr. Sylvanus Tiewul were alive, what a stiff competition it would have turned out to be! That is not to suggest that Uncle Tiewul was a better candidate, but they both contributed their quota and impacted UN by their professional exploits to this august international body.
Therefore, had Mr. Alan Keremanteng created an impact per his contributions to Ghana when he was the Minister of Trade and Industry, his exploits would have been evident and would have helped his course. If he were strong at the international positions he held, that would have contributed positively as well to his candidacy.
The fundamental question that perhaps dealt a heck of a blow to Alan during the interview was circumvented in response to. He was asked: "in your country…you had the name "Alan Cash" can you explain how that came about? This resonates what I stated earlier about blazing a positive political trail as evidences for oneself.
It would have been a slam dunk given his international exposure in addition to the endorsement he received from the African Union bloc. It appears there was just no stiff competition from his end to dislodge the current incumbent. So were the other contesting candidates! Therefore, he might as well as just dust himself off and get going for his next political move.
Cletus D. Kuunifaa, Long Island University, LIU Post, New York. Can be contacted at [email protected] or Follow him on twitter @ckuunifaa