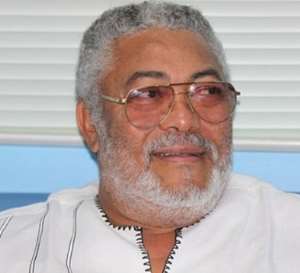 IN THE SPORT OF BOXING, THE BEST WAY TO DEFEND YOURSELF IS TO BE OFFENSIVE OR ATTACK YOUR OPPONENT. THIS IS ALSO TRUE WHEN IT COMES TO WHO RANKS HIGHER ON THE CORRUPTION INDEX AMONG FORMER PRESIDENTS OF GHANA. GEORGE BUSH ONCE SAID THAT, IF YOU KEEP REPEATING A LIE, OVER AND OVER AGAIN, SOME PEOPLE WILL CHANGE THEIR PERCEPTION AND BELIEVE IT TO BE THE TRUTH. RAWLINGS HAS BEEN CONSTANTLY BASHING KUFFOUR FOR BEING CORRUPT AND PRESIDING OVER CORRUPT REGIME BUT ANY WELL MEANING GHANAIAN KNOWS THAT THE FACTS ARE NOT THERE TO SUPPORT JJR'S CLAIMS. ON THE CONTRARY, THE FACTS AVAILABLE SHOW THAT JJR IS THE MOST CORRUPT LEADER GHANA HAS EVER HAD IN THE CURRENT REPUBLIC.
HERE ARE SOME FEW FACTS.
1. WHEN KUFFOUR BECAME PRESIDENT, HE HAD HIS OWN HOUSE WHERE HE LIVED DURING HIS
PRESIDENCY AND CONTINUE TO LIVE THERE POST PRESIDENCY.
WHEN RAWLINGS BECAME PRESIDENT/HEAD OF STATE, HE HAD NOTHING, ABSOLUTELY NOTHING, NOT
EVEN A WELL FURNISHED RENTED ROOM. BEFORE LEAVING OFFICE, JJR WAS A MULTIMILLIONAIRE
WITH 3 HUGE MANSIONS IN AJIRINGANO, VOLTA REGION, AND LONDON. HE HAD ALSO APPROPRIATED
FOR HIMSELF ANOTHER MANSION AT RIDGE WHICH HE LATER BURNT DOWN FOR WANT OF A BETTER
BUILDING ON THE SAME SITE.
2. JJR LEFT OFFICE WITH 16 CARS AND SUVS, KUFFOUR LEFT WITH 8 AND EVEN THOSE 8 WERE TAKEN
BACK BY NDC GOVERNMENT.
3. JJR SOLD NSAWAN DISTILLERY TO HIS WIFE FOR PEANUTS AND EVEN THE PURCHASE PRICE WAS NOT
FULLY PAID UP. KUFFOUR NEVER SOLD ANY STATE PROPERTY TO HIS WIFE, AT LEAST NONE THAT WE
KNOW OF AS OF NOW.
4. JJR NEVER PURCHASED ANY GOLD MEDAL FOR HIMSELF, BUT INSTEAD PURCHASED A SPEED BOAT
FOR HIMSELF AT A COST FAR IN EXCESS OF KUFFOUR'S MEDAL BUT FAILED TO DISCLOSE THE
SOURCE OF FUNDING FOR THE SPEED BOAT.
5. JJR. PAID FOR HIS CHILDREN'S EDUCATION WHILES IN OFFICE, IN BRITAIN NOT IN CEDIS BUT WITH
POUNDS STERLING BUT AGAIN REFUSED TO TELL WHERE THE MONEY CAME FROM. KUFFOUR NEVER
SPENT ANY MONEY ON HIS CHILDREN EDUCATION DURING HIS PRESIDENCY AT LEAST NONE THAT WE
KNOW OF.
THESE ARE JUST FEW OF THE FACTS THAT ARE IN PUBLIC DOMAIN. THE GENERAL PUBLIC CAN ADD TO THESE COMPARISON OF THE TWO FORMER LEADERS AND JUDGE WHO IS MORE CORRUPT.