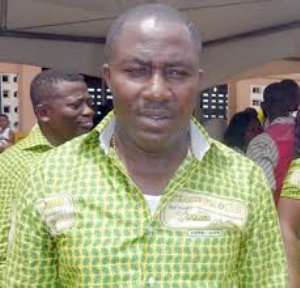 The young man, popularly called 'Despite' of peace FM Fame, deserves the Honorary Doctorate Degree from a British University. He earned the degree on merit not as a book worm but as an entrepreneur. He pursued the path of entrepreneurship like information technology giant Bill Gates, of Microsoft Company of the United States of America. The Chief Executive Officer of Peace FM is now qualified to be called Dr Osei Kwame 'Despite'. Why not. He, like all humans is gifted with a talent. While others were pursuing academic courses or politics to higher levels, he combined the pursuit of knowledge with practical application of his talent by writing his marketing theses' that were approved by the generality of people including universities of higher learning.
From a small beginning Dr Osei Kwame has set up an empire of 'Despite Group' that include Peace FM, Okay FM, Hello FM, United Television (UTV), producing This Way Chocolate Drink, operating Neat Foods Company Limited (which produces and markets NEAT Fufu, NEAT Banku, NEAT Abenkwan, NEAT Hausa Koko, NEAT Diary Products) and the yet to be outdoored Asomdwe FM. This is great.
To arrive at their decision to award him the degree, Dr Osei Kwame 'Despite' was thoroughly assessed by the Canterbury University and conferred on him a Doctorate Degree of Human Resource on 28th April, 2013.
The Business mogul and owner of the Despite Group of Companies was elevated to the status of a Doctor by the Canterbury University for his continuous contribution to innovation, provision of job opportunities and relentless promotion of the Ghanaian Culture.
The citation which was signed by Archbishop Sir Dr. Paul Hanson, Primate of Africa and Most Rt. Rev. Dr. Prince Kudolo (Archbishop of Ghana) landed the lofty prize into the hands of Doctor Osei Kwame 'Despite' for portraying himself as person millions can emulate in the society.
With the establishments set up by Dr OSEI Kwame, a whole lot of people including Kwame Sefa Kayi the popular journalist and broadcaster Frimpong Manson Adakabre, have been empowered to serve the nation. The multiplying effect of this is that his effort has led to his employees supporting themselves and their families and dependants.
Some locally manufactured products
In the maiden Ghana Made Product Awards 2013, an initiative of Entrepreneurs Foundation of Ghana (EFG), held at the Banquet Hall, State House in Accra some products of the despite group of companies won awards. These included some of the the above mentioned beverages and foods. "
The feat chalked by Dr Osei Kwame who hails from Agona Wiamoase In the Ashanti Region will inspire many Ghanaians to pursue entrepreneurship. He is a role model who will be an all time member of top level personalities in Ghana.
Apart from Dr Osei Kwame Despite there are many other citizens who have been awarded Honorary Doctorate Degrees for the roles they have played and continue to play in various fields in Ghana. These include former President J J Rawlings who has received a number of awards including a Doctorate Degree from the University Of Development Studies in Tamale and J. A. Kufuor who has also received a number of awards, including a doctorate degree from the University of Edinburgh.
There are a number of dignitaries including The Asantehene Otumfuor Osei Tutu the second, Peter Cardinal Turkson of the Catholic Church, Drs Joyce Aryee and Pastor Mensah Otabil, Maulvi Wahab Adam and Sheikh Dr Osman Nuhu Sharubututu all deserve their awards of Honorary Doctorate Degrees.
Even though there are many more people in sports business, sports academia, journalism, medicine, nursing, and engineering who deserve mention, we present the profiles the following prominent people for your attention
OTUMFUO OSEI TUTU II


Otumfuo Osei Tutu II is the 16th Asantehene, the traditional King of the Ashanti people in Ghana. The Asantehene has won great admiration for the unique brand of leadership he has provided the people of Asante, in particular, and Ghana in general
As a good leader one of his first tasks was to encourage his people to seek the path of arbitration instead of litigation in numerous land and succession disputes that had plagued Asanteman for decades. This task, he has performed with great wisdom and tenacity of purpose, earning for himself remarkable respect among the people.
The vision of Otumfuo Osei Tutu II encompasses education, health and economic development. He set up the Otumfuo Education Fund to generate resources, effort to provide opportunities for quality Primary, Secondary, Tertiary and Vocational Education not only in his Kingdom, but also in Ghana generally. In 2000, he embarked upon a vigorous campaign to draw attention to the benefits of individual/group sponsorship of the education of orphaned children. Over the first five years, the Otumfuo Education Fund has benefited over 4,000 students at various levels of education.
It was his keen determination to enhance the quality of education of Ghanaians that he received the commendation of the Association of Commonwealth Universities, conferring on him the Symons Award in April, 2000.
Otumfuo Osei Tutu II stands tall as a visionary, a great leader of Asanteman, leading to the preservation of cultural heritage as well as combining modernism and tradition to promote the education, health and economic development of his people.
JOHN AGYEKUM KUFUOR


John Kofi Agyekum Kufuor was the second President of the Fourth Republic of Ghana.
His administration's domestic policy in the first term was marked by fiscal and monetary stringency on the economic front, aimed at stabilizing the economy that had stagnated and was in decline.
His introduced many social interventions on health and education. He also focused on promoting entrepreneurial, creative and innovative potential of Ghanaians as a means of creating wealth and hence dealing with the social challenges facing them.
He served as Chairman of the regional grouping ECOWAS for two consecutive terms – 2003 and 2004. His stature as statesman, democrat and credible spokesman for Africa has found expression in his invitation to major international meetings and conferences. His administration received assistance towards stabilizing our economy than any government in the history of Ghana. Kufuor has been honored with numerous awards, including the Face-of-Good-Governance Award, Chatham House Prize, the Climate Change Award, and the World Food Program's Global Ambassador against Hunger.
JERRY JOHN RAWLINGS


His Excellency the Former President of Ghana, Flt Lt (rtd) Jerry John Rawlings was born on the June 22nd, 1947.
He founded the National Democratic Congress which won the 1992 general election. He took office in 1993, and was re-elected in 1997.
In October 2010, Jerry John Rawlings was named AU Envoy to Somalia. This appointment came to him when the situation in Somalia continues to be of concern to the world.
The appointment of Mr. Rawlings bears testimony to the renewed commitment of the AU, in close coordination with IGAD, to work towards the successful return of peace and reconciliation process in Somalia, including the strengthening the AU Mission in that country.
NANA ADDO DANQUAH AKUFO ADDO


Born on the 9th of March, 1944, Nana Akufo Addo ran for President of Ghana in the 2008 and 2012 presidential elections as the New Patriotic Party candidate. The experienced politician is from Kyebi in the Eastern region.
He is married to Rebecca Akufo Addo.
In the 2012 presidential election in Ghana, Nana Akufo Addo for the second time running was declared loser in the race to the NDC's John Mahama. He challenged the result of the election in the Supreme Court which adjudicated against him . Yet Nana Addo accepted the verdict that won him many admirers at home and abroad.
Nana Akufo-Addo has over the years used his knowledge in law to promote human rights, rule of law, freedom of press and democracy in the country.
In the lead up to the 2012 elections, he ran a dynamic campaign based on his promise of free education for Senior High Schools in the country.
PETER CARDINAL TURKSON


Peter Kodwo Appiah Turkon is a Cardinal of the Catholic Church. He is the current president of the Pontifical Council for Justice and Peace conferred on him by Pope Benedict XV.
He had previously served as Archbishop of Cape Coast. He was elevated to the cardinal by Pope John Paul II in 2003.
Cardinal Turkson was a professor at St. Teresa's Minor Seminary from 1975 to 1976, whence he entered the Pontifical Biblical Institute in Rome, earning a licentiate in Sacred Scripture in 1980. John Paul II elevated him Cardinal-Priest of S. Liborio in his last consistory of 21 October 2003.
Cardinal Turkson is the first Ghanaian cardinal, and was one of the cardinal electors who participated in the 2005 papal conclave, which selected Pope Benedict XVI.
He was described as "one of Africa's most energetic church leaders" by a UK Catholic magazine.
H.E JOHN DRAMANI MAHAMA


John Dramani Mahama was the Vice President of Ghana from 2009 to 2012, and he took office as President on 24th July 2012 following the death of his predecessor, President John Atta Mills. A respected communication expert, historian, and writer, Mahama was a Member of Parliament from 1997 to 2009 and Minister of Communications from 1998 to 2001.
After completing his undergraduate education, Mahama taught History at the secondary school level for a few years.
Widely acclaimed both locally and internationally for his natural charisma and being affable, down to earth with sterling leadership qualities, he is arguably the first Ghanaian leader to have served at all levels of political office.
After the death of his predecessor, John Atta Mills, his political supporters christened him 'Ahobrasehene' meaning 'King of Humility' in the Akan language to crown his accolades
Mr Roland Agambire


Mr Agambire is the Chief Executive Officer (CEO) of rlg Communications and Executive Chairman of the AGAMS group of companies. He established rlg in March 2001.
The company is a pioneer in the establishment of a mobile technology institute in Ghana and the West African sub region.
Mr Roland Agambire, Chief Executive Officer of rlg Communications was adjudged the Marketing Man of the year 2011 by the Chartered Institute of Marketing (CIMG).
Roland Agambire emerged as 2nd Most Respected Chief Executive Officer and his company the 3rd Most Respected Company at the Most Respected Company and CEO Awards.Ghana Investment Promotion Centre (GIPC) released the latest Ghana Club 100 listing, ranking RLG as the 2nd Best Company in Ghana.
At a continental level, RLG was named among the 12 Finalists in this year's Africa Awards for Entrepreneurship by the South Africa based Africa Leadership Network.
RLG is the foremost assembler of mobile phones, laptops and desktop computers in Africa and currently holds a partnership status with Microsoft.
The company employs close to a thousand permanent staff in Ghana and its training wing, the RLG institute of technology has trained some 30,000 youth in ICT related disciplines since 2006. It currently has presence in Nigeria, the Gambia, China and Dubai and has invested heavily towards charity and corporate social responsibilities
DR. THERESA OPPONG-BEEKO


Dr. Theresa Oppong-Beeko is the President of Manet Group, the second largest real estate developer in Ghana and the diversified office / residential and hotel accommodation provider. Over the years, her company has played an active role in the real estate industry.
The company has built over 1,200 residential units, a three-star hotel resort, and other civil engineering facilities such as urban roads, motor carriages, bypasses, just to mention a few. Theresa Oppong Beeko, brings a refreshing whiff of fresh air to this, usually male-dominated industry.
She is blazing an entrepreneurial trail in Ghana's real estate industry that is proving hard, near impossible for her private sector counterparts to follow.
Today, she sits astride the huge Manet Group, which comprises Manet Housing, a real estate development firm, Manet Paradise, a three star hotel resort, Manet Construction a civil engineering company; and Manet Towers. MANET Properties was presented with the overall property award for 2012 dubbed 'Property Walk of Fame' at the 5th Ghana Property Awards.
MRS ELLEN HAGAN


Mrs. Ellen Hagan, Chief Executive of L'AINE Services Ltd and a proud member of the Ghana Club 100 was recently named the Chartered Institute of Marketing, Ghana (CIMG) Marketing Woman of the Year, 2011.
This prestigious award was conferred on her for her years of invaluable investment and service to Human Resource Development in Ghana.
Apart from this award, the company was named 50th on the Ghana Club 100 and also won CIMG Print Advert of the Year, 2011 for their 'Bend Over Backwards" advert campaign. L'AINE Services are publishers of two magazines: the only HR magazine in Ghana, the HR Focus and now the MM Focus magazines (Marketing and Media).
Mrs. Hagan was awarded the "Strategic Leadership Award" at the World HRD Congress in India in 2011, in recognition of her achievement in Human Resources development in Ghana. She also received the International Gold Star for Quality Award, in Geneva, in 2012.
The International Christian Business Excellence Awards (ICBE global awards) also conferred two awards; Best Consultant and Best Consultancy for the year 2010/2011.
Mrs. Ellen Hagan is a human resource practitioner with over 25 years' experience. She is an executive member of the Governing Council of the Institute of Human Resource Management Practitioners, Ghana and has represented the Ghana Employers' Association (GEA) during International Labour Organization (ILO) conferences on numerous occasions and an Honorary Fellow from the Boardroom Institute of the Graduate School of Governance and Leadership.

Executive Director
EANFOWORLD FOR SUSTAINABLE DEVELOPMENT
P.O.BOX 17070AN 233244370345/23326370345/ 233208844791
[email protected]/[email protected] /[email protected]
WE CALL FOR COOPERATION WITH INDIVIDUALS AND ORGANIZATIONS WISHING TO BRING OUT FACTS AND CONDEMN FALSEHOOD. LET'S JOIN HANDS