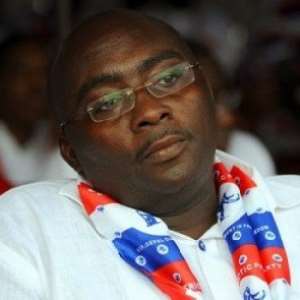 Dr. Mahamudu Bawumia
The New Patriotic Party (NPP) should shirk its Asante/Akyem dynasticand "adrumeso"
(It's my turn) mentality and field Dr. Mahamadu Bawumia (two times NPP's vice presidential candidate from the North) as its presidential candidate for the next elections.
NPP's existing principle (not method) of selecting presidential candidates is historically outmoded, out rightlydiscriminatory, strategically weak, politically suicidal and rationally senseless. The idea has become antiquated and incongruous with the party's democratic credentials.
From its progenitor, the United Gold Coast Convention (UGCC), through its various forms of Progress Party (PP), Popular Front Party (PFP) and All Peoples Party (APP) to the present,
NPP had won only two elections in Ghana. Even those two happened as a result of special circumstances present at the times.
The PP won landslide in 1969 because there was literarily no competitor. The Convention Peoples Party (CPP) had been banned. Most of its members were either in or had just come out from jail. Ghanaians were fed up with Nkrumah's dictatorship and wanted a new way out. Similarly, NPP won the 2000/2004 elections because Ghanaian's were 'fatigued' with Rawlings' military/civilian type of government.
On the other hand all NPP's viable competitors, CPP in the 50s, Peoples National Party
(PNP 1979) and National Democratic Congress (NDC 1992, 1996, 2008 and 2012) had won elections. All of them competed against variations of NPP. The only exception is the National Alliance of Liberals (NAL) which as a result of prevailing circumstances (explained earlier) lost the 1969 elections.
The Asante/Akyem dominance in Ghanaian politics had rarely turned into majority. In the early stages of Ghana's political development starting from agitation for self-government from the British colonial rule, the roles played by both the Asantes and the Akyems were very significant especially when they were joined by the Northners with some support from the Fantes and Bonos. The united front expected from the Akans is no more. NDC has systematically infiltrated, penetrated,decimated and weakened the Akans.
The Bonos who voted with the Asantes for Victor Owusu's PFP has now become a 'swing state'. They do not see any future with NPP considering the fact that they had already 'used their credit' with the election of Professor Busia as Prime Minister in 1969.
The Fantes have found their footing with the NDC which had rewarded them with the presidency. NDC obstinatelyand patiently stood by their side for three consecutive elections until Professor Atta-Mills won in 2008. On three occasions (de-Graft Johnson 1979, Atta-Mills 1996 and Ammisah-Arthur 2012) the Fantes were given the vice-presidential slot and won in each case. The NPP had never considered them for even the vice-presidential position let alone the presidency. They are now gone with (the wind) NDC.
All this while the Northners had been serving either as vice presidential candidates (1979, 1992, 1996) or vice-presidents (2000 - 2012) and by sheer luck or coincidenceresulting from the death of President Atta-Mills in 2012 had the opportunity and ran with it.
At the least NDC has shown them that after being a vice-president for twelve years they deserved to be rewarded with the presidency. They have also become tired of playing second fiddle to the Akans. Any employee who had been by-passed for promotion on several occasions would bring up his case before authorities for redress. Most invariably they arerewarded.
Even racially biased America has found a way out to vote for a black man,Barack Obama, to be president.The slave trade was abolished some 400 years ago and apartheid South Africa has been accepted back into the UN. For how long is NPP going to zone the vice-presidential position for Northners? NPP would drop Bawumiaat its own peril.
Let the apostles of 'adrumeso' continue to scream at the top of their voices that Bawumia is 'a small boy', they would wake up to see the Mamprusis and for that matter the Northners join the Fantes swim and fish in the sea for the presidency.
PNP and NDC evolved and came out with permutations with which they have won elections.The PNP's Limann and de-Graft Johnson (Sisaala/Fante 1979); NDC's Rawlings and Arkaah (Ewe/Nzima 1992); Rawlings/Atta-Mills (Ewe/Fante), Atta-Mills and Mahama
(Fante/Gonja 2008) and Mahama and Ammisah (Gonja/Fante 2012) comparatively,
PFP's Victor Owusu and Tolon Na (Asante/Dagomba)NPP's Adu-Boahen and Alhaji Issifu Alhassan(Akyem/Dagomba 1992) Kuffour and Ali Mahama(Asante/Dagomba 1996) Akuffo-Addo and Bawumia (Akyem/Mamprusi 2008/2012) lost their elections. On the top of the ticket was either an Asante or Akyem.
From the forgoing it could be seen that any group that had associated with NPP's serious competitors had been given the opportunity to run for the presidency and won. Meanwhile NPP is clamoring itself with Asante/Akyem dynasty and continue to lose. When is the self-deceptionand aggrandizement coming to an end for NPP to realize that there is a new day in 'Ogyakrom' so they should rise up from their slumber?
There has developed a trend that NPP needs to be aware of. No Akan candidate had won the presidency on his first attempt. Busia (Bono) never won an election against Nkrumah. Kuffour (Asante) won on his second attempt and Prof Atta-Mills (Fante) had it on his third time. On the
other hand non-Akans like Nkrumah (Nzema), Limann (Sissala), Rawlings (Ewe) and Mahama (Gonja) all won'One-touch'. Ghanaians seem to be either reluctant or hesitant electing an Akan to be their president. It should thus be clear that after Busia, Kuffour and Atta-Mills it would take some time for an Akan to win the presidency.
Something interesting related to candidates from the North should be noted. In 1979 PNP presented a politically unknown diplomat, Dr. Hilla Limann, from the North as its presidential candidate. He made mincemeat of one of the stalwarts of Ghana's politics and the favorite for the elections, Victor Owusu (Asante). Limann won 62% of the popular votes cast.Again in 2012 another man from the North, John Drammani Mahama, beat the all-powerful Nana Akuffo-Addo (results disputed).
The fact is on two separate occasions candidates from the Northhad beaten much known Asante/Akyem 'adrumeso' candidates for the presidency – an indication that it would be a tough call for an NPP Akan candidate to beat Mahama the Northner in 2016. Since it took an Akan (Kuffour 2000, 2004) to beat an Akan (Atta-Mills) and Atta-Mills beat Addo (2008) it would probably take a Northner to beat a Northner.
The fight for the presidency has always been between an Akan and non-Akan: Nkrumah/Busia -
(Nzema-Bono); Busia/Gbedema(Bono-Ewe); Owusu/ Limann (Asante-Sissala); Rawlings/Adu-Boahen (Ewe-Akyem);Rawlings/Kuffour (Ewe-Asante) and Mahama/Addo (Gonja-Akyem).We saw Kuffour/Atta-Mills in 2000 and 2004 followed by Akuffo Addo/Atta-Mills in 2008 – all Akans.
What has not happened in the fight for the presidency is pitching non Akans against each other.How bloody or brutal would it be -a fight between the Lion of Gonja and the Tiger of Mamprusi? (Book your ticket for front row seat for it is coming to a theatre near you).
It is learned from our history that when the Asantes solidified their base in Kumasi, they embarked on expansion through conquest. It appears this principle had been lost with NPP while NDC has adopted it hook, line and sinker. After making the Volta Region its 'world bank' NDC moved on to conquer Ghana by strategically selecting individuals from other places for their ticket. Each move has yielded positive results.
The Western Regionis gradually becoming more or less an NDC strong hold probably as a result of the selection of Arkaah on its ticket. There may be other reasons but the fact remains that someone from the area had served on NDC's ticket as a vice president. The Central Region is now a 'battleground' with the advantage in favor of NDC all because 'the Fante Confederacy' became the president of Ghana on its ticket.
The selection of a Gonja man (a Northner) on NDC's ticket for 2012 election provided the icing on the cake. The map of Ghana now looks more of NDC domination. When is NPP leaving its comfort zone, Ashanti Region, and embark on expansion through conquest?
Ghanaians have indicated theirabhorrencefor familial political dynasty. This became evident when Addo-Kuffour contested the 2007 NPP presidential primary. From within and without NPP the cries were clear that the presidency was not for any family. Addo-Kuffour happened to be a relation of then President Kuffour.
NDC raised the same argument against Nana Addo referencing his father who became a ceremonial president of Ghana in 1969.Among other things Konadu Rawlings' intention to be the presidential candidate on NDC's ticket was shut down because her husband had been president of Ghana for almost twenty years. It appeared Ghanaians were fed up with them. Why then would NPP take an entrenched position on an issue that seemed to promote the idea of a political dynasty in the country?
Ghana recognizes three main religions: traditional, Muslim and Christianity. Using religion as a factor and NPP's theory of 'adrumeso' a Muslim should be the next president of Ghana. Both Nkrumah and Rawlings believed, practiced and promoted traditional religion. Busia, Limann, Kuffour, Atta-Mills and Mahama campaigned and ruled as Christians.
Muslims form about 20% of Ghana's population. NPP originally challenged 1.34 million of the valid votes cast in the 2012 presidential elections at the Supreme Court. That figure representedless than 20% of votes declared by the Electoral Commission.
If NPP spent resources to fight such a number in the courts, it behooved on them to go for same or more on the campaign trailfrom the Muslimsby selecting Bawumia as its presidential candidate.
It is only an ignoramus who would argue that Ghanaians were not ready to vote for a Muslim candidate.Ali Mahama served Ghana with humility and diligence. His religion as a Muslim did not in any way interfere with governance.
If Ghanaians did not object to his candidacy and elected him then a Muslim must as well be elected president. Ali Mahama was only a heartbeat away from becoming the President of Ghana. It is to NPP's credit that a Muslim became a vice president of Ghana. They should go for the 'gold' by making Bawumia the first Muslim presidential candidate (and president) of Ghana.
The idea to make Bawumia, a Northner, NPP's presidential candidate would be recognition of reality, triumph for equality and common sense. NPP would show that categorical discrimination has no place in a party that honors fairness and equal opportunity. Northners like Dombo, Jato Kaleo, S.G.Antor and Kojo Ayeke had been in the thick of combat for NPP. Bawumia'scandidacy would be a testament to the fact that their services and sacrifices had not been in vain but rather officially recognized by the party.
There would be rambling with rehashed stereotypes ranging from laughably ethnocentric to reprehensible. These lurid hypotheticals would deny the reality that Northners and Muslims have the same concerns just like any otherGhanaian.
Selecting Bawumia (young, handsome, energetic and both academically and professionally qualifiedMuslim) as NPP's presidential candidate would be corrective; touting the idea that religious/ethnic-based discrimination is unconstitutional, unfairly harmful to those involved and should not be tolerated by anyone in Ghana.For once NPP should present a non-Akan as its presidential candidate. It would be IRENIC.
Is Dr. Mahamadu Bawumia the first NPP's non Akan presidential candidate?
OPANIN KWABENA MENSAH