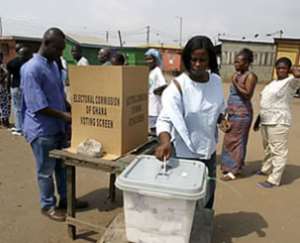 "The calling to speak is a vocation of agony but we must speak: we must with all the humility that is appropriate to our limited vision"- Martin Luther King Jr.
The 2012 presidential and parliamentary poll has come and gone, leaving in its trail useful lessons for us as a country to learn so as to deepen our fledgling democracy.
My very impression about the election was free, fair and transparent plus the peaceful manner in which it was conducted much to the admiration of both local and international observers.
Prior to 7December presidential and parliamentary election, poll after poll predicated it to be "too close to call" though most polls favored the ruling party. This consequently heightened the tension in the country. Electioneering campaigns were very vigorous with one party trying to undo the other with bread and butter issues. Sheer Propaganda and peddling of lies could not be ruled out entirely though. Coupled with this is a loud cacophony of noises on the airwave.

Though many Ghanaians were nervous about the peaceful nature of the polls; notwithstanding, the peace accord also known as Kumasi declaration initiated by the Asanteman Council and the National Peace Council to bind all the political parties to violence-free election.
However I have always believed Ghana could stand the test of time just as it did in 2008 election. The clarion call for peaceful polls by well meaning Ghanaians both at home and abroad including religious leaders and civil society groups was a step in the right direction.
It is my candid opinion that politics is not about do and die affair: Ghana is bigger than any political party and every effort must be made to maintain and sustain the relative peace the country is enjoying and every individual is free to carry out their legitimate businesses without let or hindrance. No matter how differing our views may be our collective will and incessant yearning for peace and unity must not be gambled with.
Let it be reechoed that the matters arising as the post election concerns are not out of place. It is not wrong to challenge the results of an election as we are witnessing now but the show of maturity, tact and professionalism in dealing with such an election dispute cannot be over emphasized.
Surprisingly, I have heard few people say even Obama could have won more votes but he was cheated. They say "voting machines in some parts of U.S diverted some votes intended for Barack Obama to that of Mitt Romney's"
Upon hearing this, I couldn't help myself but burst into a peal of laughter. May be, Obama would have made noise if the elections had not gone his way or perhaps refused to accept defeat graciously.

So if the United States of America with all its touted democratic credentials could record funny stories such as the one stated above, I will be pretending if I say our elections suffer no minor hitches.
The magnitude of the electoral hitches to me does not in any way affect the whole electoral process. After all there is no perfect democracy anywhere. Don't get me wrong! This is not to suggest that we as a country should not pay attention to the logistic challenges that have bedeviled the process, necessitating the Chairman of the Electoral Commission (EC) to extend the voting day into day two.
Whether we like it or not, the dais have been cast, a leader has been elected. What is quintessential is that once again the whole of African continent would continue to look up to us as a beacon of hope after having consolidated our democratic gains through the ballot box but not a barrel of gun.
However dissatisfied the losing side may be, they can only become satisfied if they remember that elections are not about them but the ordinary people.
It does not matter where our guns may be pointing, what matters is that we have a game to go home with. In moments like this when very few aggrieved individuals who are very fixated with gaining power at all cost are vandalizing, demonstrating sheer arrogance coupled with stabbing of ordinary Ghanaians wearing a particular political party T-shirt , it is only prudent that the law enforcement agencies proactively and decisively act to prevent further mayhem.
Interestingly enough, in the wisdom of our constitution framers, any aggrieved party in an election dispute, an avenue for seeking redress at the law court has been enshrined to seek justice whilst strengthening our democratic practice.
The main opposition New Patriotic Party has indicated its readiness to challenge the results declared by the EC in court. This must not be seen as an attempt to scuffle the process but to test the provisions in the constitution.
It does not serve anybody's interest when people believe they have not been fairly treated by the system and can not find a way of addressing their grievances and the only way left for them is to resort to taking the law into their hands.
Moving forward, we have a country to build, aspirations to meet and dreams to achieve. When we cry over spilt milk we only allow others to figure out the shallowness of our imagination.
Congratulations Your Excellency John Dramani Mahama, president of Ghana.
Your victory indeed was well fought and well deserved.
Long live Ghana; long live H.E John Dramani Mahama...
Nathaniel Ekue-Mensah, [email protected]...

BALLOTS NOT BULLETS 2012