NPP Victory in 2016: an outright impossibility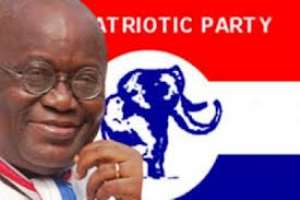 Time for renewal
Its four years away, but the 2016 election is already NDC's to lose. Several ethnic and demographic factors will conspire to make a NPP Victory in 2016 an outright impossibility

There are two types of general elections. The first are those in which the result is clear in advance, like Ex-president Rawlings' in 1992. The second are those in which the outcome remains in the balance until very late, like ex-president Kuffuor's victory in 2000. However, I believe the next election in 2016 will be far closer to the first kind than the second.
In the wake of President Mahama's decisive election victory last month, the more intellectually serious NPP commentators are in post-mortem mode. They are asking what went wrong and how the NPP can avoid a third consecutive loss in 2016. Unfortunately for them, they display only a limited understanding of NPP's demographic problems, and virtually no understanding of its underlying cause or its solution.
The first thing that NPP should understand about the electoral catastrophe that just befell it and it was a catastrophe is that any explanation of it that centres on electoral fraud is mistaken.
Much of the post election discussions about NPP failure seem to be blaming the poor quality of their candidates or his choice for vice-president and even his choice of partners. 'I know people will not agree with me on this, but to be honest with you, the role of the wives of the flagbearers of NPP and NDC also helped in a way. The wife of the NDC flagbearer, Lordina Mahama was in the Brong Ahafo Region campaigning for the husband and I think that also helped the NDC to win in that region. What role did the wife of the NPP flagbearer played? This is a question the leadership of NPP must be asking themselves.' wrote one Francis koudjoe in his article on Ghanaweb (01/01/2013). 'The free education policy was flawed from the start,' wrote another. Still another wrote, 'There will be a lot of blame to go around, but, if NPP activist are honest, they'll have to concede that the NDC candidate was more appealing to the electorate than the NPP candidate in terms of personality and age.' Another called Nana Akufo-Addo 'the worst candidate to win NPP nomination since Adu Boahen'. One agitated voter wrote 'it's simple; without doubt Nana's campaign team ran a bad campaign.' Some even blamed the choice of Dr. Mahamudu Bawumiah (and his family link to NDC) to have derailed the NPP support amongst the party's base.
All of these writers and commentators are intelligent people (some of them I love listening to). However none of them makes the mistake of assuming that this election should have been easy to win given the weak state of the economy, the public's dissatisfaction with the uncontrolled inflation, and the unpopularity of judgement debts such as the 'woyome' judgement debt saga.
However, the main reason I believe that, the 2016 election will be a mere staging-post on a journey towards, in all likelihood, another NDC government are the political apocalyptic horsemen chasing the NPP - namely the plight of NPP amongst voters from the Northern and Volta regions.
I don't intend to dabble into tribal or regional politics here. However, I believe There is a well accepted perception (right or wrong) that, NPP 'only serves the interests of the Akan tribes' and that the NPP as a party is a 'group largely composed of and targeting Akans'. Yes, there are many 'non-Akans' who supported and voted NPP, however, this negative perception about the party by non-Akans will continue to underlies all the demographic weaknesses facing NPP in 2016.
In the 2008 election, the three Northern regions account for one in eight voters, in this election, that had risen to one in five voters. By 2016, that will have risen to one in four. Yet, Akufo-Addo and the NPP party scraped a paltry 32 per cent among these voters in the three Northern regions and a miserable 24 per cent when average with votes from Volta region. And this total is likely to fall even lower come 2016 election.
Potential voters from northern and Volta regions have spread from the North and Volta NDC heartlands into every region in the country. There are now large population of 'Zongo' and 'EWE' communities in several towns in Southern, Western, Brong Ahafo and Ashanti regions eating into NPP bastions and tilting votes towards NDC: Even NPP MPs in largely 'NPP supporting areas' face the threat of a demographic marginalisation that could keep them out of parliament for a long time.
Another problem for the NPP is that, NDC has been remarkably united despite the threat of disintegration from the Rawlings' faction. The Rawlings' faction led by his wife Nana Konadu has failed to take off. Their party, the NDP, which the NPP count on to compete with NDC for votes in Northern and Volta Regions, has collapsed. Most importantly, most Nkrumahist voters seem to have decamped to NDC en masse - President John Mahama may find it very hard to persuade NPP voters to switch to his party in 2016. But he doesn't need to do so in order to nudge NPP's poll share, come 2016: all he must do is to hold on to those voters from the Northern and Volta regions still uncomfortable with NPP's intention towards their people.
NPP must recognise the demographic and tribal deficiencies facing it and start paying more attention to the issues that interest northerners and voters from other 'non-Akan' tribes. To do this, the party must shed the image of it being an Akan-based. NPP as a national party cannot afford to continue to ignore the barrage of tribal derogatory comments from the likes of Ms Ursula Owusu and Ken Agyapong which alienate and, frankly, tick off voters from the Northern and Volta regions.
'People of Northern extraction (Northerners) lack a culture of property owning which makes them very lazy; they always have to be spoon fed All they do is to cut down trees and burn them into charcoal. Whenever you see a vehicle carrying charcoal, it is from the North. Why? They are always involved in tribal and community wars so the place is not stable; they are always on the move. Vandalism has also become a culture there. (SADA) would be a failure and waste of public funds; the people do not deserve mechanised farming. He even characterised the North as desert.'
Naïve and ignorant comments about northerners like this from Kwabena Amankwah Asiamah, a MP from NPP might endears him to the bigots within the NPP party or his constituency, but almost certainly will have alienate large portion of voters of Northern extraction all over the country.
Even the NPP's argument justifying their free education policy during the election campaign was to use President Mahama and Dr Bawumia as some of the beneficiaries of free education.
We all know President John Mahama and Dr Mahamadou Bawumia had some of education in Northern region, but what we are not being told is that these two by their background being children of successful politician are not your average 'Northerners'. Due to their parentage and background, these two 'examples' had the best of everything that only one per cent of Ghanaians could experience.
The NPP's problem isn't that its political leaders have to better explain its policies to voters from Northern and Volta Regions. No. It's that they all need to shut up and listen.
Yes, I said 'shut and listen'. Because every time top NPP officials open their mouths, all they seem to do is insult the very people they need to vote for them. This is about relationships. It is about having a dialogue. It's about listening to what voters from Northern and Volta Regions desire and seeing where there is agreement, whether it's about fair access to education, development projects, entrepreneurship or a host of other issues. Too often, the NPP is afraid to talk to people in Volta region, especially the Ewe folks, and that results in turning them off in a huge way.
And just saying: 'Look! We have elected Alhaji Aliu Mahama, a Northerner to the office of vice-president " ain't gonna cut it. It is about relationship and the sense of share destiny which the NPP have failed to cultivate with the voters from the Northern and Volta Regions.
By failing to win the heart of voters from the three Northern regions and performing very poorly in Volta Region, NPP had been living through a demographic and tribal crisis for the past two elections.
This article is less a complaint than a simple observation - however, I also believe that it is also four years away to 2016 and for the NPP to solve their enfeebled support amongst voters from non-Akans. 'They may be light at the end of the tunnel.' NPP as a party now has an unprecedented ten MPs from Northern region this term and must use wisely them to engage with northern voters.
As the NPP party begins looking ahead to the next presidential contest in 2016 and tries to learn from the lessons of this December 7th election, the explanation for Akufo-Addo's loss is perhaps much simpler: Respect to all Ghanaians, not just the Asante-Akyems voters could be all that is needed
Shuk Abubakar
[email protected]
http://ghananewsday.blogspot.co.uk