Ghana-UK High Commissioner Deserves Better Than The Smear Campaign Against Him: UK/Ireland Kawuri kyeKyei-Boateng Got It All Wrong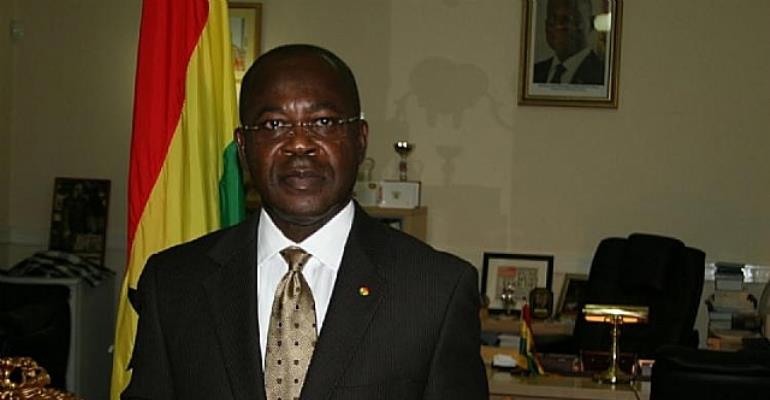 I read with total disbelief and shock an article purported to have been written by one Kawuri kyeKyei-Boateng of the NDC UK/Ireland Branch.
The said article, which has all the characteristics of a well-choreographed smear campaign against one of the most accomplished Ghanaian academicians and Diplomats was published at the diaspora column of www.modernghana.com website of Friday January 25, 2013.
Indeed, my heart bleeds for mother Ghana due to the path certain political party fanatics and later-day party faithful are leading our country just for the sake of democracy. I must admit that I would not have ordinarily responded to an article emanating from an individual with such a partisan worldview and narrow mindedness.
However, I have personally had the privilege of knowing and working with Professor Kwaku Danso-Boafo even long before he became Ghana's High Commissioner and as such feel highly obliged to shed some light about him for the good people of Ghana particularly, the NDC fraternity to judge for themselves.
As Martin Luther King Jr. rightly said "men often hate each other because they don't know each other……" I must emphasize here without a shadow of doubt that Professor KwakuDanso-Boafo, Ghana's High Commissioner to England and Ireland is not as belligerent and contentious as the writer would want people to believe. In fact, he is peaceable, down to earth, and a leader who is always eager to serve mother Ghana even at the peril of his dear life.
I must equally emphasize here that Professor Danso-Boafo is a staunch NDC member and he is neither shy nor apologetic about that. For those of you who do not know, he was among the few NDC leaders who stood their grounds in support of the then Candidate J.E.A. Mills and defended the NDC stewardship under former President Rawlings after the 2000 election.
Between 2001 and 2008 when the NPP government was aggressively persecuting NDC leaders and demonizing them which forcedsomeof them to chicken out and fizzled into oblivion, he travelled the length and breadth of North America, organizing forums and town hall meetings among Ghanaian communities and appeared on radio talk shows to defend and espouse NDC policies that have the potential to inure to the benefit of Ghanaians.
Prior to the 2006 NDC national delegates conference, he was among the very few NDC leaders at the time who felt that then candidate Mills was the NDC best candidate to lead the party to recapture political power. He then campaigned vigorously with our beloved late president and remained loyal to him till death laid its icy hands on him.
Professor KwakuDanso-Boafo's services to mother Ghana and the international community dates as far back to the 1980s. Time and space will not permit me to detail all here and now. For the avoidance of doubts, I reproduce below a summary of his profile.
Professor Danso-Boafo began his academic teaching career at the Department of Political Science and later, the School of Administration, (now University of Ghana Business School), University of Ghana, Legon, in 1982.
Between that time and 1985, he served as a Fellow of Akuafo Hall, General Secretary of the University Teachers Association of Ghana (UTAG), Legon, and as a member of the UTAG national executive, and a member of the University Admissions Committee.He also took on additional assignments as a Visiting Lecturer at the Ghana Armed Forces Staff College at Teshie and the Rural Development College at Madina.
He then went to teach at Atlanta University, later Clark Atlanta University, Atlanta, Georgia, from 1986 to 1997 and from 2001to 2005. At Clark Atlanta University, he served as the Head of the Department of Public Administration (1989-1990) and later Head of the Post-Graduate Program in International Affairs and Development (1991-1997 and 2002-2005).
He attained the rank of Associate Professor in 1994. Between 1992 and 1994, Prof. Danso-Boafo was the president of the Association of Ghanaians in Atlanta.
In 1997, Prof. Danso-Boafo took leave from his academic duties to serve as Ambassador of the Republic of Ghana to Cuba with concurrent accreditation to Jamaica, Trinidad and, Nicaragua and Panama.
In 2000, he was appointed Minister of Health of Ghana. In the same year, he was appointed to the National Democratic Congress Constitutional and Manifesto Drafting Committee.
As the Minister for Health, he participated in several international fora and summits on health, including the 2000 World Health Assembly in Geneva, Switzerland, where he was chosen to preside over the WHO discussion on Health Systems; the Roll Back Malaria Summit in Abuja, Nigeria, in April 2000, the Global Symposium on Health and Welfare Systems Development in the 21st Century in Kobe, Japan, in November 2000, where he presented a paper on "A case study of Health and Welfare Reform in Ghana" the international summit on HIV/AIDS in Abuja, Nigeria, in April 2001, and the United Nations Conference on Trade and Development (UNCTAD) Summit on Least Developed Countries in Brussels, Belgium, in May 2001.
After the defeat of the National Democratic Congress in the 2000 general elections, Prof. Danso-Boafo was appointed Special Advisor to former United Nations Eminent Person and former President of Ghana, Jerry Rawlings and undertook several international assignments with him.
Prof. Danso-Boafo, the author of The Political Biography of Dr. Kofi AbrefaBusia (Ghana Universities Press, 1996), and also J.J. Rawlings and Democratic Transition in Ghana, (forthcoming, Ghana Universities Press) has extensive scholarly publications on African Development issues, African Political Leadership, International Affairs, International Political Economy, the Debt Crisis, Decentralization, HIV/AIDS, Health Sector Reforms, etc. to his credit.
He holds professional memberships in the American Public Health Association, the American Society for Public Administration, Association of Third World Studies, The Academy of Political Science, Association for International Development, and the African Studies Association. He has also presented numerous scholarly papers at local and international academic/professional conferences. He was listed among WHO IS WHO IN AMERICA in the year 2000.
He currently serves as Chairman of the Executive Committee and Interim Management Committee of the Commonwealth Foundation. He previously served as Country Advisor and also a member of the International Advisory Board of the National Medical Fellowships/GE Medical Scholars Program in Ghana.
He was as a Seminar Leader for the Fulbright-Hays Group Projects Abroad in Ghana in 2004 and 2008. In January 2009, Prof. Danso-Boafo was appointed a member of President Prof. John Evans Atta Mills' Transition Team Sub-Committee on International Relations. He was until his appointment, a political analyst for several radio stations in Atlanta, Jamaica, and Cuba.
Until his appointment as High Commissioner, Prof. Danso-Boafo was an Associate Professor, Deputy Director, and Coordinator of the International Health Track in the Master of Public Health Program, Morehouse School of Medicine, Atlanta, Georgia USA.
This is the searchlight I intend to throw on one of the finest Ghanaian leaders of our time. It is up to you, my fellow Ghanaians, discerning and politically awakened, to judge him for yourselves.
The perpetual chain reaction of demonizing our statesmen and women with falsehood and character assassination must be broken. Darkness cannot drive out darkness; only light can do that. A word to the wise is enough.