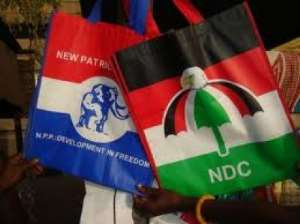 Nothing hurts after defeat appears when victory is so close. As a Ghanaian, I remember when the senior soccer national team, the Ghana Black stars lost to their Uruguay counterparts at the quarter final berth of the World Cup in South Africa way back in 2006.
It was a match victory was snatched from us and we missed the golden opportunity to proceed to the quarterfinal stage of the prestigious world cup. Football loving as we are, we were crest fallen, many lost appetite immediately and jubilations were cut short and replaced by sorrow and disappointment. But that is what sports is all about.
It is a game and you play to loose or win. When you win you celebrate graciously keeping in mind there are more games ahead. When you lose, you do not concentrate so much on the loss, but dust your back and get up and get on.
I am forced to make this analogy to bear on the current episode of Ghana's political context. Now that the Chief Returning Officer of our Electoral Commission (EC) has declared President John Mahama president-elect and publicized the election results, it is time for us to move on.
Should there be any disagreements over elections results, the law courts are open for redress, but disagreements should never constitute a recipe for disaster to an extent where our peaceful environment is compromised for political expediency.
Losers should intone to live to fight another day granted results are challenged and/or have the law courts redressed their issues.
The many local and foreign observer groups have made their recommendations to government and to the EC and my take is that they must pay attention and incorporate those recommendations worthy of implementation to further deepen our democratic process. Good thing to hear from these observer mission groups is that the elections have been conducted in a free, fair and transparent manner albeit some technical hitches.
Indeed, a glance at the statistics sheet of the election results below shows the breakdown of results. What is of concern is the total rejected votes tally number at 251, 720.
This number is relatively high and EC must work in conjunction with other civil societies to educate voters on the procedures of voting to reduce this number at our next national elections. Voting seems simple but complex due to the procedures involved.