NACCC CALL FOR PEACEFUL ELECTION DURING AND AFTER POLLS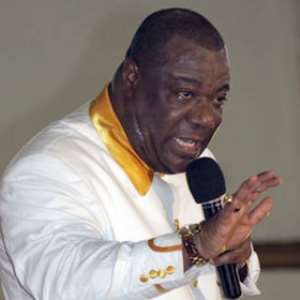 The Chairman of the National Association of Charismatic and Christian Churches (NACCC) and head Pastor of Action Chapel International, His Eminence Archbishop Nicholas Duncan-Williams, has called for a prayerful and conscientious protection of the prevailing peace in Ghana.
Speaking at a news conference held in Accra, last Thursday, Archbishop Duncan-Williams said the December 7, 2012 Elections was not only going to test the maturity of Ghana's multi-party democracy, but was also going to affirm the country's ability to organise free, fair and peaceful elections in the community of democratic nations.
He said if Ghanaians reflected on the damaging effects of Apartheid, Nazism, Trans Atlantic Slave Trade, Colonial rule and military tyranny against the current multi-party democracy, Ghanaians would resolve to give the current democratic governance a chance to thrive.
He has, therefore, appealed to all Ghanaians including registered voters, security personnel, Electoral Commission officials, polling agents, electoral observers, party supporters and all candidates to abide by all electoral procedures and processes in order to ensure a credible outcome of the elections.
He called on the electorate to exercise their franchise based on their personal convictions and conscience, and admonished politicians not to seek political office at the cost of loss of lives and property, adding that the will of the electorate should be respected, otherwise the motive for seeking political office would become suspicious or questionable.
Archbishop Duncan-Williams noted that the 2012 electioneering campaigns had witnessed a remarkable shift from the personality attacks that had characterised previous electioneering campaigns, a development which, he said, provided hope for a peaceful elections.
Meanwhile the General Secretary of the National Association of Charismatic and Christian Churches, Bishop Tettey Offei, has reiterated all political parties to accept decision of the eligible voters and electoral commission declaration to quikly concede their defeat for which by so doing helps to promote peace.