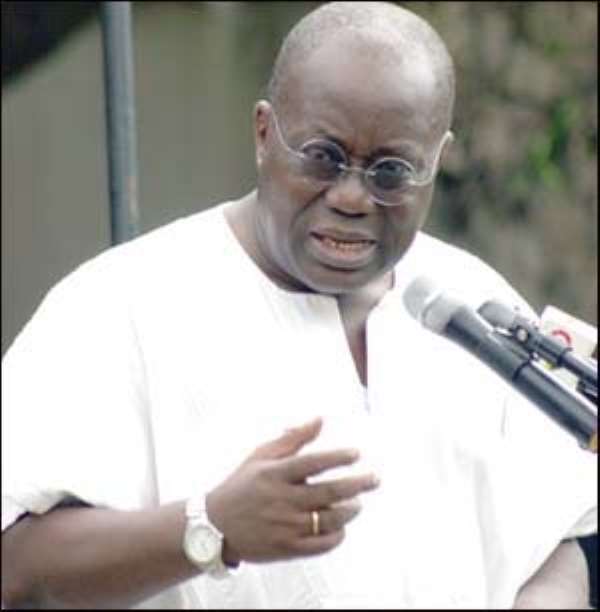 It is very unfortunate that people who are supposed to be responsible, respectable and reasonable tend to disappoint others big time when they are required to behave as expected. A case in point is the statement attributed to the Central Regional Communications Director for the ruling National Democratic Congress (NDC), Bernard Allotey Jacobs (BAJ) who believed that the Presidential candidate of the New Patriotic Party (NPP), Nana Akufo Addo (NAA), was not recognized or captured by television cameras when he filed past the body of President John Evans Atta Mills because he is vertically challenged.
Ghana media carried a report on August 9, 2012 that the state-owned Ghana Broadcasting Corporation (GBCTV) did not capture Nana Akufo Addo in the television coverage of mourners on the first day of President Mills' funeral. According to NPP, the action of GBC was deliberate and consequently accused President John Mahama and managers of the state-owned Ghana Broadcasting Corporation of scheming to ensure their flag bearer was not captured in the television coverage of mourners on the first day of President Mills' funeral.
It is in the response to this allegation that BAJ said: "NPP did not do well by accusing GTV wrongly. It wasn't good at all; just to chastise GTV that they didn't put the camera on Nana Akufo Addo. As for me my suggestion is that they should look for a designer to design a pencil heel shoe for him. It can be a new design..." (Source: Beatrice Adepa Frempong/Peacefmonline.com/Ghana 8/15/12)
One wonders the correlation between the accusation and the response given by BAJ. First, he was not a party to the whole issue in that he is not on the staff of GBCTV neither is he the spokesperson for the president. Second, if the parties accused did not see the need to respond why he would extend his wings beyond his jurisdiction and disturb the peace of those of us who are short but had not come to him for assistance in any form, shape or size. When the last time was a short person went to him for his permission to be tall?
On the other hand if GBCTV remotely hired him to speak on its behalf so as to bring to the fore the fact that its obsolete equipment could not capture persons as short or below the height of Nana Addo at such functions then GBCTV has a very long way to go. Coincidentally, GBCTV had been known over the years to capture images that lie on flat surfaces and on the ground very far below the height of NAA including the corpse and coffin of the late Prof. Atta-Mills as he lied in state. How on earth would GBCTV turn round to tell the world through BAJ that persons of NAA's stature would need penciled high heels for them to be recognized and be captured by their equipment?
It must be stated unequivocally that BAJ's statement is an insult to all persons who are either shorter than or of the same height as NAA. (This write up is not meant to defend either Nana Addo or NPP since each of them is capable his own defense). The intention here is to call to order BAJ and persons who share his world view to the fact that being short is not a crime but an example of God's sense of art form and a reflection of admiration of His sense of diversity. It is therefore irresponsible, reprehensible, offensive, crass and outright discriminatory for someone of BAJ's 'timber and caliber' position in the society to denigrate someone in public just because of his height.
BAJ's comments further undermine President Mahama's promise of "I will ensure we protect our unity in diversity". For BAJ, a member of the ruling party's communication team, to single out a political opponent for public radicle on account of being short at the very time that President Mahama was calling on "Everyone to take ownership of the country" by erasing negativity and petty name-calling, is the height of abject disrespect for the president and his office.
What moral right would President Mahama have to call on others to tone down their rhetoric if the very persons supposed to carry out his message and promote his agenda are at the fore front of publicly disobeying him and calling his bluff. BAJ could not have outstretched arrogance, insolence and disrespect any further.
BAJ's comment came at the time when the civilized world had for the first time allowed a double amputee to participate and ran 400 meters in the summer Olympics of London 2012 stretching human endurance and capabilities to the limit. For whatever NAA's offense, his physical appearance should not be a source of negative reference. Rather he should be encouraged to serve as a role model for all Ghanaians irrespective of their perceived disadvantages; they could still pursue their dreams without any hindrance from anybody. This is an indication that BAJ never thought about his statement before making it.
In an environment where insanity, shrouded in stupidity, pomposity, irrationality and outright foolishness constitute benchmarks for political uprightness and promotion, denigrating responsible persons because of their physical appearance is ignored, their feelings notwithstanding, by even those who are supposed to know better. Yet we live in a country where the president went on national television to call for calm and unity.
It must be said that there is disappointment in President Mahama for his loud silence on this statement from one of the very persons in his party on an issue he had promised to deal with – unity in diversity (one week after the incident and the president's own statement-8/8/12). Where in lies his promise for peaceful elections if people who are perceived to be short are being verbally assaulted, publicly humiliated, emotionally disregarded and prevented from taking part in the political process and he stays mute and unconcerned?
What offence have short people, represented in the political process by NAA, committed against Ghanaians for us to be disgracefully sidelined in the development of the country? This is the second time a politician has sought to do same. (Refer to my article "So it is a CRIME to be SHORT in Ghana" Ghanaweb Feature Article of Monday, 13 September 2010) It must stop. A political opponent must be criticized /praised for what he has said or done. That is the mark of a matured person. To negatively refer to people in public because of their physical appearance, for no apparent reason other than the fact that they legally seek public office, is not only disgraceful but also insulting to the sensibilities of civilized society and unbecoming of a sensible politician. BAJ, the Ghanaian electorate deserves something better from you than what you said. Respect Ghanaians "a little small."
Opanin Kwabena Mensah – a short person