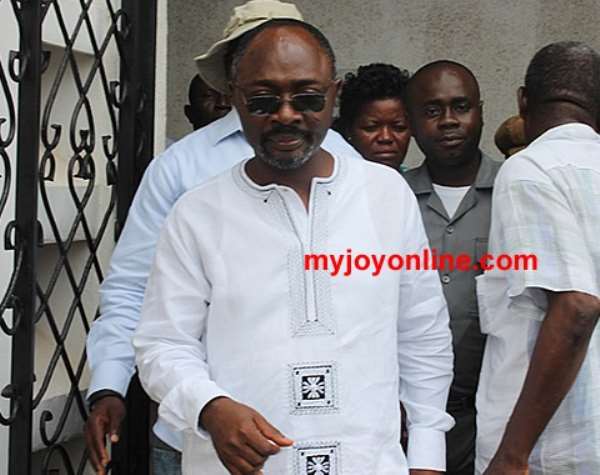 Alfred Agbesi Woyome
Advocacy group Center for National Affairs says establishing a commission of enquiry to look into the recent spate of judgement debts would not solve the problem.
The issues of judgement debt attained prominence after Gh¢ 51.2 million was paid to businessman Alfred Agbesi Woyome and since then several payments made to individuals and some organizations like Isofoton SA, Waterville and African Automobile Limited have raised eye brows.
Speaking to Joy FM Friday, the Senior Policy Analyst at the Center for National Affairs, Rocky Obeng said the Ghana Criminal Code 1960 Act 29 as amended by Act 458 has made provisions on how to deal with persons and institutions who are negligent in disbursing the tax payers money.
Mr Obeng added that the courts are competent enough to handle cases of public officials whose actions have been tainted with corruption.
According to the Senior Policy Analyst, the report of a commission of enquiry itself is not a panacea, adding neither is the white paper that would accompany the report.
Rather, Mr. Obeng posited that what is of importance is the will of the person issuing the white paper to enforce the content or recommendations of the commission.
He said, government must ensure that whichever step it takes on this matter does not cast doubts on the integrity of the courts.
The Senior Policy Analyst was however of the opinion that should a commission of enquiry be set up, it would add onto to the numerous commissions of enquiries established which did not yield the desired results.
However Kojo Asante, the Legal Officer at the Center for Democratic Development in an interview with Joy FM stated that a commission of enquiry into the judgement debt saga has become necessary because there is the need to create a different platform that would look into the matter devoid of the usual partisanship.
According to Mr Asante, the judgment debt saga has become a "national crisis" and there is the need to establish a commission that would strive at fixing the loopholes that exist in the public sector in order to prevent a reoccurrence of the situation.