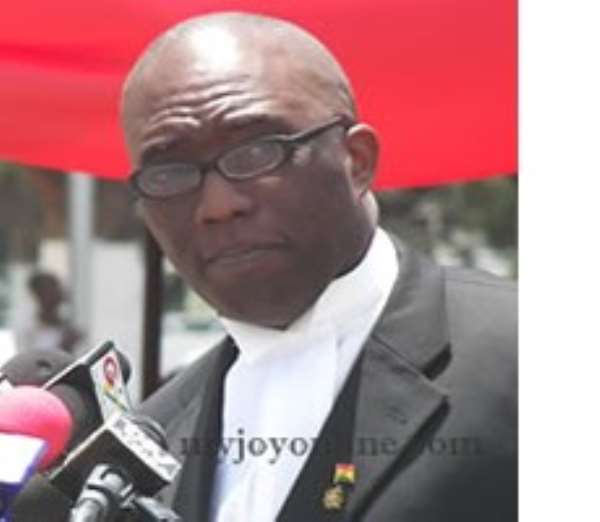 Joe Ghartey
A deputy Information Minister Samuel Okudzeto Ablakwa has described as false claims by the former Attorney General Joe Ghartey in yet another judgement debt scandal with a Spanish Company Isofoton S A.
The company is seeking damages of $1.3 million following a breach of its contract with the Ministry of Agriculture under the erstwhile Kufuor administration.
Kwadwo Mpiani has been singled out for blame by government spokespersons accusing him of flagrantly breaching the contract with Isofoton and awarding a new contract to another Spanish company.
Ablakwa quoted a letter written by Joe Ghartey who was then the Attorney General and who cautioned against the abrogation of the contract with Isofoton S A.
In the said letter, Ghartey was convinced Isofoton could be awarded damages if it proceeded to court on the matter.
The NPP government allegedly ignored the counsel from its principal state attorney and went ahead to breach the contract with Isofoton.
Consequently, an Accra High Court in a garnishee order issued on May 2, this year, froze the Agriculture Ministry's Engineering Department's Accounts for the default in the payment of the outstanding 1.3 million dollar judgment debt owed ISOFOTON S.A,.
Government insists Kwodwo Mpiani has to take responsibility for the new judgement debt hanging on the government's neck.
But Joe Ghartey in an interview with Joy News said the previous NPP government did no wrong in breaching the contract with Isofoton SA.
He explained his first letter written to Kwadwo Mpiani and which Okudzeto Ablakwa quoted was based on information available to him at the time.
According to him, he was later informed that Isofoton, did not have the approval of the Spanish government, a prerequisite for an international contract to be signed.
He said it was on that basis that the NPP government abrogated the contract with Isofoton and questioned why the NDC government has paid monies to Isofoton at a time the case is still pending at the court.
He said the payment to Isofoton smells like that of the Woyome case and demanded an investigation into the payment.

His comments have provoked anger from officials of Isofoton and members of the ruling government.
The local representative of Isofoton, Anani Adjei has dared Joe Ghartey to prove that the Spanish government needed to approve of a company before the Ghana government can deal with that company.
He said if Ghartey is able to provide that evidence, he is ready to let go the case his company is pursuing against government.
Samuel Okudzeto is also unimpressed with Joe Ghartey's comments.
"I am surprised most sincerely about Joe Ghartey's u-turn in this matter. Quite clearly he also wants to suffer the fatal credibility damage that his other colleagues of his have suffered.
"When we put out the African Automobile Ltd case out they came out saying there was no contract. African automobile never went to court. They were never served any notice and then they have eggs on their faces now.
"I am surprised Joe Ghartey will want to put his credibility on the line," he stated.
He dismissed claims by Joe Ghartey that the Spanish government had to give approval before the Isofoton contract will be consummated.
He said the Spanish government was clear in a 21 April, 2006 letter that it had no business with the selection of companies by the Ghana government and rather protested at what the then government was doing to Isofoton.
"I am surprised that Joe Ghartey would want to deal such a fatal damage to his credibility and his reputation by bringing such matters which are so ridiculous," he noted.
"What is clear is that government has this liability which it has to pay," he added.