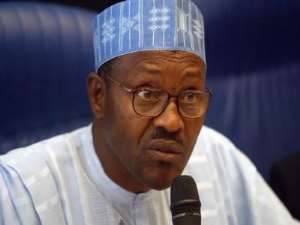 Even as I write, comments from political associates for and against the person of Rtd General Muhamadu Buhari are still enjoying front page comments in all the national and sectional newspapers and electronic media alike. Concerned professionals and some elder statesmen have learned their voices too. What is needful to say here is that our man Buhari has been too hasty with his negative comments and observations on the issues of the nation rightly or wrongly too.
Right from 1999, the great military general has been less than statemanly in most of his approach to national issue. And the fact that he has never denied any of the comments/statements attributed to him as is common, confirms that the man has always been the one and same person making all comments so ascribed.
Agreed that as a nation we are drifting to almost nowhere, has the general ever thought of himself as being the President which he has so sort after, but has remained elusive, having these lines and scripts being said about him?
Buhari, a retired General from Nigeria Army, left the military through a palace coup d'état by another General and also retired Ibrahim Babangida, who styled himself a military president. Buhari had an excellent military carrier and the likes of our well respected Professor Tam David West would not hesitate to pour encomiums on the disciplined but retired Army Officer. He was the Head of State of the Federal Republic of Nigeria from 1983 to 1985 when he was ousted by the mention IBB. His mission with his assistant late General Tunde Idiagbon was to repair the country, which then, as now, was heading for total decay. Nigeria was in another phase of our nationhood. As a leader with his mind set to doing all he and his cabinet thought was necessary to fix our then problems, he came up with War Against Indiscipline, nick named (WAI); death penalty for Drug dealers and barons, which ensured that Mr. Bartholomew Owoh and friend were summarily executed by firing squared for attempting to export Cocaine. Did that deter Nigerians from piling the trade to date?; Foreign Exchange decree; Decree 4 against Press Freedom for which the likes of Mr. Tunde Thompson and Mr. Olumese were jailed and with Newspaper houses closed with impunity, did the ban metamorphose to a one opinionated press as he expected? There were many more. In his capacity as head of state no one dared to lift a pin in opposition. Yet same man has the temerity to challenge a seating president! Even as a member of Council of State! He must be thankful like myself, that we are in a democracy. Could a Buhari open his mouth throughout the era of IBB after his imprisonment by the government of that day? Didn't he know what would have befallen him then? It is very unfortunate that here we take leniency for laxity.
There have been torrents of views and opinions on the regular but unnecessary abuse of privileges by Buhari. Lately, some eminent Nigerians have taken to the street offering defense, accolade or ovation yet others have been more decent and unbiased. IBB came with a view that the man was misquoted; former Senate President Senator Ken Nnamani told us that Buhari only sent a warning and not a notice of blood shared. He forgot that in some ways, even an ordinary 'thank you', depending on how it is said can cause a war! Some Northern elders have urged him to be modest and decent. But to date the man at the centre of the storm has offered neither explanation nor apology for his utterances, which in any side of the divide is, to say the least wrong and bad. So, because we are all left to believe whatever we can conceive from, or deduce from the umbrageous, and he cares less of whose ox is gored in the developing events likely to be traceable to his unwarranted utterances.
Bad as situations are in Nigeria today, I feel and strongly too that Buhari's uproar is grossly unnecessary. It is unfortunate that Buhari, who was once a player in governing Nigeria, cannot bear to watch others play their part in the same country where he is an elder statesman and not a sectional/political party leader!
The battles we are fighting in the land today are not new. Rising from the fall out of the Petroleum Subsidy strike, it is now obvious that forces from our enemies within have been the bane of our progress. Not laws, or lack of definition! How can a nation thrive in an environment where its officers are its own enemy and someone seats at the corner watching as if "let me see how they can surmount this huddle". This is not the way to lead this country to the Promised Land.
The Boko Haram group has since identified itself as an Islamic Organisation. They have also made no mistake in saying that their fight is among other things, against the political enslavement of the larger population of the Northern citizens. That may be true. But who is to blame in a country where the same Northern elites have been in the helm of affairs longer than any geo-political group put together? In his time what were his tangible records to stop the impoverishment of his people? The way thing are now, Northern leaders are being asked to showcase their report cards for all the period of their leadership and the bitter truth is that they failed the North first, and the nation abysmally, else we would not be here. If that is arguable, then I proffer the truth that Malaysia was once behind us. But can attest that even if we determine to do it right from today, we shall not be near Malaysia in the next thirty years.
Look, you do not have to be a politician to better the lot of your people. Late Gani Fawehinmi was not a politician, Alhaji Bello Maitama Sule of Kano an elder statesman par excellence has never been in the wrong side of history. Can't we copy from these noble men of honour? Today, the electioneering campaign is going on in Edo State of Nigeria. Comrade Adams Oshomole was not a politician before he won his election as the governor of that state. Matter of fact, yours sincerely never gave him a chance. But here he is now reeling out to every community, his fulfilled promises to the loud acceptance of the mamount crowed that greeted his team. The man brought to bear his training while at the helm of affairs in Trade Unions and Edo State is better for it now.
Major General Mohammadu Buhari's left an excellent record of leadership in the military not only as Head of State, but also as GOC, State Governor and Minister of Petroleum Resources. But all these were possible because this nation first offered him the platform on which he performed. His entire military carrier was at the expense of Nigerians. By virtue of his training, he is a war strategist, a tactician and one who could master difficult circumstances with minimum efforts. Where has he used all these to the betterment of Nigeria since he left office? Late Chief Obafemi Awolowo, was never the president of Nigeria. In fact, late Chief Odumegwu Ojukwu noted that Awolowo was "the best president we never had." The southwest is better for it today and are proud to be associated to a man who left the planet earth over 25 years ago, because he left an indelible mark.
Finally, what is General Buhari trying to tell Nigerians? That unless he won the next election it will not be seen as free and fair? Is he threatening the INEC? What with the harassing of Professor Attahiru Jega the INEC Chairman in Buhari's territory the other day. If the threat of free and fair election is the matter, what did Buhari do when the freest and fairest election of late Chief M.K.O. Abiola was annulled? Was he living in Mars then? How did former President George Bush junior defeat Al Gore in the United States general election in the state of Florida? If elections can be floored in far developed America, why would a Buhari expect an 100% success in Nigeria? And agreeing that elections were rigged did all CPC candidates win fairly? Why did the courts up turn some of their results in his home state Katsina and other states?
People who are fond of beating the drums of war must be careful because the Guns have always consumed them in the end. This is not a message of doom. The Guns do not respect their manufacturers and people who have either depended on it, or used it carelessly did not live long enough to tell the story. Ask late Gadafi. Late Samuel Doe and even Taylor.
Devoid of his political and religious stance, l like Rtd General Buhari. But in the current scenario, I desire that he should exert his energy in tinkering how best to destroy the present monster Boko Haram. May be the success of his effort may win him votes if and when he decides to run again for the exalted position of the president of the nation. This maybe a season of uncomplimentary remarks for Buhari, but it is also a season of unsolicited but valid advice and I hope he is listening and sieving the grain from the chaffs. Till then, Nigeria is in dire need of an anchor in resolving current issues bedeviling her rather than create new ones when help is not in sight. God save Nigeria.
Mike O. Akpati is a Public Affair Analyst based in Port Harcourt
08036757067
[email protected]