THE GHANA POLICE AND THE SUDDEN DISGRACEFUL 'U' TURN - PART 2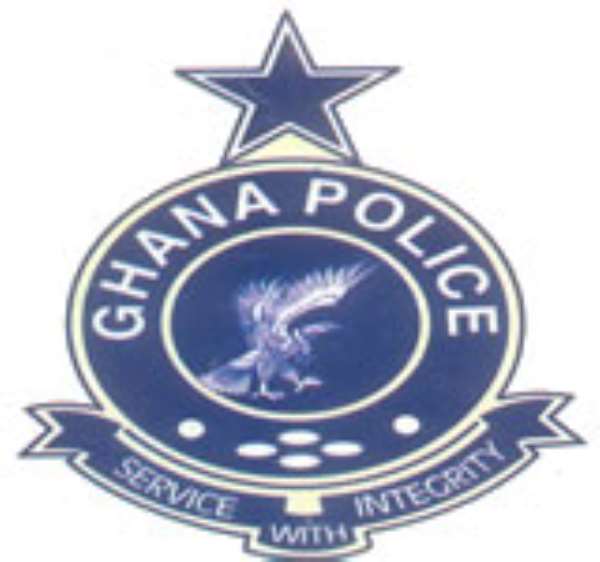 Please continue reading this article from Part 1 that appeared recently to have the full flare and gist of the ensuing Part 2 to be abreast with the current developments rearing its ugly head in this noble institution. However, until the appointment of Mr. Paul Tawiah Quaye to this prestigious position of IG when, in fact under normal circumstances, practice and procedure, Mrs. Mills-Robertson, the then incumbent Deputy IGP to Patrick Kwarteng Acheampong in the Kufuor Administration, should have been promoted to that position, but the Mills-Mahama Administration knew that madam was a soft spot and definitely not the choice who could fit into their system or shoes to effect such untoward positive defiance. She was quickly asked to step down for 'Nii Tawiah' to ascend the police throne whilst she was to be considered for an ambassadorial slot because she was not the type who could do the dirty carpet cleaning for the Mills-Mahama government. Whether she was considered or not, only God knows since I have not closely followed the events to the headquarters. To all intents and purposes, the Police Administration chaired by the Vice President, HE John Mahama, should have performed very creditably but has woefully failed in its deliberations. No one actually knows whether their deeds and actions, omissions and commissions, were being prejudiced by the fact that their much touted and awaited STX Korea Housing deal that never gave birth must have accounted for their professional inefficiencies, ineptitude and inconsistencies. But what prevents them from asking or requesting the government to put finishing touches to the numerous housing projects undertaken by the previous government that were up to roofing stage so that they could quickly move into occupancy?
POLICE BRUTALITIES
The police brutalities being unleashed onto the general public under this current Administration are such unprecedented in the history of this nation that only posterity could judge the level of their atrocities. One wonders whether the service is not being headed by a qualified legal luminary who should know better. And as if by telepathic instinct, he and his paymaster, HE President Mills are brainy lawyers and yet the opposite is what the world sees of them in the discharge of their duties. Where the president is required to act or react, one sees the opposite and vice versa by sparing the rod or hiding the whip; anytime the police clash with demonstrators when the world media had already placed a telescopic lens on Ghana, not even a cough is heard from any police post let alone the headquarters to dissociate themselves from that bestial action. Total silence! Sad, isn't it. Come to think of the whirlwind fashion and manner the headquarters through 'Rosina' reacted to make nonsense of the effort by the Kumasi Police in trying to curb violence being perpetrated by one hardened electoral 'terrorist' Dzibodi and syndicate in the Ashanti Region. Meanwhile, visitors to and fro Kumasi had been frightened by the madness and terror of this notorious person and his accomplices for going berserk yet the Police hierarchy thought the action they took was not in the right direction. We are tired of this infamous and nonsensical ineptitude. Did they want to compel Kwesi Ofori and others to retract and eat their own words thus giving the bastards the field day? Do they know how the Rwanda, Kenya and Cote d'Ivoire chaotic electoral riots started and developed into civil wars? How did the Police 'Queen of Roses' (is she white, pink or red rose) feel about that shameful and quick reaction? Did the Police Council/Administration realize that by that naughty action from Rosina, it could constitute or lend credence to inflamed passions in the country? How does the Police Administration expect the general public to offer free information to flush out nation wreckers such as that notorious Dzibodi and his syndicate from their hideouts knowing too well that nothing good will come out of it? Do Ghanaians remember the day or that day in December 1996 when Chief Supt. S.S. Appiah in a similar political incident trying to instill discipline there, was silenced in Kumasi by NDC1 when he tried to play the game of police professionalism to the gallery? The unguarded and inimical statement coming at the wrong time from Auntie Rose to prove to even the 'blind' person in society that all was well was just below the belt and would not wash. It was nothing far-fetched from lending partisan support and it is a disgraceful and serious indictment indeed.
INORDINATE POLITICAL AMBITION
Not until the radio announcement for registration of bio-metric voters' exercise nationwide had started in earnest, the stubbornness of Nii Lante Vanderpuye had not been displayed in the Odododioodioo area. His utterances and the beastly bullying nature usually sent shivers down the spines. Information reaching this author's desk indicates that he has been a tormentor-in-chief who goes about tormenting the residents and opponents in the Odododioodioo constituency like Goliath, the Philistine, in the bible forgetting that one day, a 12-year old David, definitely emerged from nowhere to silence him and floor him in his own backyard. Meanwhile, however, the parliament was not meant for 'thugs' such as him; if his intentions and inordinate ambition were to bamboozle his way against all odds to get there, then, he better rescind that nefarious and devilish idea because the House was not meant for riff raffs but for very well respected, well-cut and decent minded looking personalities and not his type of crude character. If he were ripe for the august house, he should try to relocate to Kumasi metropolis now to beat the 6-month stipulated electoral time-frame for parlia -mentarians to pit his strength against any 'hump-backed' person who might decide to enter the contest there. 'Odeneho Onokwa' Nii Lante Vanderpuye in the Ghanaian political parlance and circles is swollen with pride for being the only Ga and probably, the Senior Aide to Prez. Mills. He is fuming with unmatched arrogance if he does not know. He is unprecedentedly impregnated with venomous envy and drunken with violence. His continued nuisance behaviour without any caution or reprimand from his paymaster-general the president is beyond comparison. Again, he is thirsty with blood-letting; not only that but also hungry for jealousy and power. Could it be a truism that he is the only Accra Man amongst the lot as Special Aide to HE John Mills? Wow! Nii, my word of caution - just try to be remorseful and repentant. Do you know where the Ebo Tawiahs, the Adjei Boadis, the Aanaa Enins, the Ama Attaa Aidoos and the Akata Pores in contemporary Ghanaian politics are now? Certainly, they are at peace with themselves. 'Din bo (wo ho yi) se antumi wo a, etete wo ntoma', to wit, if you do not desist from wrongdoing all the time but allows your name to become a household name to be on everybody's lips, lo and behold, one day, it might spiritually affect you, impact negative influence on your person or even to an untimely death'.
CAMPAIGN LAUNCH
Political skirmishes by NPP and NDC to see who was who in Ghana politics got underway in February. The opposition NPP organized their regional launch for this year's campaign at Mantse Agbona one Saturday only to be followed by the incumbent NDC the week after. They wanted to show the whole world their political prowess and combat readiness for Election 2012. From all indications, and from independent observers, the members and supporters of the NPP converged at the rally grounds out of their own volition whilst the NDC supporters were alleged to have been hired and bussed from far and near. Later events that have unfolded clearly depict that the NDC's parliamentary candidate for Ododo -dioodioo, that is, the constituency that hosted the campaign launch, one Nii Lante Vanderpuje, an Aide to Prez. John Mills, has vowed to move the heavens to the earth to win at all cost. In his attempt, he has devised some diabolical plans to play the kangaroo tactics to cow the NPP supporters into submission. Does he know that he could play the part of Goliath, the Philistine in the bible, cast insinua -tions on the opponents but would one day meet his match to 'die a premature death' at the hands of the 12-year old little Capt. Rtd. 'David' Victor Okai Koi? Nii, David's only weapon against mighty Goliath was a sling and five pebbles yet, Goliath crumbled at his feet. David's only source of power was God the Almighty who used him to give the Israelites the much awaited freedom from oppression and incessant harassment. It should not surprise you to become the vanquished. In a nutshell, you could marshal all the available forces and raise abundant logistics including of course, the NDC secret forces to intimidate the electorates, if you are destined to lose, no doubt, you will lose. Continuing with the story, when the time came for the battle of wits, little David felt uncomfortable with the weapons and other accoutrements provided by King Saul, so he removed them and looked for his sling and five stones with the Lord Almighty as his shield and source of strength. One funny thing on the lips of all his constituents was that Nii Lante is allegedly on record to have soliloquized that not even the president who appointed him could stop him from pursuing his inordinate ambition. The James Town Police fear him like cat and mouse because he has power to change their sleeping places and even causes their transfers to 'Siberian' police posts. Several complaints lodged with them have fallen on rocks. For fear of political 'deskinment' i.e. wholesale transfer of all the station staff to say, Bunkpurugu Yunyoo to their dislike, they prefer to remain mute on this matter. It is an open secret that he is the mastermind in the hire of thugs and machomen going round terrorizing opponents from meeting anywhere in the constituency. Part of the hidden agenda and grand design was to smoke and flush out Akan speaking persons and thus prevent them from the registration exercise to disenfranchise them from the contest that promises to be a do-and-die-affair come December. The Police cannot absolve themselves from blame and say they were unaware of the wicked machination by Nii Lante Vanderpuye and his hired thugs that have rendered some people wounded and maimed.
EQUAL MATCH
Many people from Ashanti would however have wished to have this 'political lunatic' to be a contestant in Ashanti but not. It is just too unfortunate and unbecoming of the Gas (the people of Accra) that some of the youth have gradually carved a niche for themselves in certain areas by being used very often as land-guards to settle scores with private developers, as machomen to cause mayhem in political arenas, as nincompoops to chase defenceless hawkers at market places, as charlatans to lick the boots of politicians for pittance, as mediocre bastards to engage in constant lies and deceit of the public etc. and to date, none, absolutely none of the very distinguished personalities from the Ga State has come out openly to reprimand and condemn their youth from these shameful acts towards the 'Fante Kooyos' who generally have fallen prey to these hounds - i.e. the Kookoo ase nkurasefoo from the forest areas who keep developing these areas fast after they had genuinely acquired and purchased the said lands for development. Where are the V.C.R.A.C. Crabbes, the K.B. Asantes, the Prof. Alloteys, the Prof. Laings, the Chinery-Hesses, the Odoi-Sykes, the Quartey-Papafios, the Prof. Ofosu Amaahs and the Prof. Adzei Bekoes to bring them to book? Have these criminal acts of cowardice especially from this Nii Lante Vanderpuje man, a name-sake of untouchable Dr. Alfred Okoe Vanderpuje of the little kingdom of A.M.A., not brought to the fore for the president to sanction him, or has he not heard about it at all? Or is it because the trio – Senior Aide Nii Lante Vanderpuje, ably supported by Dr. Alfred Okoe Vanderpuje with ammo from Paul 'Ammma ntem', the biblical late-comer, who has perhaps, assumed the most unprecedented and unparalleled diametrical quotient in the Ghana Police Service since its inception from the colonial era to lend blind support, otherwise, all the culprits whose names should appear on the police wanted list but have not, due to partisanship, should have long been processed before the courts.
SELF-INFLICTED DENIGRATION
Ghanaians were awakened one day to hear strange news from our courts in Accra that exhibits of cocaine tendered in court before the jury to testify the complicity or otherwise of suspects arraigned for hearing and determination miraculously turned out to be caustic soda. Before then, the substance that had been clinically tested and scientifically proven to be cocaine and resting cool in the police custody rather bizarrely, turned something else. Wonders, they say, would never end in this nation called Ghana. How many police bosses the world over would still have stuck to their positions if this shameful incident involved them? Certainly, not even one at all from any of the civilized countries. And they call themselves IGs. S H A M E! Continuing further, such personalities preferred shifting focus on politicians to distract public attention as if nothing has happened to let the sleeping dogs lie. To such top brass, it was better to turn blind eye on these vagabonds to walk about as freemen on our streets rather than to incur bad name for the police by reacting professionally to lose all the juicy perks in waiting. If Paul does not know but cares to know now, please take it from the writer that your Administration would definitely go down as the worst ever since independence. This is complete self-inflicted denigration and serious indictment on your person and you cannot in anyway run away from blame. From day one of your appointment, you lost credibility and should therefore not merit any international appointment for any of your lieutenants as your team is an eyesore to the international community and a complete failure in terms of international policing. Your Administration and tenure of office are a disgrace by supporting un-civility and an aberration of civilization and democratic principles. The complete oversight responsibilities of your entire team and leadership are rather minus, minus. I should be bold to tell it as it is because critical examples and names of police brains to assist in the effective implementation of policies and performance of police duties have been trampled upon, sidelined or totally neglected. And you don't care a hoot because w'aban na ewosoo'. Rather, you care to delight in crystal clear dereliction of duty. One is at a loss as to whether the names of very notable and very distinguished living legends and personalities of blessed memory from the Ga State such as Nii Tackie Kome, Nii Amugi, Naa Dedei Akaibi, Nii Amaah Ollennu, the Obetsebi Lampteys, the Ako Adjeis, the Peter Ala Adjeteys, the E.L. Bannermans, the Nanka Bruces, the Gen. Ankrahs, the Brig. C. C. Bruces, the Col. Tackie Yarbois, the D.F. Annans and what have you, do not instantly ring a bell in your ears whenever you set foot on the threshold to follow blindly?
ERODED RESPECT Before I sign off however, one of the few gentle ministers in government I had, hitherto, respected was Hon. Collins Dauda, MP and Minister of Transport, until series of disclosures emerged from the Asunafo Constituency recently to cloud his integrity and personality. The catalogue of events and allegations shrouding his person to the extent that the mysterious death of the late Prof. Amoah and the subsequent contender for the constituency seat besmeared on his person purports to have an atom of truth otherwise, his no-nonsense machomen should not be following closely on the heels of opponents to render them as outcasts from their own town to seek refuge in Accra. Who can convince the author and say 'African electronics' does not have influence in politics in this part of the world? However, not until he allowed the Goaso/Sankore/Hwidiem police a free hand to extricate themselves from complicity of taking sides in the bio-metric voter's registration exercise, the more my admiration for him would grow dim. How he has allegedly and discreetly organized thugs to chase out active political opponents from the Hwidiem electoral areas are his cup of tea but once the police have been tied to the apron strings and unable to perform efficiently for the law to punish the offenders also casts a big slur on his integrity. This article would never ever be complete if no mention was made of the mad rush by Eric Opoku (a suspected murderer's refuge and 'fait accompli' in the gruesome murder of one Onyame Kwame, an NPP activist at Sankore) and his immediate boss, Kwadwo Nyamekye Marfo, the deputy and substantive regional minister respectively for Brong Ahafo, with the last whip reserved for the vociferous Opare Addo of the Okere constituency who, is presumed to be an angel on air to deceive unsuspecting electorates with lies and political concoctions (during debates and newspaper review on Oman FM 107.1 in Accra) but invariably and unnoticeably, becomes a snake under grass when he was back to base as DCE for Akuapem Akropong.
HUMBLE PLEA
To forestall peace before, during and after the General Elections of December 2012, I would strongly advise the IGP, 'Nii' Paul Tawiah Quaye to decide honourably to resign his prestigious position to save face and the profession to earn special international respect otherwise, Ghanaians should be prepared for civil war that cannot be ruled out because Paul Tawiah Quaye's avowed intention to supervise the rigging of this special elections for his paymaster-general's interest is forcing the patience of Ghanaians to run out. If he wants to enter politics, he should be prepared to put off his khaki uniform and join the political bandwagon on the NDC ticket because the taxpayers' money pay him and pay for his uniforms and it is glaring that he has either been brainwashed or has been promised special offers that could be either a sector minister for the interior ministry or an ambassadorial slot hence the strange behaviour. Opinion leaders in Ghana and across the world, all religious leaders, all traditional rulers, the Media Foundation for West Africa, CDD, WANEF, GBA, GJA, all members of the Prinpag, (Private Newspapers Association of Ghana), all the Diplomatic Community, please quickly relay the nasty events happening here to your home countries without delay because it could easily ignite civil strife and escalate to something big, all the UN Agencies in Ghana, please step in quickly and forget about the fact that this is an internal matter for only Ghanaians; discerning members of the respectable Judiciary and all persons who matter in Ghana especially ex-Prez. J.J. Rawlings, a.k.a. Papa 'J', ex-Prez. Kufuor and HE Kofi Annan, a distinguished Son of the land, please wake up and sit up and sound words of caution to this up and coming notorious character in the police whose clandestine behavior supported by the presidency could undermine our fragile democracy. ALL POLICE OFFICERS WHO WANT TO ENTER INTO POLITICS ON NDC TICKET SHOULD RESIGN FROM THE POLICE AND JOIN THE POLITICAL FRAIL BECAUSE THEIR SHAMEFUL ACTIONS ARE UNCIVILIZED. ALL SUCH POLICE OFFICERS (WOLVES) BEING FORCED OR COERCED TO ACT CONTRARY TO YOUR PROFESSIONAL ETHICS AND ACTING ULTRA VIRES IN SHEEP SKIN SHOULD BE PREPARED FOR THE 'PROCEED ON LEAVE' ORDERS WITH A CHANGE OF GOVERNMENT. This writer is not a war monger and sounding war-drums but the totality of peaceful elections rests on the police neutrality otherwise uncivilized events rearing its ugly head in and around Brong Ahafo and other areas countrywide except the Volta Region are an eyesore. Eetan na ebon kooo nso! Meanwhile, Kenyans, Rwandans and Ivorians were very highly religious until the inevitable happened and nobody should underrate that the civil strife that erupted in these countries were faults of their own making but rather hinged on some individuals whose selfish interest catapulted such untoward circumstances and Ghanaians should not misconstrue that anything could not happen here if this positive defiant stance taken by the IGP continues to prevail as such. As hinted earlier on in this write up, the IGP, by his stand has become a disgrace to his tribesmen, the GAS, a complete disaster to the Police profession and a dishonor to humanity. Finally, no sane person round the globe can absolve the presidency from this rude tactics of police complicity because he is on record to have stated at one durbar/festival in the Volta Region that he was to retire in 2017 whilst the 2012 elections have not even been conducted to see the winner. The normal sermons on the Mount, at the UN, and in the church houses by the president on the subject of PEACE are all sham to throw dust into the eyes of Ghanaians and international community because he is quite aware of all the tricks being cruelly employed to retain him. Madam Naadu Mills, as Domestic Chief Advisor to HE Mills, you should know that the make or break of Ghana rests squarely on your husband, Kwadwo Afari Djan and Paul Tawiah Quaye and if you fail to give him good counsel to behave himself well in the interest of peace, then God should save the Queen. May God forbid, I would not be a doomsayer if this nation peradventure gives birth to a Ghanaian version of Guillaume Soro tomorrow or one day for the events unfolding now prior to the December elections are just, just disgusting and what Ghanaians should expect during and after the results if they do not favour the vanquished party could be anybody's guess. I am done.