Kadhafi diehards 'capture Bani Walid' city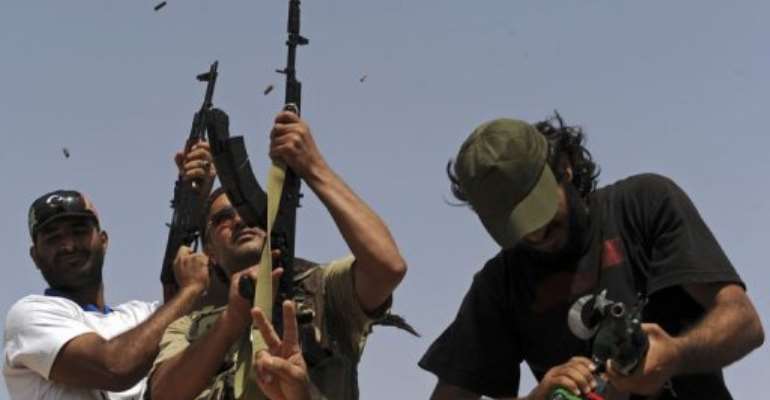 TRIPOLI (AFP) - Diehard supporters of slain Libyan dictator Moamer Kadhafi seized control on Monday of Bani Walid, his one-time bastion, after launching a brazen attack at a base there that killed five, officials told AFP.
"The loyalists of Kadhafi took control of the entire city of Bani Walid," said M'barek al-Fotmani, a former member of the ruling National Transitional Council (NTC) in the desert oasis, 170 kilometres (110 miles) south of Tripoli.
The assault on the base of ex-rebels was the first major offensive launched by Kadhafi loyalists since the "liberation" of Libya on October 23, shortly after the fall of Bani Walid.
Fotmani said the daylight attack on the stronghold of men who helped oust Kadhafi's regime last year killed "five thuwar (anti-Kadhafi revolutionaries), including a commander." Around 30 ex-rebels were also injured, he said.
Mahmud Warfelli, spokesman of Bani Walid local council, said earlier that the attack was launched by "a group of remnants of the old regime," and called for outside help against a feared "massacre."
"There are around 100 and 150 men armed with heavy weapons who are attacking. We have asked for the army to intervene, but the defence ministry and NTC have let us down," he said.
"(The gunmen) took control and hoisted the green flag on some districts, some important districts in the centre of the city," Warfelli added.
"We're out of the frying pan into the fire. We've been warning about this for the past two months."
Fotmani, said the assailants had circled the former rebels' base.
"The compound of thuwar is surrounded on all sides by loyalists of Kadhafi who are attacking it with all kinds of weapons," said Fotmani.
"The attackers are carrying green flags," symbol of the Kadhafi regime, he said from inside the base.
Fotmani said the base belonged to the May 28 Brigade, a unit of former rebels attached to the defence ministry.
"The attackers shouted 'Allah, Moamer, Libya and that's it!," he said, referring to a slogan popularised by Kadhafi loyalists during his rule.
"Yesterday they had distributed leaflets saying "We will be back soon. We will take the rats out,'" Fotmani added.
"I call upon Libya to save Bani Walid thuwar urgently. Their ammunition is almost over."
He also said ambulances were unable to evacuate those wounded because there were "snipers postioned on a school and a mosque in the vicinity" of the attack.
Bani Walid was one of the last pro-Kadhafi bastions to fall in the bloody uprising against the former dictator's rule.
The capture of Bani Walid was followed days later by the fall of the longtime strongman's hometown Sirte in a battle which also led to his killing and marked the "liberation" of Libya.