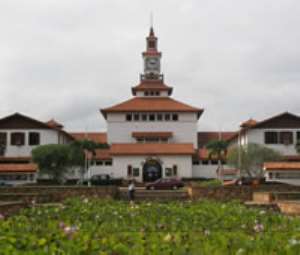 The debate of finding a befitting monument to christen after J.B.Danquah, one of Ghana's founding fathers still rages on with no end in sight. However, in as much as I would agree with the numerous clarion calls for immortalizing the doyen of Ghanaian Politics, I do not necessarily agree to the calls by Dr. Okoampah Ahoofe for the University of Ghana to be renamed after J.B Danquah considering the nature of our body politic in the country. In my view attempts to name the University of Ghana after the doyen of Ghana Politics has a tendency of spewing tribal and political tensions in the country especially in an era where the national politics of our country has polarized its citizens along political and tribal lines not oblivious of what J.B. Danquah had stood for in terms of political ideologies and those who represent the Ideals of J.B.Danquah today. It would only be hypocritical on our part to brush of this salient point under the carpet as we have in most cases failed to take the bull by the horn in analyzing and discussing issues of national interest as a country and people.
I would rather a new national institution or better still a yet to be christened befitting monument be named after Danquah. This can be any of the new interchanges currently under construction in the national capital, Kumasi or even the one in Suhum or better still the government can establish a new university altogether in the Eastern Region and christen it J.B.Danquah University etc. I would also encourage that independent bodies be established to overseer matters concerning honouring our national heroes so as to tone down the political and tribal sentiments that had always associated naming monuments after deserving national heroes.
On a lighter note, I was really much disappointed when I read the comments associated with Okoampah Kwame Ahoofe's article which appeared on ghanaweb on this same issue. The question being asked is this: does J.B.Danquah's political opposition to Kwame Nkrumah necessarily make him a traitor? Is that to suggest that our opposition leaders to various governments over the years, some of who have even become presidents be classified as traitors simply because they were/are opposed to government of the day? I think that is an unfair judgment, very apologetic and a non starter on the debate of whether J.B.Danquah should be named after the University of Ghana or not.
Beyond J.B.Danquah, I think there are a host of other national heroes who must also be immortalized for their immense sacrifices and contributions to the development of the country. Amongst them is William Ofori Atta another member of the 'big six', whose centenary celebration is currently ongoing under the distinguished patronage of the Okyenhene, our former presidents, Dr.Kwegyir Aggrey, Arku Korsah among others. I think as a nation, people who had over the years sacrificed or contributed immensely towards our development must be honoured to encourage selflessness and patriotism amongst our citizenry.
Kwaku Yeboah
[email protected]