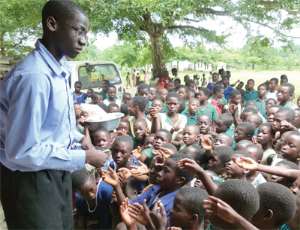 Joel looks sympathetic as the children struggle for the pencils he wants to give to them
SCHOOL CHILDREN of Tikobo No.2 in the Westernregion rushed on Joel Bervell, tugged on his clothes and shoved him when he pulled out a packof pencils to share to the mat the Tikobo No2 D/A Basic School compound last Tuesday.
It was a scene to beholdas the school children pushedand shoved each other for thepencils.
Joel, an 11th grade student (similar to SHS2) at Kamiak High School, Mukilteo, Washington State in the US and the current president of 'Hugs for Ghana,' was inthe country, precisely Tikobo No.2, to give out school supplies.
They included schoolbags, pencils, pens, readingbooks and notebooks he andhis team had collected fromfriends and school mates in aschool supplies drive hecode-named 'Project Educate,'to equip schools in deprivedareas in Ghana.
Joel, 16, who was in thecountry with his mother, Mrs. Theresa Bervell, said he wasmoved to initiate the projectwhen he noticed during hisearlier trip to Ghana thatthere were not enough schoolsupplies, especially in deprivedcommunities in thecountry.
He therefore decided onhis return to the US, to dosomething to supplement theefforts of the country's educationalauthorities.
'I am now here in Ghanato deliver the collected suppliesto basic schools inTikobo No 2; that is from thepre-school to junior high.
Iam extremely excited to helpchildren in need, as well aswork with our adoptedschools to establish a studentinternship exchange programmeand help build a libraryfor the schools,' heindicated.
The heads of schoolspresent at the ceremony,Roman Catholic PrimarySchool, Anglican Primary,Nana Nda Blay JHS, TikoboD/A Basic School, thankedhim for the exceptional gestureand wished him God'sblessings and guidance.
They however asked himto try and help the schoolswith computers and accessoriesto facilitate computerliteracy among the pupils.
Hewas also asked to assist thepupils with sports materials.Joel accepted the challengeand promised to contactMicrosoft and other bigcompanies for assistancewhen he got back to the US.
He and his mother, whois a native of the area, laterbriefed the chief of the town,Nana Nda Blay II about theprogramme.
The chiefthanked them and wishedthem well in their future endeavours.
On his way back toAccra, Joel stopped over atEikwe and presented 25 thermometersto the St Martin dePorres Hospital, as part of theorganization's health initiativefor hospitals in Ghana.
'Hugs for Ghana' is anAmerican and Ghanaian recognizednon-profit organisation.
It is a student-ledorganization dedicated to giving gifts of all types to under priviledged children in hospitals, schools, orphanages, children's homes, as well undertaking other child related services in Ghana.
The mission for the organizationis to impart the gift of love, hope, confidence and warmth into the hearts of Ghana's youngest citizens.
By receiving a gift, children will see it as a symbol of just how special they are.
By Mike Avickson