Ghana's Ambassador to Japan presents credentials to host country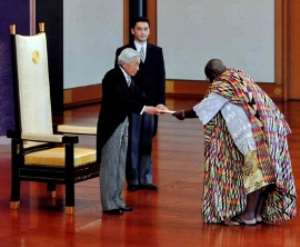 Ghana's new Ambassador to Japan, His Excellency Dr. William George Mensah Brandful, presented his Letters of Accreditation to His Majesty Emperor Akihito at the Imperial Palace in Tokyo on Tuesday, 14th June, 2011, with the host Foreign Minister, in attendance.
Ghana and Japan established diplomatic relations at Ambassadorial level in the early 1960's. Since then, the bi-lateral relations have grown from strength to strength to incorporate new areas of cooperation to the mutual benefit of the two countries.
Ghana became the first independent sub-Saharan country to open an Embassy in Tokyo following the arrival there of Egypt and Ethiopia.
Generally, Japan has provided Ghana with generous economic assistance.
In the particular area of Official Development Assistance to African countries, Ghana's share has been second only to Kenya for much of the period going back to the 1990's.
The Government of Japan regards Ghana as a model country in Africa – a stable democratic nation that remains committed to promoting sound economic management, good governance, fostering economic and social development and contributing positively to the realization and maintenance of peace, security, stability and development in Africa as a whole and West Africa in particular.
The existence of excellent relations is manifested by the high profile state visits to Ghana and Japan by The Crown Prince of Japan, Prince Naruhito in March, 2010 and H.E. President J.E.A. Mills in September - October, 2010 respectively.
Additionally, the Tokyo Mission has hosted numerous Ministers, Senior Government Officials and Private Sector Operators on official missions to Japan and has also facilitated High level Japanese business delegations to Ghana.