President Mills supports homosexuality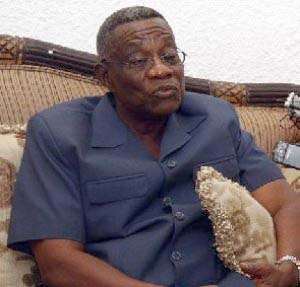 In March 2007, the UK gay rights group OutRage, wrote to President Kufour making demands on the president to "Repeal the legislation that criminalizes same-sex relations;
enact new laws to protect Lesbian, Gay, Bisexual and Transgender people against discrimination and begin a dialogue with the Gay and Lesbian Association of Ghana."
Their argument was that "anti-gay law was imposed on the people of Ghana by the British colonial administration in the nineteenth century." That certainly wasn't true because before the British or any European set foot on Ghanaian soil, our society was unanimously against buggery and thank God we still are.
But OutRage went further to argue that Kofi Anan, Nelson Mandela and Archbishop Desmond Tutu amongst other great statesmen from the continent are strong supporters of lesbian and gay human rights.
We have heard several calls for government to clarify its position on the issue. The recent call came from the Network of pastors in the Western Region, who asked the Mills led government to make its position clear on the debate over whether or not we decriminalized homosexuality in Ghana.
These calls may just about fall on deaf ears just as the calls for an announcement on how much of the taxpayer's money was spent on sponsoring largely party loyalists to the last World Cup tournament in South Africa.
Ghanaians may never get President J.E.A. Mills to tell us his position on it, at least not before the NDC congress in Sunyani and certainly not before the next general election assuming Konadu Agyeman-Rawlings doesn't defeat him.
The silence and ambiguity on the matter by government is meant to serve political ends.The government knows that putting out the President's soft-touch position on homosexuality will make the government very unpopular and leave many Christians and Muslims feeling betrayed that their president supports buggery; government knows that it will be in sharp contrast of the holier than thou image the President's minders have so nicely carved for him. So government will continue to stall and issue ambiguous statements about gay rights. This is the more reason why we must continue to put pressure on President Mills to state his position.
The public should be judging any leader not by how meek and humble s/he is or how saintly the leader is, but by how successful they are as leader or can be if elected. However, in the light of attempts to project the President as a saintly figure and more christian than his opponents, it has become more important to pressure President Mills into telling us his position on the matter.
It is only fair, since President Mills is always quick to flash and flaunt his faith and morality, that the public insists on not just hearing government, but hearing J.E.A Mills' personal position on homosexuality and whether or not Ghana must decriminalize the act.
The press, Religious organizations and the public have an obligation to examine the fitness of President Mills as our leader if he is against criminalizing the act.
As far as I can see, President Mills wants us to recognize gay rights and the buggery they exhibit. But we have a duty to insist he followed in the footsteps of President Kufour, to state clearly, what his position is on the matter.
In the future, any leader or candidate who wants to use religion as a basis for judging their fitness for high office, must be made to give us the electorates, their position on gay and lesbian human rights, on abortion and all the controversial religious issues.
The time has come for Ghana to put to rest this twaddle about gay and lesbian human rights and focus on very pressing national issues. The number one citizen of the land, President J.E.A. Mills must set the ball rolling.
RAS MUBARAK