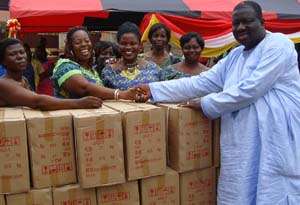 Hon. Seth Adjei Baah presenting the 50 sewing machines to the executives of the National Associations of Tailors and Dress-Makers.
The Member of Parliament (MP) for Nkawkaw, Seth Adjei Baah, has called on Ghanaians to desist from unhealthy party politics and unite to contribute to the development of the country.
According to him, youth empowerment should be supported since it is the surest way of developing the country.
The MP made the comments when he presented 50 sewing machines worth GH¢ 6,000 to 50 young girls and boys in his constituency.
Hon. Adjei Baah noted that the move is to empower the youth, especially women to reduce the unemployment rate in the country.
So far 986 people have been trained in batik tie and dye making to support their families as part of the empowerment programme, spearheaded by the MP.
He added that training the youth will not solve the problem but it is very important to provide them with the basic machines. The first batch of 50 youth in the constituency benefited from the programme three months ago.
In all, 200 people are expected to benefit from the programme at the cost of $25,000.
The equipment will however be in the custody of their leaders and will only be given to them after they successfully complete the training.
He advised those who engage the services of house-helps in the country to empower them.
Hon Adjei Baah disclosed that his outfit is also training the youth in the cultivation of cocoa, ginger, pineapple and other commodities.
Currently, the MP is working with partners to set up fruit juice factories in the constituency to provide ready market for their produce.
He disclosed that before the end of the year, his outfit and the government of Ghana will institute a joint project to reduce unemployment in the constituency and the entire country.
The Municipal Chief Executive (MCE) of the Kwahu West, Alex Obeng Somuah, noted that the legislator should be commended for providing support in the areas of education, health, youth empowerment.
According to him, government will soon launch initiatives in the Eastern region to provide the youth with equipment to start their own businesses and give them flexible period to pay back.
The selection of the beneficiaries however will not be based on educational background, gender or party affiliations but the willingness of an individual to work.
Representatives from the National Association of Hair Dressers and Beauticians and National Associations of Tailors and Dress-Makers were grateful for the donation and advised the beneficiaries to be modest and make the best out of the sewing machines.