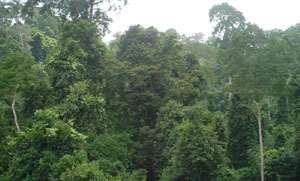 The Kakum Forest in Ghana
Over three million rural Ghanaians depend on the forest to survive. Forestry plays a significant role in the provision of food, fuel, clothing, shelter, furniture, natural medicine, potable water supply sources and bushmeat for the rural dwellers. In spite of several millions of foreign currencies being spent to save the forest, Ghana continues to lose its green zones.
Indiscriminate felling of trees for firewood and charcoal to either sell or for domestic use is predominant among rural dwellers and that is a major contributing factor eating up the forests. Staggering figures made available from the UN outfit Food and Agriculture Organization [FAO] said about 69% of all urban households in Ghana use charcoal for cooking and heating and the annual per capita consumption are around 180 kg. The total annual consumption is about 700,000 tons, 30% of which is consumed in the capital, Accra.
A native cocoa farmer of Suhum in the Eastern region of Ghana, Gloria Enyima, believes those statistics are not only shocking but expose the extent to which Ghana is losing its forest to wood fuel. 'We used to travel in thick forests with fear to the next villages but now I can virtually count the number of trees to and from my farm,' the 54-year-old observed.
'It's an alarming issue that demands serious attention. However, I admit the solution to that would take forever because most of us cannot afford kerosene always to light our homes. Even in the cities majority are still using firewood to do business,' she added.
Enyima may be right after all. Carting firewood to the city to sell is the work of Kwesi Ntim and his family of five. Before the sun wakes up from its sleep daily, Ntim's rickety KIA pickup truck is used to deliver wood fuel from one bakery to another in Accra.
Ntim, 50, has been in this business for close to two decades. He is content with his job and has used the income he generates from this wood business to school all his children - two boys and a girl - not to talk of other family expenditure.
Source of earning
After 17 years of fuelling almost all the bakeries in Santa Maria - a suburb of Accra - the native of Kumasi, Ghana's second largest cosmopolitan city, is worried he would not retire a happy man. His main source of earnings – the forest – is depleting at a rate that has forced the agencies in charge of the natural resource to put pragmatic measures in place to restrict the number of logs to be fell daily.
Ntim stated: 'The business is no longer sweet. I used to go on five trips daily but it has been reduced to two. The forest guards are trailing us.'
Isaac Botschay, one of the forest guards stationed at the Atiwa forest in the Eastern region of the West African country, keeps an eagle eye to prevent any illegal loggers from the natural resources. 'The slightest mistake could lead to the loss of our forests. Our aim is to chase them out but they use all possible means to outwit us. We're not taking chances this time especially the charcoal makers,' he said.
It is estimated that of the total round wood production in Ghana, 91% is used as fuel wood and for charcoal. 'I have three trucks. Every two days we cart close to a million bags of charcoal to our clients,' Fuseini Bawumia, a native from northern Ghana who owns a charcoal manufacturing company confirmed.
'I agree we're losing our forest but the wood serves as the main source of fuel for the poor. I'd rather encourage the forestry commission to intensify its effort that would make sure that loggers replace every cut tree so that we would not end up losing our forest reserves in the coming future,' he stated.
An official of the Forest Commission of Ghana, who refused to be named told our network, government lacks the will power to protect the forests. He enumerated several reasons besides fuel wood that contribute to the alarming depletion rate of the forest.
'Illegal mining activities at forest reserves keep degrading lands. Illegal felling over trees is far from over. Construction of highways through forest reserves has reduced forest resource base,' he disclosed.
He added, 'We've had a lot of assistance from the World Bank and other foreign organizations over the years but the over reliance on fuel wood for domestic and commercial use derail our efforts.'
In less than 50 years, Ghana's primary rainforest reduced by 90 percent, Forest Commission records state. Between 1990 and 2005, the country lost 1.9 million hectares or 26 percent of its forest cover, according to an environmental news portal mongabay.com. Large tracts of forest were destroyed years back for cacao crops and the export of raw timber then caused the forests a lot. The picture is still gloomy. FAO data estimated that 14 million m3 of wood are consumed for energy production in Ghana that led to an estimated volume of fuel wood consumption in Ghana to 20 million m3 by the close of 2010.
Forest management
The situation became alarming to the extent that successive governments had to implement several forest resource management projects starting from 1988. A year after, the country with a current population of 24 million plus restricted the export of 18 tree species, and in 1994 the country banned the export of raw logs. It resulted in 44 percent decline in log exports within three years.
Although the government is still struggling to enforce its environmental laws, over 15 percent of Ghana's land area is under some form of protection including the Kakum Forest in the Central region serving as one of Ghana's main tourists' attraction with its canopy walkway. This has been made possible with the support of foreign institutions and countries over the years. In September 2008, the European Union signed a sustainable forestry deal with Ghana to stop imports of illegally-harvested timber. Prior to that, in July that same year the West African country was one of six African countries in a list of 14 nations worldwide to benefit from a World Bank funds for conserving their tropical forests under an innovative carbon finance scheme – Forest Carbon Partnership Facility.
Come November 2011, the World Bank is to make available to Ghana $40 million to fight deforestation, forest degradation and climate change related issues
But, the continuous use of wood fuel is putting the huge sums of money foreign organizations are pumping to save the forests to waste. 'Our forest situation is really sad. Everything is being done to save it but every day the situation is getting worse and worse,' an official with a Dutch organization into forest conservation Tropenbos International said on condition of anonymity. 'We keep saying we'll get there, but not when we continue to do the same thing daily.'
In order to save the forests from fast depleting, the government has to promote the use of clean energy for both domestic and commercial use. Kerosene must be affordable or better still subsidized for the rural poor and readily available on the market. Promoters of clean energy should champion and support bakeries to build ovens that run on Liquefied Petroleum Gases [LPG] instead of firewood. The perennial shortage of LPG especially in Accra for long periods should be addressed to save households from resorting to wood fuel in its absence.
Until pragmatic steps are taken to sensitize the locals of the need to refrain from the use of wood fuel and save the forests, Ghana could soon be on desert alert.
Africannews.com