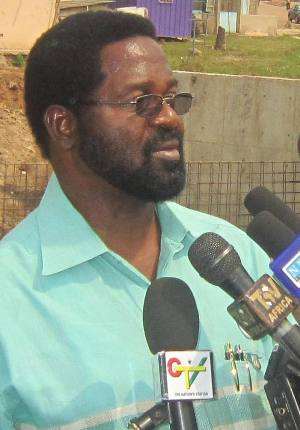 February 19, 2011 Accra, Feb. 19, GNA - The Accra Metropolitan Authority (AMA) on Saturday appealed to co-operate bodies in the Greater Accra region to support government's effort in improving infrastructural facilities of educational institutions in the region.
"We need to build stronger Public/Private Partnership with major stakeholders - co-operate bodies including private educational institutions to improve education infrastructure to increase access to education.
"A well-educated person was an asset for transformation of society and country at large through new inventions and discoveries", Mr. Alfred Vanderpuije, AMA Chief Executive Officer, stated in Accra during interaction with officials of Meridian Pre-University Institution.
The interaction was based on a response by the authorities of Meridian Pre-University to an appeal launched by the AMA to raise GH¢6 million from corporate institutions and individuals, to build more classroom blocks towards achieving the abolishment of the shift system in public schools within the metropolis.
Mr Vanderpuije said the AMA Educational Fund was an initiative to meet the Ministry of Education and the Ghana Education Service target to abolish the shift system which was being run in some basic schools in the country.
The AMA Chief Executive Officer therefore commended Meridian Pre-University for the financial support of GH¢5,000.00 which was the first trenched of a pledged GH¢10,000.00.
Mr Vanderpuiji called on the private sector to partner government towards achieving its agenda of investing in people for socio-economic development.
Mr Tetteh Nettey, President of Meridian Pre-University said: "the gesture was based on the conviction of the institute's commitment to give meaning to parents' investment in the education of their children for a guaranteed future.
"To the authorities of Meridian Pre-University, basic education means ensuring that all children have access to good quality education in a healthy, protective and conducive, physical and psychologically positive environment.
"This forms the basis for which we are today fulfilling our pledged to support AMA's Educational Funds towards improving educational system in the region".
In an interview with Ghana News Agency after the presentation, Mr Nettey explained that: "am personally connected to the AMA, my mother Madam Mary Ansomah was a former Revenue Inspector of Accra City Council for over 21 years from 1964 to 1985.
"And my late step father Mr Benjamin N. O. Addison was also a former Mayor during the Nkrumah regime from 1963 to 1966…the presentation was therefore strengthening my parental legacy".
Mr Nettey explained that as a Pre-Tertiary educational institution, "we consider it as a co-operate social responsibility to support government's effort to abolish the shift system which resulted in the creation of unequal access to education and created disparities for children caught in the unfortunate web.
"Pupils in the shift system are said to benefit only four hours, instead of the standard eight hours of daily school work, deprived of extra class hours, and hindered from engagement in co-curricular activities, this is unfortunate and unacceptable".
According to AMA statistics, out of 170,000 pupils in the metropolis, only 89,000 had access to classrooms at a time, the remaining 71,000 pupils are compelled, by circumstances to fall prey to the shift system.
GNA