Man beats 3 year-old son to death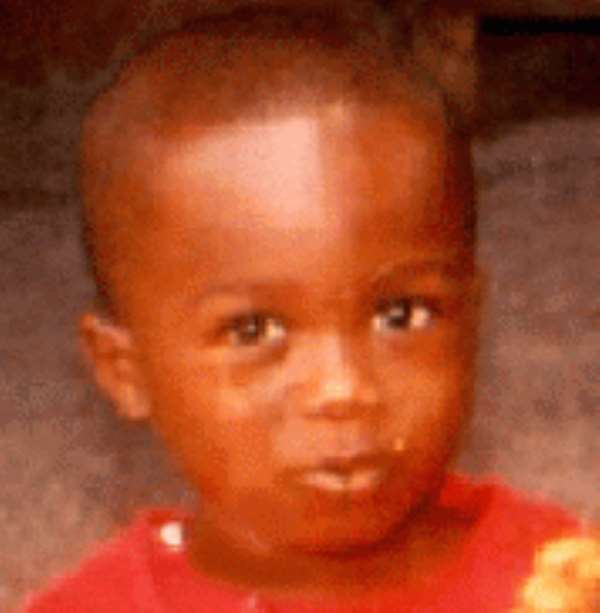 The late Kwabena Owusu
A 25-year-old shop attendant in Kumasi, Augustine Owusu, has allegedly beaten his three year-old son, Kwabena Owusu, to death after pressing a hot electric iron on the back of the child.
The attendant, now in the grips of the law, was said to be reacting to a misunderstanding he had with Madam Adwoa Agyeiwaa, the boy's mother.
Corporal Godwin Ahianyo of the Ashanti Police Public Affairs Unit, who briefed the Daily Graphic in Kumasi, said the boy was rushed to the Komfo Anokye Teaching Hospital (KATH), where he died shortly after arrival.
Mr Ahianyo said the police received a call from KATH on January 1, this year about the incident and policemen were immediately sent to the hospital to verify the report.
He said an examination of the boy's body by the police revealed severe burns at his back as a result of the hot iron which was allegedly pressed there.
He said the body also had a badly swollen face, with bloodstains and multiple injuries spread on the head and the chest.
He said when the police arrested Owusu for interrogation, he allegedly admitted having carried out the ordeal on his son, with the explanation that he got angry as a result of the misunderstanding with his wife.
He, therefore, allegedly decided to vent his anger on the innocent boy but his intention was not to kill him.
The police retrieved the pressing iron believed to have been used in the crime from Owusu's residence at Adoato, a Kumasi suburb.
According to the police, the pressing iron, which is currently in their custody, had burnt flesh stuck to its base.
Corporal Ahianyo said the late Owusu Jnr lived with his mother, Madam Agyeiwaa, aka Maa Adwoa, at Ashanti New Town (Ashtown) in Kumasi and that Akua Serwaa, the boy's grandmother, requested that the boy be sent to her to spend the New Year with her.
Following that request, Agyeiwaa sent Owusu Jnr to his father at Adoato in the morning of January 1, 2010 for him to send the boy to the grandmother.
But just when Agyeiwaa left, Augustine allegedly pounced on the boy and assaulted him, leading to his death.
According to Corporal Ahianyo, the initial report given to the police by medical officers after autopsy at KATH indicated that the deceased had died of cerebral contusion.

Owusu was, therefore, provisionally charged with murder and arraigned before the Kumasi Magistrate's Court, where he made his second appearance on Friday, January 22, 2010 and was remanded to appear again on February 2, 2010.