The Facade Behind Mills' Character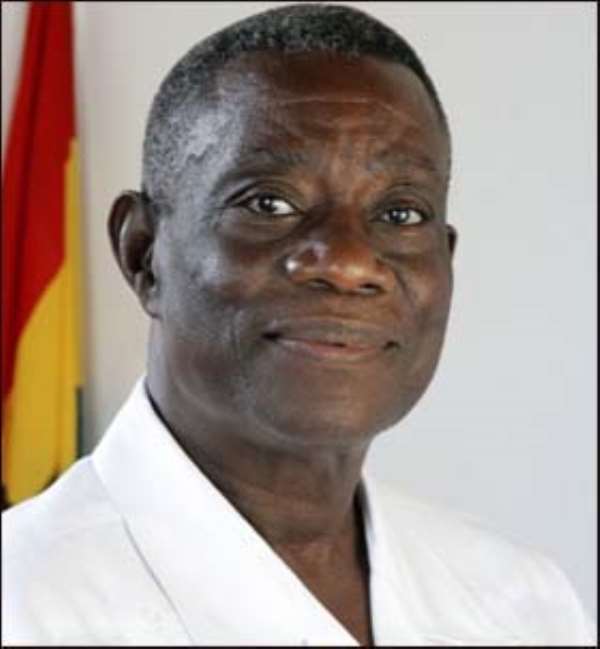 President John Atta Mills
IN THE presidential campaign which brought Professor Mills to power, his supporters made claims that his character was beyond question, and he is probably the most honest politician in living memory.
In a campaign pitch a party member explained that denying Professor Mills the presidency would be the greatest sin Ghanaians would dare commit. Reasons:
(a) His honesty unquestionable.
(b) His grounding in economics incomparable
(c) He knows matters of national importance, and he is ready to confront them as soon as he gets into office, after all, he was once a vice president; was there a stain on his character?
One political clown, in a state of delirium who claims to know the professor, said his honesty is so assuring that he wouldn't believe it if Mills should tell him he is corrupt.
They couldn't have said it better. Well, its eleven months into his presidency, let's review.
Where is the brave new world of social intervention the then candidate Mills pledged to help lessen the plight of Ghanaians; the 15,000 new housing units that are supposed to be built for allocation to wretched slum dwellers and the homeless; how about the one-time payment of the National Health Insurance Scheme which Professor Akosa coherently says is practically unfeasible and spelt the collapse of the entire health system.
The once effective NHIS Mills inherited from the Kufuor administration is already fraying at the edges.
Where are the brilliant young men and women that represent the new NDC and would put the country on a social democratic course?
The fact is that the hierarchy is deranged by the incompetence and ineptitude shown by some of the President's appointments.
"Some of his appointments are not assertive…some need to go if reshuffles come up", one social commentator said. (Rawlings prefers the expression mediocrity)
Where is the forty per cent of appointments Mills promised to allocate to the numerous industrious women? As at now –thanks to Ursula Owusu- only eleven per cent of such appointments have been made. If you don't believe it, do the math.         
And what has come from President Mills' promise to stay at home and build a better Ghana, as against the ''unnecessary'' trips former President Kufuor embarked on as he used to say.
Kufuor gave us the Millennium Challenge Account in his travels. What has President Mills given us? Nothing!  Instead, he uses the impressive performance of the man he virulently criticizes for messing up the economy to secure loans from the World Bank.
But there is something glaringly larger at play during these few months of the Mills Presidency: his character.
He is weak and indecisive. Where in the world with a functioning government would crude oil - vital to every economy - takes months to arrive. If not the snail-pace government of President Mills, which has nothing to give Ghanaians except propaganda.
Let's face it. The high hopes and expectation that surrounded his victory in the elections have diminished. It is gone. For now – as he continues like this – he remains the worst president in living memory - uninspiring and feeble.
Observers of all political stripes have raised questions about Mills preparedness to deal with a major crisis if it arises; and to some extent, if he is his own man.
Little wonder the country is running low of basic supplies from water and petrol to erratic supply of power.
The man is simply not on top of things. He has vindicated his critics; and for his admirers, they are appalled.
It's almost a year into his administration; let's pray a major calamity does not befall us.  
By Fidel Osafo Frimpong