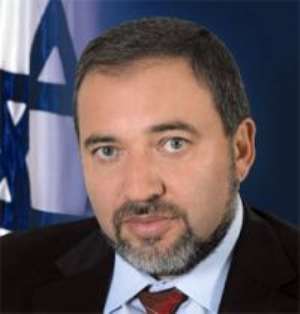 false EN-GB X-NONE X-NONE
Israel's Foreign Minister Avigdor Lieberman will begin an eight-day tour of Africa Wednesday, reports Israel National News. He will visit three east African countries which border on one another – Kenya, Ethiopia and Uganda – and two countries in western Africa, Ghana and Nigeria.
The African visit "will strengthen bilateral economic and business relations between the countries," Lieberman said. "Israel has gone missing for many years from entire regions of the world, and in my visit to South America I learned that the host countries attach great importance to such visits and that they greatly improve relations between the countries," he explained.
Lieberman will also discuss the matter of Iran's nuclear program. Iran has been making efforts to strengthen its presence in Africa.
Entourage and itinerary
Lieberman will be accompanied by about twenty businessmen from the fields of energy, agriculture, shipping, water, infrastructure, chemicals, communications and security industries. Lieberman's entourage will also include senior officials from the Foreign Ministry, Finance Ministry, Defense Ministry and National Insurance Institute.
The visit will begin at Addis Ababa, where Lieberman will meet Prime Minister Meles Zenawi and Foreign Minister Seyoum Mesfin and attend the Ethiopian-Israeli economic forum. He will also take part in the inauguration of a Center of Excellence in the Butajira area – a tripartite project carried out by Ethiopia, Israel and USAID.
Lieberman will also sign a memorandum of understanding with his Ethiopian counterpart.
On Friday Lieberman will begin his visit of Kenya, where he will meet President Mwai Kibaki and Vice President Kalonzo Musyoka, as well as the Foreign Minister and the Minister of Water with whom he will sign an agreement regarding water. He will also deliver the opening address at the economic seminar and meet Nairobi's Jewish congregation at the city's synagogue.
Next Tuesday Lieberman will visit Nigeria, where he will meet his counterpart as well as the Vice President and Minister of Defense. He will sign a trade agreement with the Minister of Commerce and sign a memorandum of understandings as well as with an of 15 international cooperation agreement with ECOWAS, a financial community of 15 west African countries.
The Foreign Minister will wind up his tour in Uganda, where he will meet the President and the Foreign Minister. He will also take part in a ceremony remembering Yoni Netanyahu and others killed in the 1976 hijacking to Entebbe of an Air France plane and the subsequent rescue operation.