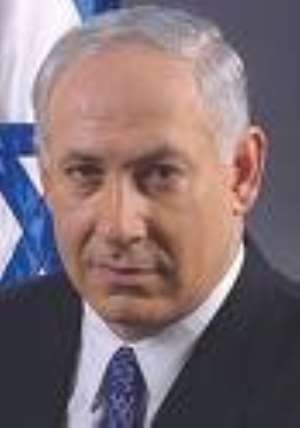 Israeli PM Benjamin Netanyahu is meeting US envoy George Mitchell in a renewed drive to reach a deal on Jewish settlements in the occupied West Bank. The US has been pushing for a complete end to Israeli construction in the hope of kick-starting stalled peace talks.
The meeting in London follows talks with UK PM Gordon Brown, when Mr Netanyahu rejected any construction freeze in occupied East Jerusalem.
He repeated his demand the Palestinians recognise Israel as a Jewish state.
Mr Netanyahu says Israel will not build new settlements, but wants to continue building within existing ones to allow for the "natural growth" of the communities living there.
The Palestinians have refused to re-enter peace negotiations unless Israel completely halts all settlement activity.
Mr Netanyahu said he was seeking a "bridging formula which will enable us to launch a peace process and enable those residents (settlers) to live normal lives".
In recent months the US has also pressured Israel over a construction project in occupied East Jerusalem, where the Palestinians want the capital of their future state.
Israel annexed the area in 1981, in a move not recognised by the international community. It was captured by Israel, along with the West Bank and other territory during the 1967 Arab-Israeli war.
Mr Netanyahu said Jerusalem was Israel's "indivisible" capital. "Jerusalem is not a settlement," he said.
He called for the Palestinians to be "be courageous partners for peace" and said he believed progress could be achieved that "may confront the cynics and surprise the world".
The US pressure on Mr Netanyahu has strained normally close Israel-US ties.
After meeting Mr Mitchell in London, Mr Netanyahu is travelling to Berlin, the next stop on his four-day European tour.
Some 450,000 Israeli settlers live in the West Bank, including East Jerusalem. The settlements are illegal under international law, although Israel disputes this.
Israel agreed to freeze settlement activity as part of the 2003 staged international peace plan known as the roadmap.
But Israeli officials say there was an unwritten understanding with the administration of former US President George W Bush that allowed limited growth within existing settlements to continue.
Mr Netanyahu's right-leaning government has not published tenders for new housing units in settlements since it came to power in April.
But the left-wing Israeli group Peace Now, which monitors building in settlements, says government-backed projects make up only 40% of construction and that building has been continuing on the ground in many places.