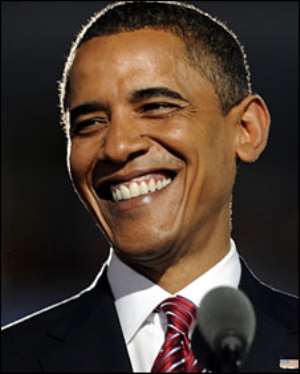 US President barack Obama
For his first official trip to Africa, President Obama chose Ghana, a developing country which has made good strides in delivering health and education to its people.
Since 2005, Ghana has enrolled almost half a million more children in school and helped poor families by ending school user fees and providing midday meals to some primary school students. Ghana also sends girls to school in equal numbers to boys more than any West African country (Gender parity ratio is 1:0.96, against the target of 1:1) which is a considerable achievement.
But behind these rosy statistics is a more bleak picture for Ghana's schoolchildren. The economic crisis has fallen hard here, with a 2.5% fall in the economic growth rate predicted for 2009. As families struggle to survive, children are increasingly forced to leave school and enter the workforce. Some 500,000 children remain out of school due to resource constraints in building schools, training and motivating adequate numbers of teachers and providing adequate textbooks. About 43% of primary school teachers are untrained, affecting the quality of teaching and learning. Ghana still needs about 8,000 new school buildings to provide shelter for some 240,000 children who attend classes under trees and sheds.
Eventhough Ghana is making progress in providing basic education for girls, some 48% of basic schools lack toilets and urinals which affects the retention of children, especially girls in school. As a result of a fiscal deficit of about 20% of GDP in 2008 budget cuts in public services are expected, squeezing an already under-resourced education system in urgent need of further investment, not cuts. It is a scandal that hundreds of thousands of innocent schoolchildren should have to pay the price for lax financial regulation in the US and other richer countries.
Investment in quality education is key to Ghana's future success. Surveys have found that fewer than 60% of girls leaving school after six years could read and write a simple sentence according to the Education For All Global Monitoring Report. In the poorest areas, teacher shortages have led to untrained workers supervising classes. Average teacher pay is around $200 per month, with the lowest-qualified being paid just $30 per month, forcing them to take second jobs to provide for their families.
What can the US President do about this? First, President Obama should honor his commitment to launch a Global Fund for Education with a US contribution of $2 billion. This money will prompt other donors – especially in the G8 – to follow suit and hopefully lead to more accountable, predictable and timely provision of aid to basic education. A Global Fund for Education could ensure that the shortfall in funding is no longer the main impediment to progress on basic education, and moreover those investments have the greatest impact on access to quality education. In the case of Ghana, additional aid would enable it to invest in trained teachers and improve equity in education across the country.
Second, he should use the US's major influence with the G20 and International Monetary Fund to ensure that Ghana and other poor countries have access to adequate credit and are allowed enough flexibility in macro-economic policies to increase domestic spending on education. The G20 did a good job of protecting its own interests in April, extending Flexible Credit Lines and Special Drawing Rights to increase liquidity for rich and middle-income countries to help them weather the storm. But, low-income countries like Ghana will have scant access to these funding streams, and instead will have to rely increasingly on the conditionality-heavy Poverty Reduction Growth Facility (PRGF).
Indeed, Ghana has recently signed an agreement with the IMF which calls for cutting subsidies to electricity, health care and education. Just last week, a loan agreement with the World Bank has already placed a conditionality called 'net hiring freeze' which restricts government from hiring additional public sector workers until June 30, 2010. This will not affect government's ability to hire more teachers, but is remarkably unjust. Just as governments of rich countries, including the US, engage in stimulus spending at home, they should allow poor countries the flexibility to run higher deficits in order to build educated and healthy populations, and sustainable equitable growth. The next G20 meeting in Pittsburgh, USA, should hold the IMF to its recent rhetoric on supporting countries to invest in health and education.
President Obama understands that education is a critical part of the global response to the economic crisis and a foundation of good governance. Without skills such as literacy, numeracy and problem-solving, millions of children and adults would be trapped in poverty. Obama can lead the world in leveraging huge returns in women and children's health, diplomacy and global economic development. Now is the time for action on education, as millions of children are dropping out of school to join the labor market, governments are being forced to cut their education budgets and total aid commitments to basic education dropping at an alarming rate.
In his campaign, Barack Obama offered a vision of hope not just for the United States, but for the world. By creating a Global Fund for Education and ensuring that the G20 and IMF support countries' efforts to achieve education goals, he has the chance to deliver on a promise that will have resounding impact not only on children overseas, but on America's legacy for generations to come. I hope that he uses this historic visit to Ghana to begin this vital journey.
Credit: Kofi Asare,
Ghana National Education Campaign Coalition
[Email: [email protected]