M.anifest is Hip-hop's latest genre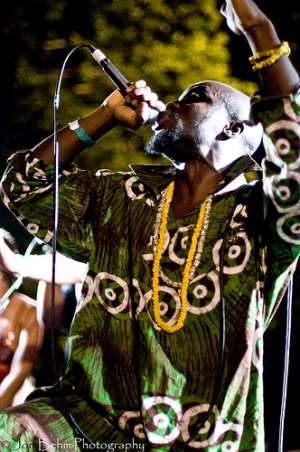 Since the outburst of hip-hop music on the musical scene in the Bronx in the early 1970s among African Americans, its lyrical appeal backed with its solid beats has enthralled not only Americans but many other societies and cultures.
From the technologically advanced countries of the North to the traditional cultures of the South, hip-hop has made inroads, as musicians and songwriters have adapted hip-hop to suit their own dialects and entertainment milieus. This may sound like a crossover, but in a constructive sense.
One such sensation is a young Ghanaian chap by a stage name M.anifest who has swept the American hip-hop scene with a brand new genre that is making waves in his American base.
Coming from a family known for its scholarly prowess, M.anifest, known in private life as Amet Tsikata, is not only a contradiction in terms of his family traditions, but a trailblazer with exemplary success for the African youth.
Like a chip off the old block, Amet won a scholarship to study at Macalester, one of America's finest liberal arts colleges with the highest percentage of foreign students in the United Sates. His dad, who in his own heyday exhibited similar traits, left University of Ghana Law School with first class honors as the youngest to complete his program at 17 and with a scholarship to study for his advanced law degree at Oxford, England's most elite academic institution.
But the maverick youngster has found his own calling: music. His articulate disposition is exceedingly reflective in his music. His ability to blend his unique African heritage—dress and thought—with the drawling tonality resplendent of the African American hip-hop artist makes him a unique musician to watch. His debut track with songs like "Babylon Breakdown", "Manifestation" and "Time" might make you think you are listening to 2Pac reincarnate. It is only when you pay particular attention to the words or have the chance to watch him on stage that you will realize his genre makes him a unique "youngstar", something never seen on the American hip-hop stage before.
As opposed to the hood-and-baggy-jeans-wearing African America hip-hop celebrities, M.anifest manifests himself in a long traditional Batakari made from the traditional Kente cloth, which is a ceremonial dress among many ethnic groups in Ghana. He rounds this up with his trademark of three pieces of traditional beads dangling around his neck, making him look more of a traditional priest than a hip-hop artist. His oomph and representation of musical scenes are unmatched in this art of adaptation. It is a unique illustration of how cultures interact.
From Algeria to Zimbabwe, the music scene on the continent is inundated with the "crossover" style of the African American hip-hop music, but M.anifest is the sensation to watch. His genre has opened a new chapter in musical circles and will go a long way to bring pleasure to hip-hop lovers both in the US where he is based and on the African continent.
By P.Y. Tsikata [[email protected]]