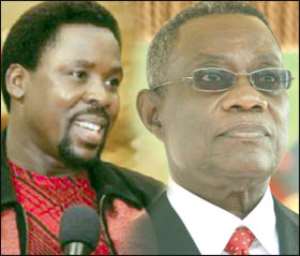 President John Atta Mills and T.B. Josua The relationship between Ghana's President, John Atta Mills and his spiritual mentor, Prophet Temitope Balogun Joshua, leader of the Synagogue Church of All Nations in Nigeria, has seemingly been taken to a higher level, with the Nigerian priest frequently visiting the Osu Christiansburg Castle, Ghana's seat of government.
The Nigerian Man of God, popularly called T.B. Joshua, has virtually made Ghana his new home as he shuttles between Lagos and Accra on a weekly basis and has the State's protocol facilities, including official motorcade, at his disposal. Reports say T.B. Joshua was in Ghana last week but left on Friday.
His convoy was sighted being led by a police motorcade through some principal streets of Accra. Sources disclosed that he would be back in the capital by the middle of this week.
There are strong indications that the controversial Nigerian priest plans to use his one-on-one relationship with President Mills to revive his ministry in Ghana.
He has opened a branch of his church on the Spintex Road, but it is not as active and flourishing as other Nigerian churches in the capital, Accra.
Indeed, T.B. Joshua was quoted by the Newswatch magazine of Nigeria as saying that he frequently travels to Ghana because of President Mills.
The Prophet said he had prophesised that John Mills would win the 2008 elections in Ghana and that the First Gentleman had hitherto been travelling to Nigeria to attend the Synagogue Church almost every week.
"Before he became president, he regularly attended this church. But since he became president, I decided to be visiting him myself. I will not allow him to continue to be coming here regularly.
I believe it is now my turn to be visiting him. Since he is now the president of a nation, it will not augur well for me now to say he should be coming here every Sunday to worship," T.B. Joshua noted.
Explaining exactly what he told President Mills in the said prophesy, T.B. Joshua noted: "He comes to church here nearly every Sunday. So, on one occasion, he told me that the Ghanaian presidential election would be held on December 7, 2008, and that there was a possibility that the result would be announced a few days later.
And I told him that I don't see it that way. Rather, I saw three different elections ahead of him then. I also told him that the result would be announced in January 2009. By the grace of God, he believed in the Prophesy, we prayed over it and we glorify God that it came to pass."
President John Mills himself has not hidden his affection for the 'pray for me' idea and has publicised his personal relationship with T. B. Joshua.
Soon after he was sworn into office, Mills attended an ECOWAS meeting in Abuja, Nigeria after which he took a quick flight to Lagos to attend T.B. Joshua's church, during which he gave a testimony before the entire congregation that the prophetic words of the man of God had come to pass and that he had won the elections.
President Mills' testimony at the Synagogue of All Nations Church in Lagos, which was later relayed on national television, GTV, was enough public relations stunt for T.B. Joshua to revive his ministry in Ghana.
Interestingly, the 46-year-old multi-billionaire Prophet has come under severe criticism from a number of leading Pentecostal and Evangelical pastors in Nigeria who have openly accused him of being a Christian witch-doctor and an occultist trying to masquerade as a Pentecostal preacher.
Bishop Mike Okonkwo, head of the Pentecostal Fellowship of Nigeria (PFN) is on record to have denounced T.B. Joshua, describing him as an imposter.
He said PFN over the years has warned of the "dangers of infiltrators who have modernized cultism by injecting the name of Jesus Christ into their largely unbiblical practices."
Another Pentecostal leader, Christopher Okotie of the Household of God Ministries is also on record to have called T.B. Joshua's church an anti-Christ cult.
Head of the 26,000-member Word of Life Bible Church in Warri, Pastor Ayo Oritsejafor, has questioned the genuineness of T.B. Joshua.
 "Where and when did he get saved? Who is his pastor? That is what I would like to know," Pastor Oritsejafor questioned. There are intriguing reports that T.B. Joshua, for unknown reasons, does not keep money in the banks.
In a related development, Castle sources say aside the regular government business, two other serious happenings at the seat of government are the issuance of orders for cars of perceived political opponents to be snatched and the performance of serious religious rituals.
Castle sources told DAILY GUIDE that a number of pastors and persons believed to be spiritualists have virtually turned the seat of government into a prayer camp and that noisy prayers and the speaking of various tongues are often heard in and around the Castle.
Reports say not a single day passes without one pastor or a spiritualist performing a ritual at the Castle.
The prayer and ritual sessions were initially taken in good faith but have started to get on the nerves of some Castle workers who spoke to DAILY GUIDE. They explained that they get distracted from their official duties by the loudness of the prayers.
By Halifax Ansah-Addo