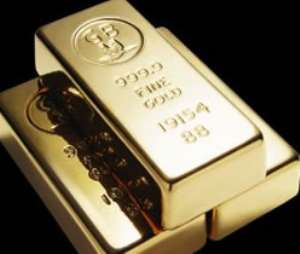 Ghana's gold output rose 4 percent to 2.6 million ounces in 2008, and higher prices pushed overall mining revenues to $2.3 billion, up 28 percent on 2007, Ghana Chamber of Mines data showed on Friday.
Manganese and bauxite shipments both fell by 7 percent, but revenue from the two minerals rose by 42.6 percent and 0.6 percent respectively, the data showed.
Ghana is Africa's second biggest gold miner after South Africa. It produced nearly 2.5 million ounces of the metal in 2007, when total mining revenues were $1.8 billion.
Gold accounted for more than 95 percent of Ghana's mineral revenues last year.
The Chamber said cash costs of gold mining companies were $651 per ounce in 2008, and the aggregated realised gold price was $852 per ounce.
Gold, which many investors see as a safe store of value during a downturn, benefited from rapidly deteriorating economic conditions in 2008, and analysts expect prices to remain strong this year as major economies shrink.
Spot bullion traded around $922 per ounce in late business in London on Friday, up 5 percent since the start of 2009.
Ghana is yet to fully recover from a power crisis that began in August 2006, leading to a reduction in electricity supply by 50 percent to big users including gold miners, who responded by building their own power generation facilities.
"We are having to continue to grapple with high production cost, mainly due to high power and fuel cost in our operations," said Anthony Aubynn, corporate affairs director for the Ghanaian operations of South African miner Gold Fields (GFIJ.J).
Following are gold output figures detailed by companies in ounces:
Company 2008 2007
Gold Fields Tarkwa 659,308 654,352
Newmont Ghana 524,000 454,212
AngloGold Ashanti Obuasi 357,102 359,961
PMMC Small Scale 202,535 239,331
AngloGold Ashanti Iduapriem 200,139 185,158
Gold Fields Ghana Damang 197,025 179,439
Chirano Gold Mines 119,776 136,414
Golden Star Prestea/Bogosu 170,485 127,994
Golden Star Wassa 125,438 126,045
Central African Gold 30,186 23,915
TOTAL 2,585,994 2,486,821