What is Haruna Iddrisu up to?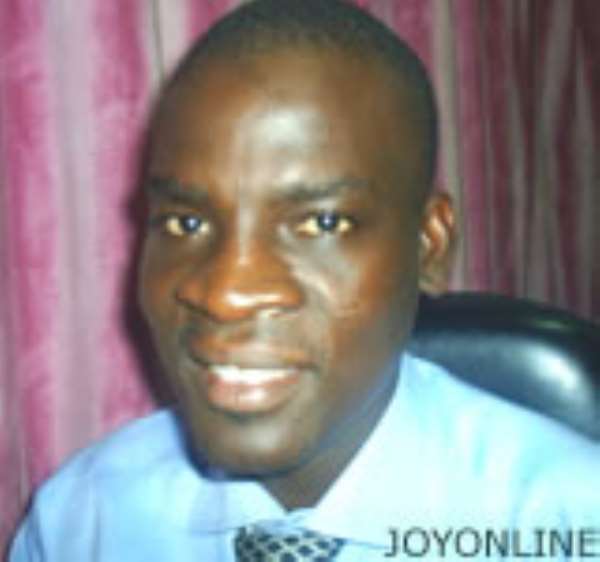 There´s slowly a natural mystic blowing through the air and those who see it are those who look carefully as Bob Marley said.
The political landscape of many countries of the world has witnessed sweeping changes in the personalities who run it. Former Prime Minister or rather `Crime Minister´ as Peter Tosh put it - Anthony Blair of the UK took over the Labour party at a time when the party badly needed a new leader with winning ideas to bring it back to office. Indeed Robin Cook who looked a likely contender for the job of Labour leader when the post became vacant after John Smith´s death ruled himself out for the post because he did not consider himself attractive enough to bring Labour back into power.
The Labour Party had been in opposition for 14 years when Tony Blair took over. He was just what the party needed, even though many people at the time saw him as a firebrand when he made suggestions to change the party´s constitution. Tony Blair wanted to expunge clause 4 of the Labour party constitution. It was a tough decision for Blair and it was harder trying to convince Labour members to accept his new vision and re-branding of the party. People like John Prescott and Jack Straw haggled about clause 4 and the re-branding. Mr Blair eventually convinced the party of his grand ideas.
He drew on the experience of veteran politicians like Robin Cook who became his Foreign Minister, David Blunkett - Home Secretary, George Robertson - Defence Secretary and Clare Short.

In the case of Barack Obama, another young and shrewed politician and arguably the most exciting politician of our time, he is counting on the expertise of very experienced hands to run his government. He has chosen John Pedosa - former Clinton Chief of Staff as a top adviser, Nobel prize winning physicist Steven Chu as Energy Minister, until his resignation Bill Richardson as Commerce Secretary and Tom Daschle. These are men with a Sterling reputation in politics.
The leader of the opposition Conservative party in the UK David William Donald Cameron is another name that quickly springs to mind as far as `youngsters in leadership´ are concerned. World politics is still run by old but agile politicians and it´s going to remain so for a very long time to come. People like Dr. Manmohan Singh of India born 1938, Robert Mugabe born 1924, Hosni Mubarak of Egypt born 1928, Abdoulayi Wade born 1926 and Raul Castro of Cuba who was born in 1931 and interestingly shares the same birth date with me - June 3, may not be around in the next decade or so, but they surely would be replaced by equally old but agile colleagues.

In politics the stakes are very high and one needs experienced people to steer the affairs of nations. Leaders have the economy, security, foreign affairs, science and technology and a host of very critical portfolios to fill. That is not to say it is not welcoming to have young men and women in very high profile cabinet positions. As a matter of fact, more and more young men and women in politics simply means perhaps a meteoric rise to public office for most talent and dedicated young men and women. The youth are getting weary of the old guards.

I must say however that I was extremely appalled by comments made by NDC Member of Parliament for Tamale South, Haruna Iddrisu. His comments were simply treacherous, overly ambitious and unreasonable. In less than 48 hours after President Mills was sworn in, Haruna is sowing seeds of confusion in the party he helped into office. Haruna is also the National Youth Organizer of the NDC and has studiously worked in his capacity as MP and Youth Organizer to see the NDC back into office. He has brought a lot of youthful touch to the rank and file of the party. He makes brilliant contributions in parliament and certainly has a bright future as a politician.
It's a pity Haruna claims he has received complaints already (barely 48 hrs after Mills was sworn in) from party youths who are not too pleased because they are being snubbed by President Mills. He claims he has had numerous complaints from all over the country already - just under 48 hours - Haruna is telling us that the youth in the party are expecting and restless for jobs?

I have no doubt whatsoever that these so called concerns Haruna claims to have received are stage managed aimed at unnecessarily drawing attention unto himself. The honourable member should know better than to engage in this rather cheap stunt to perhaps lobby for a job for himself. It is rather unfortunate and might be the beginning of the end for him. Politics requires shrewdness, patience and more patience.

PRESIDENT Mills is not going to ignore the youths. His transitional team is an indication of the many good things to come for the young men and women who have played a pivotal role in the party's return to power. The good signs are on the wall. We now have a woman speaker of parliament and the inclusion of youthful faces - Nii Lantey Vanderpuije, Fifi Kwetey and Ludwig Hlodze in the transitional team is superb.
There are also people like Dr. Nii Moi Thompson- CPP, Dr. Sulley Gariba - PNC, and Dr. Kwabena Duffour -CPP in the team which is also an indication of bringing every Ghanaian on board irrespective of party affiliation. I would personally love to see capable and loyal NPP members in some outfit in government. People like William Ampem Darko of the GBC and Kan Dapaah have not done badly at all.

As of the time Haruna made his foot shooting statement, President Mills had released names of only 6 persons, namely Alhaji Mohammed Mumuni for Interior, Vice Admiral E.O. Owusu Ansah for Defence, Brigadier General Nunoo Mensah as National Security Adviser, Dr. Kwabena Duffour, Moses Asaga and Togbe Afedze XIV making up the temporary team in charge of the economy. Is Haruna telling us he is best suited for any of the posts released thus far or better still the people named are not best qualified to handle the portfolios they've been assigned? Even senior members of the party like Dr. Tony Aidoo, Dr. Spio Garbrah, Dr. Ben Kumbour and Kofi Attor have not been named yet, so what is Haruna´s rush?

This kind of a complete lack of cool headedness and overly ambitious attitude are some of the reasons the NPP lost the elections. The NDC has come very far and should not put up with the perfidy of Haruna Iddrisu, a rather young and potential member, who when he bid his time could reap sweet benefits for his hard work. What he is doing right now is pissing on everything that every member of the NDC has work for to bring the party back into power. I worry about him because he does not come across as someone who can be trusted.
Nations are built on loyalty and not perfidy and I hope Haruna puts his ego in a back stage for the interest of the nation and party. It is too early to put pressure on the President and he would be better off politically if he bottled up his ego and waited for his turn which would not be too long in coming.
Credit: Ras Mubarak [[email protected]]