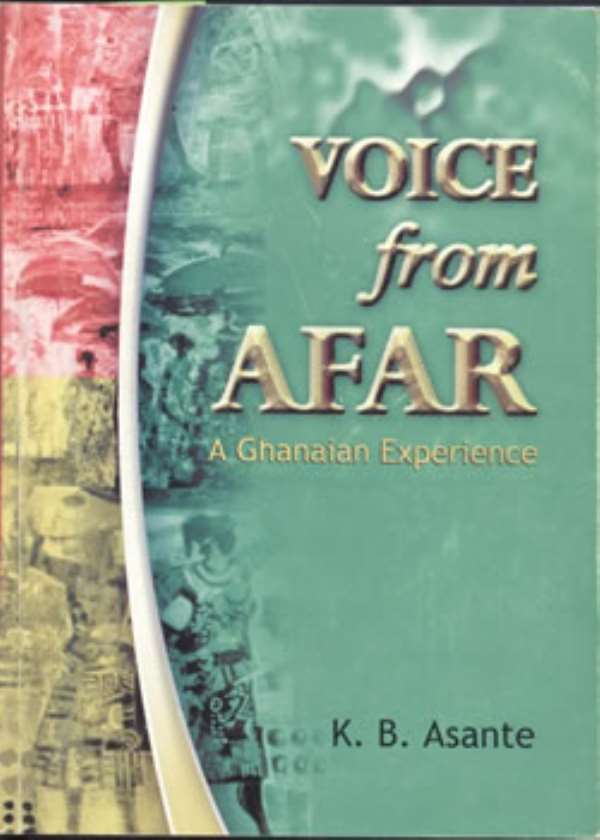 Familiar strands run through Edmund Burke, George Bernard Shaw, Aneurin Bevin, George Padmore, and Kwame Nkrumah. Certainly, this intellectual quintet belonged to a class of eloquent activists, and inspired writers. They have influenced many including Mr Kwaku Baprui Asante. The snatches of spirit - in the medley of Pan-African, socialist, and democratic undertones - showed in Mr Asante's intellectual choices.
Indeed, any of the following titles - Observations on the Present State of the Nation (Burke), Too True to be Good (Bernard Shaw), In Place of Fear (Bevin), Birth Pains of Black Nationhood (Padmore), or Class Struggle (Nkrumah) - could be fitting sub-titles for Mr Asante's book Voice from Afar: A Ghanaian Experience.
Among other urges, the author shared mostly Nkrumah's sentiments for Africa's economic and political freedom, and belief in the African. Said Mr Asante: "I never tire of recalling the faith Kwame Nkrumah had in Ghanaian doctors to build a medical school even though they had no previous experience of teaching in a medical school". "You can do it," Nkrumah assured Dr Charlie Easmon.
Mr Asante knew Nkrumah in the flesh. He served as the principal secretary of the African Affairs Secretariat from 1960 - 1966 at the Flagstaff House. A chapter, "Of 'Hosannas' and 'Crucify Him' ", contain Mr Asante's insights to Nkrumah about both the peace mission to Hanoi - which spelled Nkrumah's doom - and President Lyndon Johnson's promise about "cessation of bombings" in Vietnam.
Voice from Afar is a 192-page anthology of 52 selected articles published between 1994 and 2002, in Ghana's Daily Graphic. Sporting a classy cover design by Amarkine Amartefio, the book captures Mr Asante's sense of duty: that of putting an interpretative handle on Ghana's fate and fortune for the understanding of his fellow countrymen, and women. The core of his work resonated similar challenges that stimulated the writings of the intellectual quintet in their periods.
Vice is needed if virtue is to stand a chance (so observed Machiavelli in 1513). To Mr Asante's credit, his weekly columns contain faithful attempts to make the state safe. But in spite of its bold frankness, the book may find it hard to make men virtuous. Remember, saints and saucier prophets tried to redeem mankind, but to no avail. Recall Isaiah's frustration: "Stop trusting in man, who has but a breath in his nostrils. Of what account is he?" Also, in Geneva (to taste a Bernard Shaw comedy) a Judge character was to declare: "I give you up as hopeless. Man is a failure as a political animal. The creative forces which produce him must produce something better".
Yet the pockets of optimism deep in Mr Asante's psyche are strong motivators. Besides, his conscience - elevated to a pedigree status via the esteemed influences - deserved release and use, lest they withered like raisins in the sun. The eighty four years of blessed living [Mr Asante was born March 26, 1924] and heroic exposure has given the man enviable weight. His taste of the fine life includes music, hockey, and the occasional European leisure drive from Bern to Vienna.
Mr Asante boasts of an eminent Achimota College Class of 1942 that sported Professor Silas Dodu - the first Professor and Dean of Ghana Medical School; Professors Albert Tackie and Addo Kufuor of KNUST; Victor Owusu – the great legal brain of the Okomfo Anokye Chambers; Joe Reindorf – a former Attorney General; R.R. Amponsah; and Dr A.A. Armar of the Methodist Church; Dr J.I.T. Glover; D.Q. Annoh of Ghana Railways; and Ambassador Richard Akwei.
As the American, Henry David Thoreau, put it, "How vain it is to sit down to write when you have not stood up to live". Mr Asante served as Ghana's ambassador to Switzerland and Belgium, and high commissioner in London. He was secretary for Trade and Tourism in 1982, and for Education and Culture in 1988; and was involved in many OAU, Ecowas, Unctad, and Unido deliberations. In addition to receiving the Grand Medal (Order of the Volta), he was honoured by the University of Ghana with a doctorate in 1999.
Mr Asante's own credentials, and the eminent company he kept separated him from youngish observers who obscured their very efforts by the habitual slumps into hasty closures. This is the author's strength which, in turn, informed his book's vigour.
Mr Asante's moral resilience and literary gestures for the times cut through insular or ethnic interests. He speaks for one nation. "Here I stand," he seemed to say: "I cannot do otherwise". The shrewd comparisons, contrasts, and advice – sourced from vast and earned coffers - are most appropriate for the season. Like the ingenious great grand-daddy to "a young population", when trifles flared up into anxieties, he elected a healthy restraint like a peacock, "we should not envy them"; but if push came to shove, he spawned reprisals like a hawk, "Tit for tat (for those) who show us no respect". This double-edged uniqueness resonated through his book.