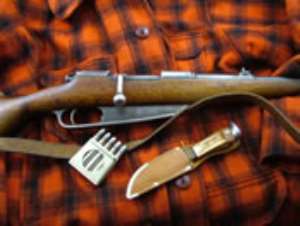 The Police Administration has issued a strong reminder that it is illegal for anyone to carry any weapon, lethal or non-lethal, licensed or unlicensed, to polling stations or electoral centres on December 7.
The Director of Public Affairs of the Ghana Police Service, Deputy Superintendent of Police (DSP) Kwesi Ofori, said in an interview that the list of banned weapons on election day included all forms of pistols, pump action guns, single and double-barrelled guns, locally manufactured guns, jack knives, machetes, kitchen knives, forks, petrol bombs, stones, clubs and non-lethal weapons such as pepper sprays, perfume sprays or any other adapted implement that could be used to cause bodily harm.
He said the electorate would only be going to cast their votes to elect their leaders at the constituency and national levels, "not going to war", stressing that "weapons are, therefore, not needed at the polling and election centres".
DSP Ofori, therefore, warned political parties, their followers and other persons not to carry any such weapons to election centres.
He also warned the political leadership not to engage the services of machomen or make any pseudo security arrangements on election day because there would be no need for such arrangements, as the National Security Task Force would be in firm control of affairs.
DSP Ofori said the security services would not compromise on security arrangements for the elections and "anyone who breaches these security arrangements will be arrested, investigated and dealt with according to law".
He said the security services would conduct thorough bodily search on any person suspected to be carrying any kind of weapon.
According to him, the National Elections Security Task Force had outlined elaborate security arrangements to ensure that this year's elections were incident-free.
"The security coverage of the elections will be done by the legally mandated security agencies which will be operating under the umbrella of the National Elections Security Task Force through its regional and district task forces," he said.
The National Elections Security Task Force is made up of personnel from the Police Service, the Immigration Service, the Bureau of National Investigations (BNI), the Customs, Excise and Preventive Service (CEPS), the Fire Service and the Prisons Service.
DSP Ofori said the national task force, which was under the chairmanship of the Inspector-General of Police, Mr P. K. Acheampong, had done a lot of work at the strategic, operational and tactical levels to ensure incident-free elections.
He explained that violence in elections since 1992 had been attributed to the activities of machomen and pseudo security arrangements by political parties and candidates on election day.
He made it clear that the administration of the elections was the responsibility of electoral officers, while the security agencies would be responsible for ensuring the security of the elections.
DSP Ofori said no use of physical force, including aggressive behaviour such as insults, on electoral officers would be tolerated.
He mentioned some electoral offences as giving one's voter ID card to another person to vote, forgery, counterfeiting or fraudulently destroying a ballot paper or the official mark on a ballot paper, supplying a ballot paper to any person without authority, selling or offering to sell a ballot paper to any person, as well as purchasing or offering to purchase a ballot paper from any person.
Other offences, he said, were intentionally putting anything other than the ballot paper into the ballot box, possessing a ballot paper which had an official mark without authorisation, opening, taking, destroying or interfering with a ballot box, ballot paper in use or intended to be used for the purposes of an election, printing a ballot paper or anything capable of being used as a ballot paper at an election, making a mark on a ballot paper issued to somebody with the intention of it being counted as the vote of that person and voting at an election at which one was not entitled to vote.
DSP Ofori said the rest were voting more than once at an election, interfering with the work of a presiding officer, removing posters lawfully posted in connection with the election, compelling somebody to vote in a particular way, impeding or preventing a voter from freely exercising his/her right to vote, assisting a political party or a candidate to gain unfair advantage over others and making or publishing by written or spoken word or by song a false statement about the personal character of a candidate or the conduct of a political party.