Does Ghana need electoral change?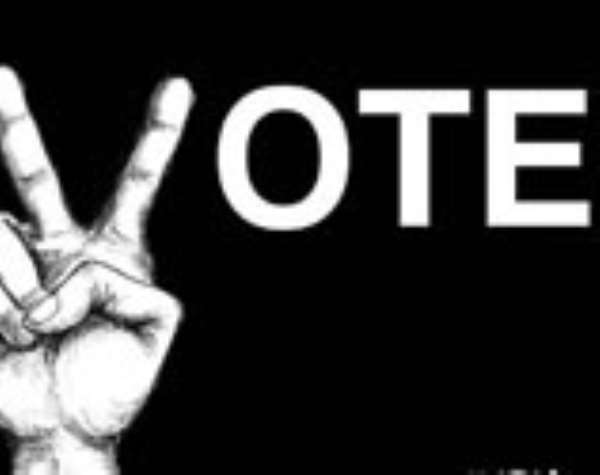 "Power is sweet! Once you taste it you don't want to let go off it. You become addicted to it" Said the man seeking re-election. You don't want to lose all of that deification and recognition when you visit places – do you? He asked. That's quite difficult. I said.
On December 7, Ghanaians will go to the polls to elect a president and two hundred and thirty law–makers.
Time is running fast and the atmosphere is electrifying. With barely two months to go the various political parties and their candidates are employing all kinds of messages and propaganda to appeal to the electorate and also to outwit their opponents. They harp on their strengths and juxtapose that with weaknesses of their opponents.
They argue that during their turn at governance, the country enjoyed or will enjoy relative peace and development. They say that one good turn deserves another (turn) at the wheels of national administration.
What makes this election interesting is that another party has also been in power for eight years.
While we consider whose contract to renew or revoke judging from their agenda for national development and track record – as they put it, let us look at a few pertinent issues.
Most conflicts on the African continent – Kenya, Zimbabwe, Cote d' Ivoire – are election related. Ghana has not had any such election related conflicts but has had her image dented with four successful coup d' etats in 1966, 1972, 1979 and 1981.
All of these conflicts and subversions are attributed variously to the tendency of leaders of these countries to perpetuate their rule and the desire of opposition to capture political power at all costs. In most instances, the opposition has accused government of manipulating the electoral process.
In 2000, the New Patriotic Party (NPP) then in apposition made Ghanaians believe that the National Democratic Congress (NDC) was afraid to lose power because there were skeletons in their cupboard. Today the NPP is trying very hard to retain power.
Could it be that NPP too, like the NDC, having spent same duration of eight years in power, have something to hide? No government of course, would accept this assertion – that can only be realized when there is a change. (I am in a way endorsing witch-hunt).
Constant electoral change, rather than the conventional institutions of legislature and judiciary (and now the fourth estate of the realm – the media) is a more efficient source of checks and balances on modern governments that tend to be corrupted by power and longevity.
President Yar Adua of Nigeria is on record to have revoked certain contracts that were dubiously awarded during Obasanjo's term. Incessant renewal of political authority in this sense begets complacency and mediocrity.
I do concede, unlike the politicians themselves who fail to give credit where it is due, that, the NPP like any other administration or regime does have some bright feathers in their cap. They have constructed roads, schools and bridges. They have also brought major transformations in the banking and financial sector.
This notwithstanding, I fear that, giving one political tradition reason to feel that they are the best is not in the best interest of the even development needs of the nation as it tends to make them feel complacent, taking genuine disagreements and frustrations of the citizenry for granted.
One argument that was raised in 2000 for change was that the NDC and its allied traditions have stayed in power for too long and have become insensitive. It is therefore in the greater interest of corporate Ghana to give politicians and their parties an even stint at the kiln of governance.
With this culture of change embedded in peoples' national psyche, (not only for the sake of the 2008 elections, but consistently thereafter) politicians will be compelled to do more than flinging mud at their opponents, making empty promises, engaging in empty rhetoric and casuistry and buying votes to win elections
Regular electoral change also reduces the risk of insurgency and subversion by frustrated and impatient opposition
Having established the need for change, let's now delve into alternatives – the National Democratic Congress (NDC), the Convention Peoples Party (CPP), the Peoples National Convention (PNC) and the others.
The NDC was at the helm of state management between 1992 and 2000. It did generate mixed sympathies from the citizenry. After eight years in power, they were thumbed out of office.
The feeling at the time was that eight years is enough for one party to be in power and for another to assume the reigns of national administration.
Having spent almost eight years in opposition and yearning fervently for renewal of contract for governance, there is the tendency for them to right their wrongs and make new person of themselves.
Being the largest opposition with 94 parliamentary seats at the 2004 elections, it would not be too difficult for them to marshal forces for national administration.
Ghana gained independence in 1957 under a CPP led government. After its overthrow in 1966 the fortunes of the party have dwindled since. Its presidential candidate polled 1 per cent of votes cast at the 2004 general elections and currently has only three seats in parliament.
Now led by a presidential candidate who believes in the dreams of Ghana's first president, and unperturbed by its showing in the last general elections, the CPP is poised to give the NDC and NPP a run for their money. It is not too clear if they have the hands to turn the wheels.
The PNC isn't doing badly. With only four seats in parliament and a presidential candidate who has consistently kept his head and debated issues dispassionately, we can only wish them well and hope they are able to mobilize the necessary human resources to run the nation when elected.
What philosophy can be more compelling reason for change than J.F Kennedy's thus: "Change is the law of life and those who look only to the past or the present are certain to miss the future"
Credit: Bruce Senam McBrian
+233208328376