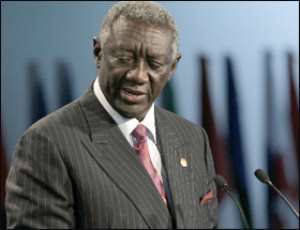 The Rt. Hon. Lord Hurd of Westwell, Chairman and President of the Royal Institute of International Affairs (RIIA), has explained that President John Agyekum Kufuor was chosen by a secret ballot to win this year's Chatham House prize.
Lord Hurd gave the insight in a glossy magazine published by First Publishing House, as President Kufuor was honoured last night in the British capital, London.
He said Ghana's President was recognised firstly for his tireless and selfless mediation in multiple crises across the African continent during his Chairmanship of the African Union in 2007.
Secondly, he played a positive role in mediating conflicts with the country's closest neighbours including Liberia and La Cote d'Ivoire.
Thirdly, Lord Hurd said the prestigious Chatham House Prize for the year 2008 also went to the Ghanaian leader for making economic growth a priority and contributing to social freedom and the development of robustly free press.
In toady's globalised world, Lord Hurd said President Kufuor has shown how a sound and open domestic agenda can positively influence a country's immediate and wider regional neighbours and how that influence can be extended internationally.
According to him, openness to different views is fundamental to the success of any democratic society.
"It is clear that President Kufuor is committed to this approach and Ghana and its neighbours have benefited from his government's polices and actions."
The President of RIIA indicated that since becoming president in 2000, President Kufuor has clearly demonstrated that democracy can flourish in the often troubled continent of Africa.
"When he steps down as president he will do so with the admiration of his citizens and the respect of the international community," he added.
The Chatham House Prize was launched in 2005 to recognize the role played by key individuals in world affairs.
The RIIA is a forum where politicians, academics, business people and other interested individuals could exchange information and discuss opinions on a regular and frank basis.
The unique event which opened with informal interaction by the dignitaries was graced by Otumfuo Osei Tutu II, the Asantehene, who was spotted in his rich traditional Kente cloth and gold ornaments; Lord Ashdown, President of Chatham House; and Dr. Ngozi Okonjo-Iweala, Managing Director of the World Bank. Mrs. Theresa Kufuor, Ghana's First Lady, who was also at the ceremony, looked on admirably while her husband was honoured.
Prince Philip, Duke of Edinburgh presented the prize which comprised a crystal award and a scroll signed by Queen Elizabeth and Patron of Chatham House to President Kufuor, who was smartly dressed in his black dinner suit, at the 14th century magnificent Drapers' Hall located in London's Financial district at a dinner ceremony.
Leading figures in international affairs who took turns to deliver keynote speeches praised the President for making economic growth a priority and contributing to social freedom in Ghana and Africa as a whole.                                                                                           
The annual Chatham House Prize is awarded to a statesperson who is deemed by Chatham House members to have made the most significant contribution to the improvement of international relations in the previous year.                                             
The selection process draws on the expertise of the research team and three presidents of the House - Lord Ashdown, Lord Hurd and Lord Robertson - after which members are invited to vote for the winner in a ballot.
President Kufuor was chosen ahead of Angela Merkel, Chancellor of the Federal Republic of Germany; Aga Khan, Founder of the Aga Khan Development Network; and Ambassador Christopher Hill, Assistant Secretary of State for East Asian and Pacific Affairs of the US, who were all nominated for this year's award.
Though the award started three years ago, it is increasingly emerging as the British equivalent of the Nobel Prize and the first one went to President Viktor Yushchenko of Ukraine in 2005 with President Joaquim Chissano of Mozambique, receiving the 2006 prize. Last year's award went to Sheikha Mozah, the Consort of His Highness the Emir of Qatar.
Chatham House was founded in 1920 as Royal Institute of International Affairs, which remains the formal name for legal and financial purposes.
From Gina Blay, London& Emelia Ennin Abbey