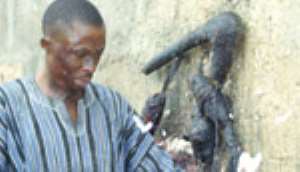 HUNDREDS OF National Democratic Congress (NDC) faithful who converged on the forecourt of John Bitar Club House at Sefwi-Dwenasi in the Western Region were on Tuesday night disappointed when a rainstorm accompanied by strong winds suddenly disrupted a mammoth rally to be addressed by Prof John Evans Atta Mills, presidential candidate of the party.
It rained so heavily that Prof. Mills and his campaign team had no alternative than to dash into their vehicles.
They sped off and sought refuge at Awaso, a nearby town, where they were supposed to spend the night.
A superstitious NDC stalwart from Sefwi Akontombra who was at the venue was reported to have claimed that detractors of the party might have consulted the famous fetish priest, Kofi Bonsam, to miraculously cause a rainstorm to destroy the rally.
Authentic information reaching DAILY GUIDE had it that some of the canopies could not withstand the strong winds and that balloons and ribbons in NDC colours used for decoration flew away while a raised wooden platform collapsed in the process.
The 'disaster' happened at exactly 4:45 pm just after the Chief Imam had finished a Moslem prayer and a traditional one was to follow.
According to our impeccable source, many supporters blamed the NDC flagbearer and his campaign team for the development, saying that they were scheduled to address the rally at 2:30 pm, but rather arrived at the venue at 4:35 pm, though a lot of supporters and members were seated as early as 12:30 pm.
The Western Regional and Sefwi-Wiawso constituency organizers of the rally looked so crestfallen in the light of the development, having planned the rally to be bigger and better than that of the New Patriotic Party (NPP) at Sefwi-Wiawso, which was addressed by Nana Addo Dankwa Akufo-Addo, the party's flagbearer and his campaign team last week.
Among the NDC gurus who accompanied Prof. Atta Mills were Mr. Asiedu Nketiah, General Secretary; Ama Benyiwa-Doe, National Women's Organiser; Ato Ahwoi, a leading member; Dr. John Frank Abu, Regional Chairman; Col. Kaku Korsah, Regional Organiser; Solomon Nkansah, Regional Youth Organiser; and Hon. Evans Aidoo, Member of Parliament for Sefwi-Wiawso.
According to an NDC insider, Prof. Atta Mills was touring parts of the Western Region to make known to members and floating voters his vision for Ghana, and wanted to start at Sefwi-Wiawso, one of NDC's strongholds in the region.
Prof. Atta Mills' campaign team left for Sefwi-Boako and Sefwi-Asanwinso yesterday and would continue to other parts of the region within the week where party gurus will address the people.
From Sam Mark Essien, Takoradi