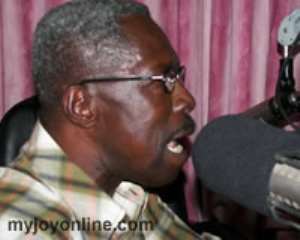 Dr. Tony Aidoo, the outspoken former Deputy Defence Minister, says there is too much sleaze currently in government, to the extent that "They take our money and stuff it, chop it waa waa waa, fuga, fuga, fugalike that."
He however assures that the trend will not last forever because "One day the frog will die and we shall see how long it is."
Dr. Tony Aidoo was speaking on Tuesday, minutes after the New Patriotic Party addressed a press conference on several issues raised against the party by the National Democratic Congress on the launch of its Election 2008 campaign agenda.
The NPP had rebuffed several NDC claims, among them a failure on the part of Government to effectively combat drug trafficking in the country, and how the NDC was a more caring party for the people than the NPP.
According to the NPP, drug trafficking was as rampant, if not worse, in the times of the NDC government, however the lack of political will, well resourced police and security institutions as well as the desire of that government to shield a known government official from prosecution, ensured that the magnitude was not exposed.
But Dr. Tony Aidoo said that cannot be the truth. "I don't think there has been any time that the NDC in opposition has ever stated that the trade in narcotics only started with the advent of the NPP government. If anything, the NDC established the NACOB (Narcotics Control Board) purposely because drug trafficking was becoming rampant and a menace. The very establishment of NACOB indicates the extent to which the government of the NDC was aware and took steps to arrest the menace."
Tony Aidoo said in arresting the menace, virtually every action of the NDC government, be it the establishment of the NACOB or the prosecution of persons arrested for drug trafficking, gave ample evidence of the commitment of the NDC to fight the menace.
"We even went to the extent of acting strictly in accordance with international standards in fighting the menace whereby any drug trafficker convicted, would have his property confiscated so far as there is an identification between that property and drug trafficking activity.
"Incidentally, it was the NPP government, when it came to power, discontinued this internationally accepted principle of punishing drug traffickers not only with jail sentences but with also confiscation of proceeds of their activities in the form of their properties."
According to Tony Aidoo, any NDC sympathiser who was caught for drugs during the reign of the party was duly prosecuted.
"There have been cases, whereby leading NPP women were arrested at the airport, at this point, we don't know what has become of that case. There is no evidence that they were ever prosecuted. There have been several cases, including even Amoateng's case where the NPP stood up in defence of a drug trafficker against who there was incontrovertible evidence of involvement. Between the two government's therefore, who can be said to have been committed to the fight against drug trafficking?"
He maintained that Ghanaian diplomat, Frank Benneh, who was arrested in Switzerland for drug use, was brought to Ghana and prosecuted by the NDC government. "When the NPP came to power, they entered a motion of nulle prosequoi, can you imagine that, people committed to fighting drugs, will discontinue a prosecution case started by the NDC against a diplomat. That goes to show the difference between the NDC and the NPP."